Each evening when you take your dog out for a walk, I am sure you notice one thing – your dog's interest in meeting new people. Dog's are social beings, and public opinion matters to them. Looking cute is everyone's preference, and so is your dog's. Get them a cute dog collar to help them fulfill their social predicaments.
We scoured the internet for the top ten cute dog collars. Here we will suggest to you Ten cute dog collars that are super cute, some with floral print to bling to leather to colors.
They are going to add more cuteness to your already cute furry friend. You can gift these cute dog collars to them on special occasions like Christmas, New Year, their Birthday, or why wait for an occasion? Give it to them right away.
I guarantee your dog will love these cute dog collars and will flaunt them to their friends on the next walk. Maybe it's time to pamper your little furry friend.
Top 10 Cute Dog Collars
This dog collar comes in very cute baby colors like baby pink, mint green, baby yellow, baby blue with cute prints on them. The best thing is that they have the same colored collar, and same printed bow. This bow is adjustable and can be washed whenever it feels dirty. The best thing is the prints they have available for this collar. They have prints for different seasons and occasions. You can choose one accordingly.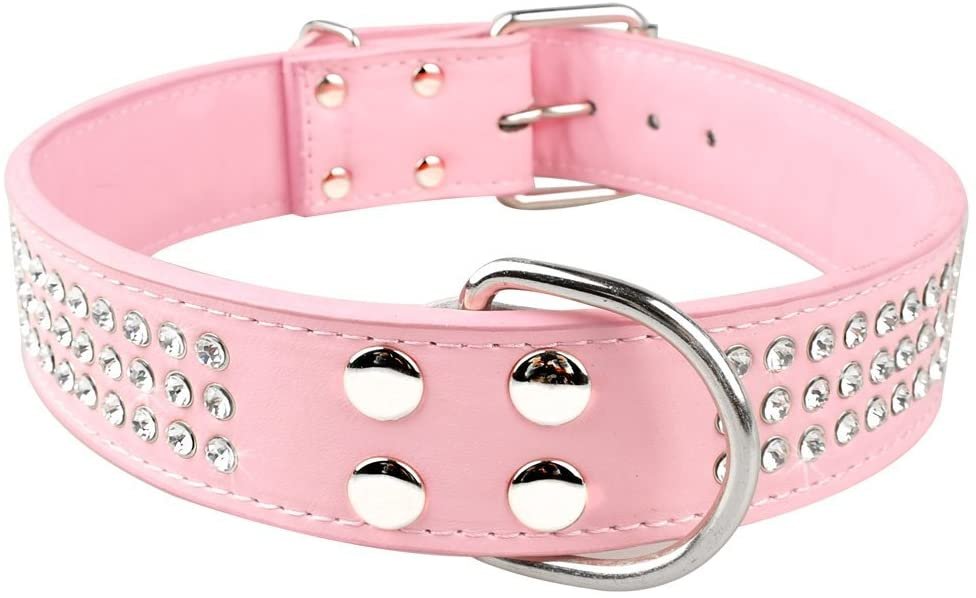 Who doesn't love bling? No one has ever said no to crystals. Why should humans have all the fun of crystals? This one is a leather Crystal Collar for Dogs. It comes up in different colored leathers with crystals embedded on it all the way. It also comes up in different sizes. Choose one according to your needs.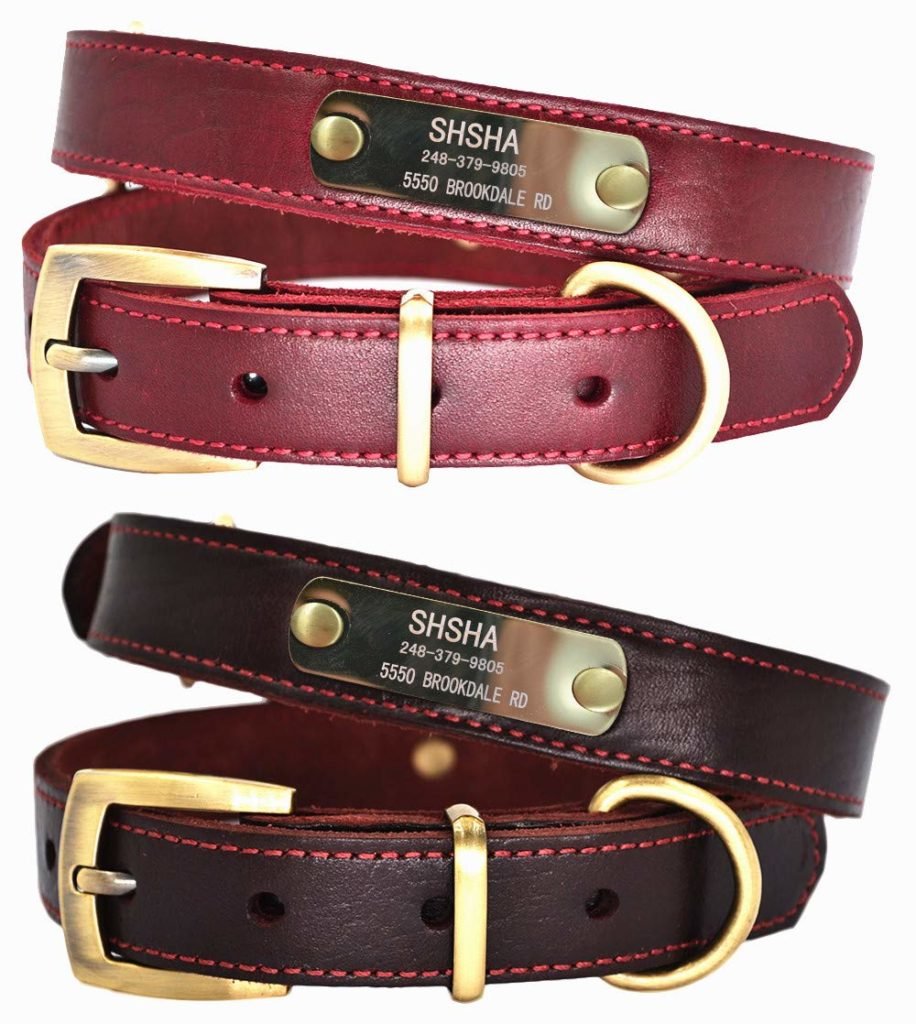 This one is the cutest, probably. They are made of very soft leather to make them very comfortable for your dogs to wear. They come in different, pretty unique colors. The best thing is, you can get them customized.
For e.g., ask them to engrave your dog's name or Date of birth, your contact number, or maybe something else you like. Your dog will run around with these. Besides, we all enjoy customized things; it gives a sense of belongingness. Why refrain our little friends from this?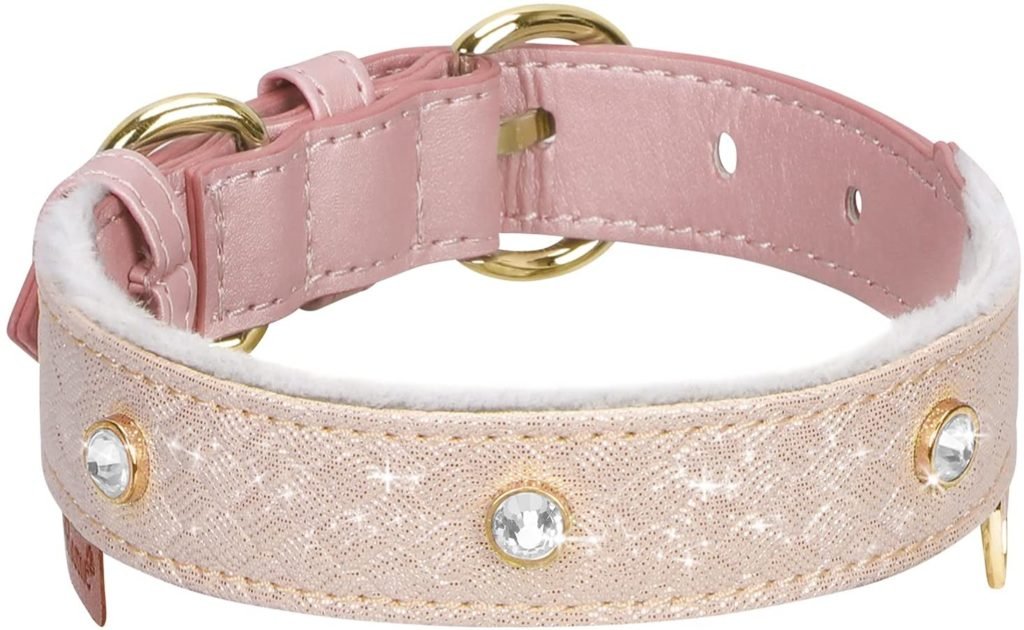 Rose gold is the trending color. It has a different thing about it. The softness and cuteness this color has can not be defined. And this is probably the most elegant color. This collar is made up of metal chains. It has Rhinestone embedded onto it all the while. Its buckle is also rose gold and very finely made. They also have different sizes according to the size of your dog. I am sure you and your dog will love this one for those special occasions and parties.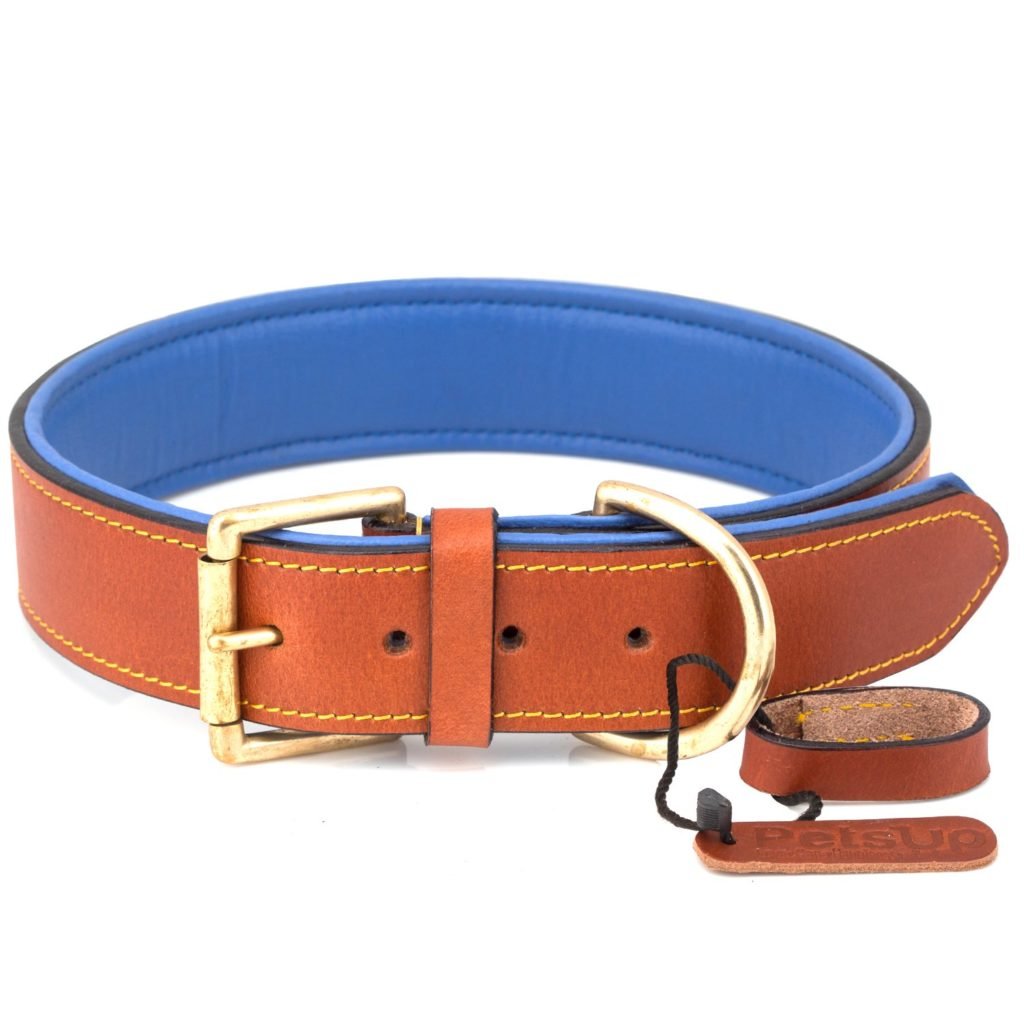 This leather is the cliche brown leather collar, with an old kind of leather with padding to make it comfortable for your dogs. This one looks very vintage, with thread stitching on the boundaries. This is the old kind of collar that is still trendy. They never go out of style, always look cute, simple, and elegant. If you are into all-time elegance, go for this one. This one looks particularly cute for older dogs.
Also See: Skin Infection In Dogs – An Important Yet Neglected Condition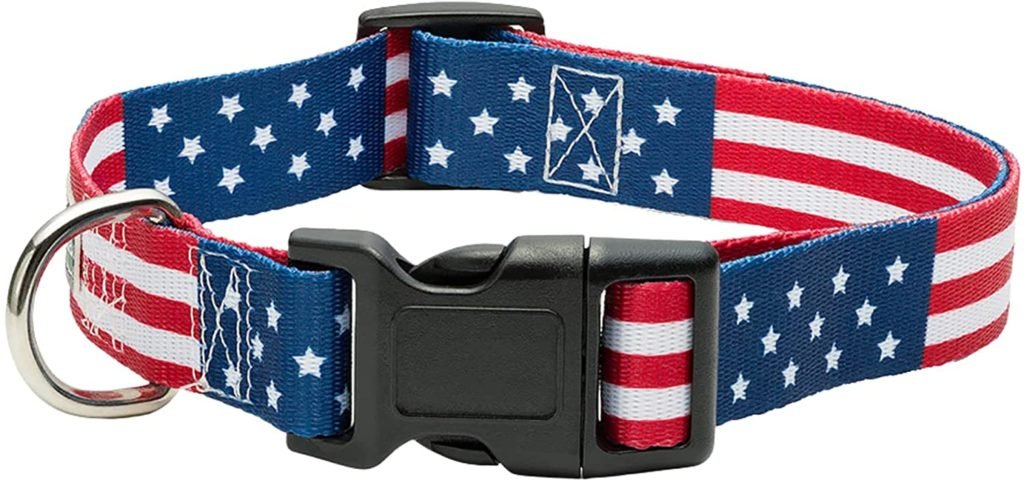 You can show your dog's patriotism by gifting them these. Make them wear these on those special occasions like Independence day or maybe freedom day. Your dog can show his/her patriotism too. When you are all moving around with flags, your little furry one will have something too. This one has a plastic buckle to tighten the collar as well.
This one is probably the most innovative. This is made up of an LED strip all over the fabric. Its purpose is to ensure you find your dog even in the deepest darks. You can even play hide and seek with them if they are wearing these collars in the dark. These LED lights even have settings to brighten or dim them. This collar can be charged using a USB cable very easily. Don't worry about the safety of it. It is completely safe and water-resistant. It is completely safe for a dog's neck. Your dog will even make new friends because of this particular collar and will get more attention. They will look like a disco ball in the dark.
I have never met a dog who doesn't love colors. I mean, the excitement on their faces the moment they see colors is beyond words. Colors make them happy. I mean, colors make everyone happy. And what can be a better color combination than a rainbow itself? This one is a band with rainbow colors in order i.e., VIBGYOR. They look so cute no matter what color your dog is. This one even comes with a rainbow accessory to amp up the look for pictures and things for your dog.
9. Matching Collie Flower Set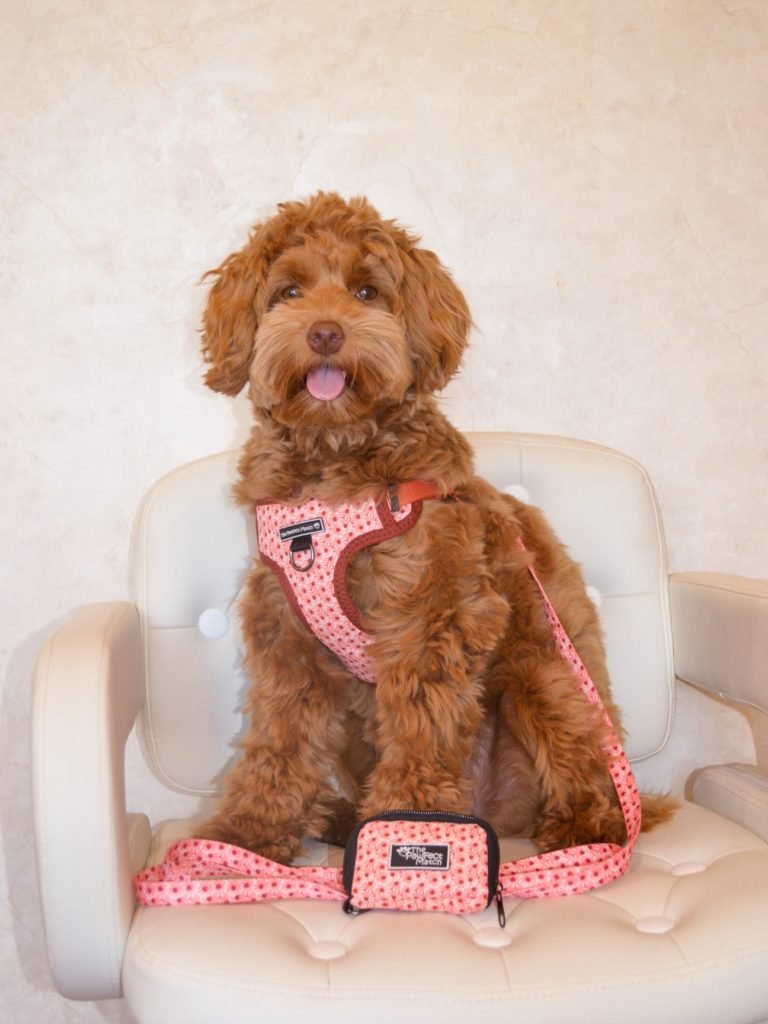 Why stop at collars only? This particular set contains collars and a full-body harness, belt, poop bag holder. Go for this all-matching set. This one is also available in a variety of colors and designs, which are trendy and cute at the same time. This one is to complete the look by dressing them up completely for special occasions or maybe daily. Go ahead and make your dog truly presentable and lovely with a complete matching set.
This dog collar is made up of bioThane, a polyester-PVC blend. Biothane is stretchy, odor-free, and long-lasting. It comes up in really trendy bright, cute colors. But you know what the best thing about this one is; it is chew proof. So this one is going to last you long. It will be a one-time investment because of the material. BioThane collars don't even get dull after long usage. It will always look new.
Things you should keep in mind while buying a dog collar
● Size: Always choose the right size of collar for your dog. Never buy a very tight collar. Measure your pooch's neck with a measuring tape before getting them a collar.
● Durability: Buy a durable collar that is not made up of attractive but cheap material.
● Strength: A collar has to be strong along with being cute. Never compromise with strength; otherwise, it can come off at the most crucial moments. It can create serious problems for you.
● Material: Never compromise on the material. Buy a genuine material collar. If it is leather or any other material, always check the material. It should be soft and comfortable for your pooch.
● Cuteness: A cute collar is always a good choice for your dog. Tough big dogs with cute collars give out an instant harmless look. A dog need not look dangerous all the time, even though it can get really dangerous.
Also Read:- 10 Luxury Dog Collars For Luxury Loving Parents
Get your Personal Pet Care Assistant Now! Available on