Is Physiotherapy for dogs a promising treatment or a medical fraud to make money out of your desperation?
Toston, a 6-year-old mischievous Basset hound, suffered two compressed vertebrae injuries in an accident this year. After undergoing spinal surgery and being treated by super surgeons, he did not regain his functions and lost both his hind legs.
The top doctors, however, were determined that physiotherapy would help Toston walk again. The process started with underwater treadmill therapy along with other home exercises.
Every process step was incredible, making Toston walk on the inclined treadmill after a while. He completed eight sessions on the inclined version and was discharged from inpatient therapy. After two months of rehab, Toston started walking again 😍.
The injury to his spine was severe, but the doctors didn't give up; they were his cheerleaders, friends, and healers.
Do you agree that Physiotherapy works immensely well in dogs, too, and can bring results even with the worst possible injury?
But will a dog be completely recovered after the treatment? What are the benefits and other factors related to Physiotherapy for dogs?
I'm sure you're eager to know everything about it, Don't you?
So let's start with the basics, then? Cool… Let's go! 
No need to take leave from the office, when you can book a spa session for your pet at home.
What is Physiotherapy Treatment? 
Physiotherapy is a treatment to restore and maintain a patient's mobility function and well-being. It helps through physical rehabilitation, injury prevention, and health & fitness.
In simple terms, Physiotherapy is treating a disease or an injury by physical methods such as massage, heat treatment, and exercise rather than drugs or surgery of any kind. 
Types of Modalities used in Animal Physiotherapy
Modalities are a part of a treatment plan used as a physical entity; many of these treatment types introduce an energy source to the body to stimulate or enhance the healing process. There are many types of treatment plans which come under Physiotherapy, such as
Cryotherapy (Superficial cold therapy)
Superficial Hot Therapy 
Electrical Muscle Stimulation 
Laser Therapy 
Pulsed electromagnetic field therapy (PEMET)
Extracorporeal shockwave therapy (ESWT)
Land Treadmill
Hydrotherapy
Sports Physiotherapy
Rehabilitation and Pain Management
Musculoskeletal Physiotherapy
Vestibular Rehabilitation
Pediatric Physiotherapy
Neurological Physiotherapy
Although some of the treatments can be used with humans as well, despite the differences between humans and animals, the animal physiotherapist must understand the biomechanics of each breed and species to deliver an effective treatment plan. 
Also Read:- Is It Ethical to Euthanize Your Dog?
What Conditions can Physiotherapy treat? 
Physiotherapy is highly versatile. There's no limit to the conditions that it can cure or stabilize. Still, I have mentioned some of the most common diseases and conditions that can be rehabilitated using Physiotherapy. Let's have a look at them.
Arthritis
Osteoarthritis
Poly Arthritis
Accident injuries
Spondylosis
Cruciate rupture
Fractures
Dislocations
Sprains and Strains
Hip dysplasia
Elbow dysplasia
Luxating patella
Inflammation
Tension
Muscle atrophy
Spinal disk prolapse
Degenerative disk disease
Spinal surgeries
Ataxia
Paralysis
Paresis
Nerve damage
Scarring
Infection
Why is Physiotherapy Important, and What are its benefits for Dogs? 
Physiotherapy is the most commonly recommended treatment to assist in the recovery of many injuries and conditions.
Patients from all age groups, including dogs, can be treated for their respective conditions using PT. Therapists collaborate with their patients by helping them with particular exercises and educating their owners about lifestyle changes that help alleviate painful injuries and illnesses.
A customized physical therapy program can help dogs return to their life before the accident or the illness. It also encourages activities and lifestyle changes for your furry friend to help prevent further injury and improve overall health and well-being.
Here are the 10 Magnificent Benefits of Physiotherapy for dogs
Reduce or eliminate pain without any side effects
Avoiding Surgery
Improve Mobility
Recover from a stroke
Recover from an accident or a spinal injury
Improve your life balance and prevent falls
Manage injections and other diseases in your dog's body.
Manage age-related issues.
Improve heart and lung conditions
Manage your dog's condition during pregnancy.
Conclusion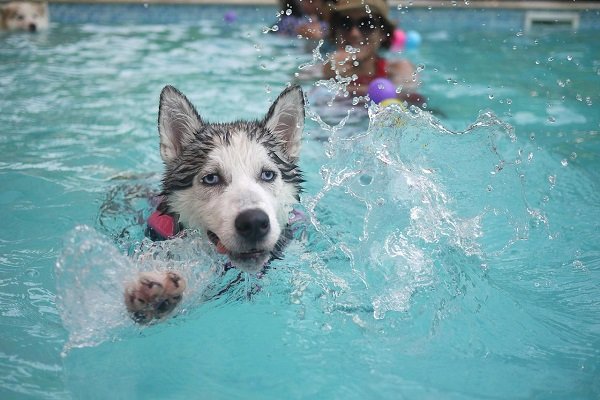 Although some breeds are more predisposed to certain conditions and illnesses due to their genetics, the environment your dog grows up in plays an essential role. For example – Hip Dysplasia is more common in Labradors and Golden Retrievers, and Intervertebral Disc is famous in long-backed dog breeds like Dachshunds.
Before starting the procedure with any VET or a therapist, they conduct a complete history of animals to detect previous injuries, exercise routines, and owner allergies (if any).
After that, a dynamic assessment of your dog is performed to check how they walk or move in a straight line to check if there are any restrictions, for instance, crepitus or heat. Finally, The VET will assess the whole body to determine any abnormalities.
The most recommended physiotherapy exercises are as follows (But make sure you perform them under the guidance and clearance of your VET)
Static Weight shifts
Sit to Stand
Cavaletti poles
There are many outcomes of physiotherapy for dogs, but it depends from case to case. Sometimes it's used to treat an injury. Otherwise, it can also use to manage a condition to help reduce the chances of injuries and increase their performance abilities.
VETs and therapists should only approve of physiotherapy in any given case. They are the best people to decide whether the treatment is deemed appropriate for your dog at the time.
If Physiotherapy is performed too soon, it can do more harm than good. Also, their exercises schedule will differ in each case. A dog that just incurred a cranial cruciate ligament should avoid any movement that will twist the joints.
Timing is the key for any treatment involving physiotherapy for dogs. Don't ever forget it!
Speaking of which, What's your opinion on Physiotherapy treatment for dogs? Do you think it is beneficial and will save and improve their lives more than surgery or any other medicine? 
No need to take leave from the office, when you can book a spa session for your pet at home.
Download Monkoodog App to Book now!