As we all know Halloween is coming, and so is Halloween dog treat time.
Well, on Halloween, the most important question needs to be asked, do you have yummy treats planned for your furry friend?
If you forgot about it, do not worry. We have some of the last-minute finest dogs treat recipes for you to cook your dog the best treats this Halloween.
Let's take a look at these 5 yummy DIY Halloween dog treats for your pet.
Are you looking for Pet Care Services in Delhi NCR, Then download Monkoodog PetCare App.
1. Carrot Dog Biscuit Treats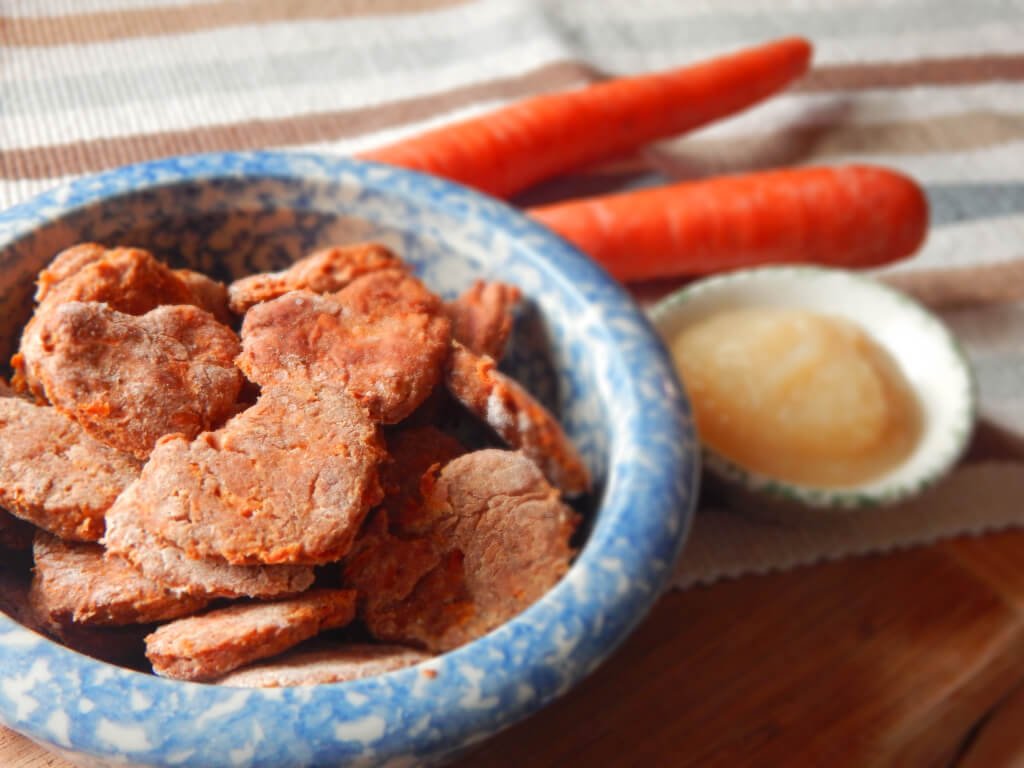 Picture Source: twodelicious.com
If you have some extra carrots lying around in the house then, you can use them to make the perfect Halloween homemade dog biscuit treat for your dog.
This recipe given by Christine on Two Delicious requires very little time to cook and a few ingredients. Your dog will love it even more for making this for him on Halloween.
To make this treat you will be needing:
A cup of applesauce (sugar-free)
½ cup of grated carrot (approximately one medium carrot)
A ¾ cup of whole wheat flour
¼ cup of Oats
¼ cup of wheat Germ
Directions
Get a parchment paper-lined on a baking tray or you can use a silicone baking mat and get your oven preheated to 350 degrees Fahrenheit.
Get all ingredients in a big bowl. Mix them properly with your hands or with the help of a mixing spoon, until it becomes a dough.
Now, take the dough out on a flour sprinkled countertop and knead it until the texture of the dough becomes firm.
Then roll out the dough to ¼ inch thickness and cut the pieces into your desired shapes.
Place the shaped treats on the baking tray and bake them for 10 minutes. Take out and let them cool down totally, then refrigerate.
2. Apple Asiago Dog Treats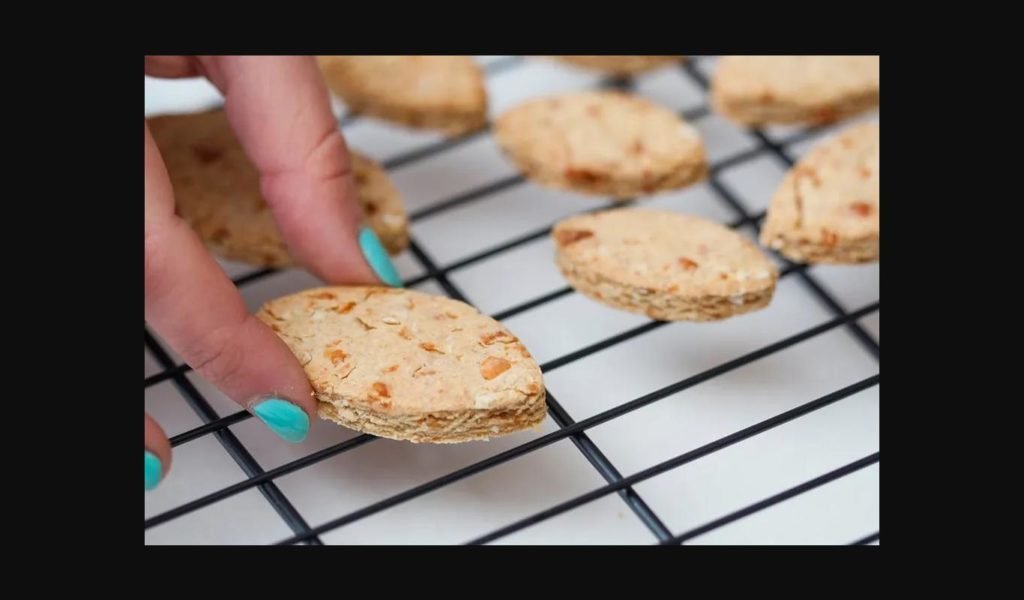 Picture Source: brit.co
The football-shaped Apple Asiago treat recipe is by Kelly Bryden from Brit+Co. To make this treat you will be needing
2 cups barley flour
1/2 cup old-fashioned oatmeal
1/3 cup shredded gruyere cheese
1/4 cup shredded asiago cheese
1/3 cup sugar-free applesauce
2 tablespoons olive oil
Football cookie cutter
Wax paper
Rolling pin
Directions to make:
Preheat the oven to 350 F.
Put (Barley flour, Oatmeal, Gruyere cheese, asiago cheese, applesauce, and olive oil) all the ingredients in a large bowl and mix them to make the dough.
As the dough is going to be very dry add enough water to give it the right form of dough.
Now, knead the dough to make it firm and roll it out on wax paper.
Then, Give shapes using your hand or a cookie-cutter. We used Football shaped cutter.
Put the cut-out cookies in the preheated oven and bake them for 30 minutes.
Let it cool for a while before serving it to your pooch.
3. Oatmeal Dog Treats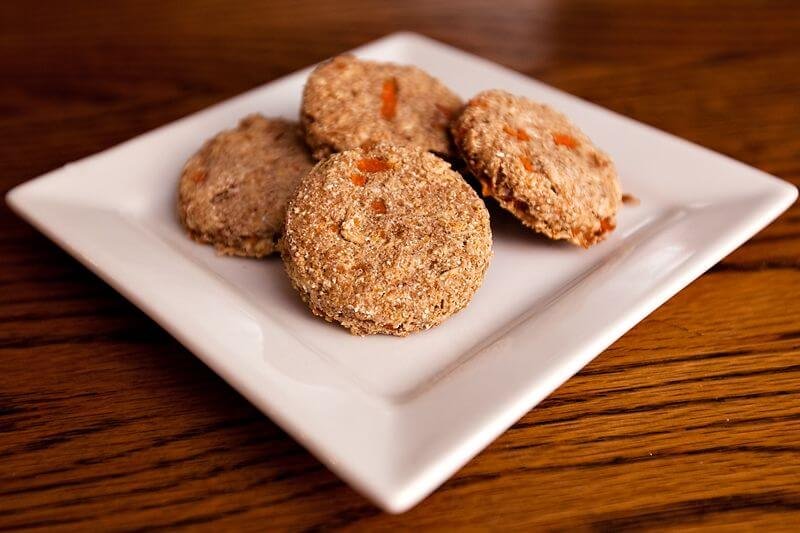 Picture Source: browniebites.net
This delicious-looking cookie treat recipe is by Erin from Brownie Bites. So, to make this treat you will be needing:
1 ripe banana
A cup of shredded carrots
¼ cup of unsweetened apple sauce
¼ cup of water
1 and a half cups whole wheat flour
1 cup oats
Directions to make:
Preheat the oven to 350F.
Mash the carrots and banana together in a big bowl, at that point, add apple sauce and water.
Add the oats into that mixture and mix it with a gentle hand. Then add the flour gradually until the mixture converts into the dough.
Now, sprinkle some flour on the countertop and roll out the dough to about ½ inch thick.
Use a cookie shape cutter to cut out the treats (or any shape cutter of your decision!) and keep the treats on a sprayed treat sheet.
Bake for 25 minutes, and afterward turn off the oven and let the treats remain inside for an extra 2-3 hours. This will dry them out further, making a chewy (or crunchy, contingent upon how long you let them get dried out) treat with a more drawn-out time span of usability!
4. Nutty Bacon Dog Treats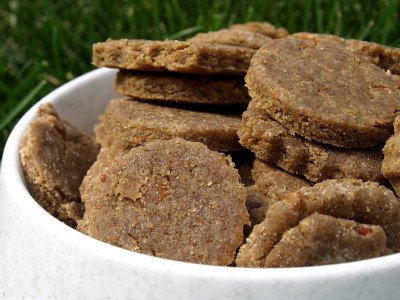 Picture Source: doghillkitchen.blogpost.com
The Yummy Bacon flavor recipe is by Maggie from Dog Hill Kitchen. To make this treat you will be needing:
3 slices of bacon, diced
1 egg
1/3 cup creamy natural peanut butter (or Sunbutter)
1 tablespoon maple syrup
3 tablespoons water
1/2 cup soy flour
Half whole wheat pastry flour
1/2 cup wheat germ
Directions to make:
Preheat the oven to 300 degrees and line two heating sheets with parchment paper.
Fry the diced bacon until scrumptious. With an opened spoon, eliminate the firm bacon however save the fat. Permit the fat to cool a little (2-5 minutes).
Add the egg, peanut butter, maple syrup, and water to the bacon fat and blend all together.
Put in the flour and raw grain and blend until combined properly. Add the fresh bacon pieces.
Roll out the batter on a daintily floured surface to around ¼ inches thick. Cut into wanted shapes with the help of a dough shape cutter or knife.
Bake in the oven for 12-15 minutes until daintily seared.
Let it cool and then serve.
5. Peanut Butter Molasses Dog Treat
Picture Source: doggydessertchef.com
This Simple DIY treat recipe is by Doggy Dessert Chef. To make this recipe at home, you'll need:
1/2 cup Peanut Butter
1/4 cup Molasses
1/4 cup Milk
1 teaspoon Cinnamon
1 1/4 cup Whole Wheat Flour
Directions
Preheat your oven to 350 degrees Fahrenheit
Put parchment paper on a baking sheet or use a silicone baking mat.
Put all the ingredients together in a big bowl and mix them with the help of a mixing spoon until they're all combined well.
Knead the dough properly to make it firm and roll it out onto a floured surface to your desired thickness. We recommend 1/4th. Now use a knife or any shape cutter to cut out the treats in your desired shape.
Place it on your previously prepared baking sheet and bake it for 10 minutes.
Take the sheet out, Let it cool, and then refrigerate.
Also See: DIY Homemade Low-Calorie Dog Treats For Obese Dogs