Dogs are our best friends, our little companions with whom we love to hang out and share our secrets. Having a dog undoubtedly is a delightful experience. In this blog, we inform you about the Best Mouth watering Dog Treats
At the same time, it is also a great responsibility.
One of the major concerns of a dog parent is picking the right treatment for their dog, something that their dog will enjoy and would not harm their health.
We understand your concerns and know that the perfect treat is the one that is healthy as well as tasty, and thus today we have brought you a list of the best dog treats available online.
Are you looking for Affordable Pet Care Services in Delhi NCR, Then download Monkoodog PetCare App.
1. American Journey's Chicken Grain-Free Oven Baked Crunchy Biscuit
This super crunchy biscuit treat for your dog by American Journey is a fantastic buy as these treat biscuits are made from real chicken as the main ingredient.
These biscuits are gluten-free and rich in protein with a wonderful flavoured taste.
These treats are small in size which makes them a favourable choice for training sessions as well, and they are perfectly crunchy as they are baked in the oven in the right manner for the right amount of time. These crunchy biscuit treats are going to become your little buddy's favourite in no time.
Also See: Famous Dog Sports That You Might Never Know Before
2. Pumpkin & Blueberry Flavor Crunchy Dog Treats by Fruitables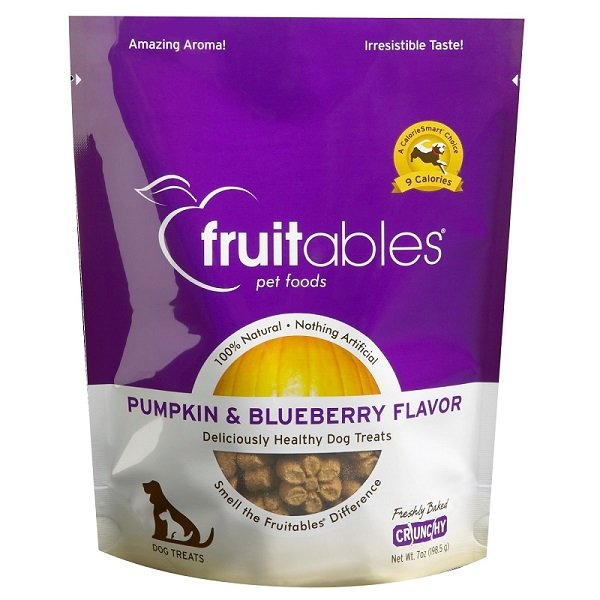 Motivated by delightful biscuits directly from the bakery, Fruitables Pumpkin and Blueberry Flavor Crunchy Dog Treats are a slobber commendable prize for your furbaby.
These munchable treats are a powerful blend of natural ingredients including enticing pumpkin and blueberry. You'll even smell the integrity each time you open the sack (no nose-plugging required!).
Each treat is just eight calories, so you do not need to feel guilty for giving your pooch those extra treats. Made with superfoods and cancer prevention agents, they are good for your furbaby's overall well-being.
3. Bones & Chews All Natural Grain-Free Jerky Dog Treat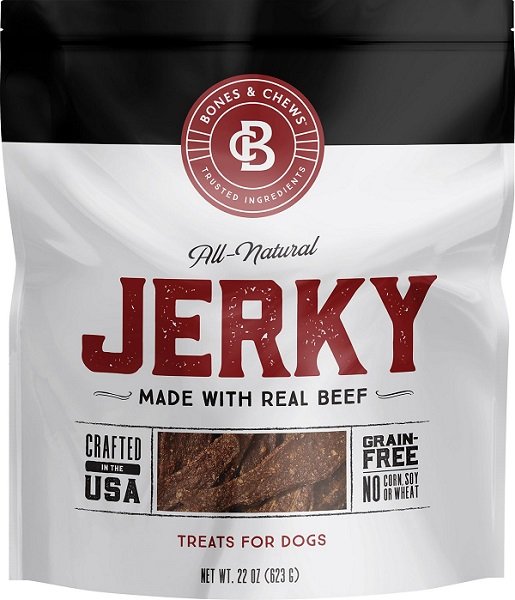 Every dog parent knows that their little friend LOVES Jerkies (not exaggerating). This beef Jerky by Bones & Chews is an all-natural grain-free Jerky that is made especially for dogs with 100% real beef.
This beef jerky is made up of a total of 8 natural ingredients, and no added preservatives or flavours, thus you can rest assured that these won't harm your dog in any way possible.
4. Barkworthies Puppy Variety Pack Natural Dog Chews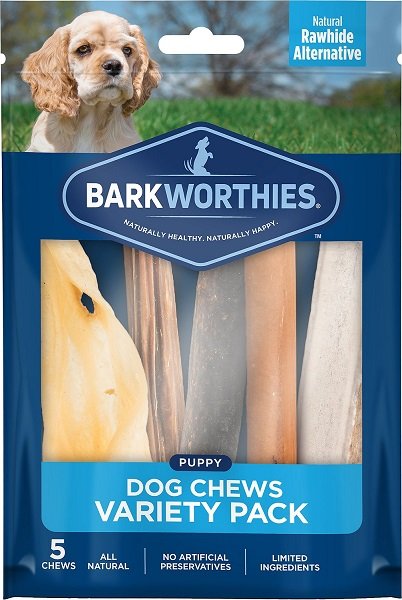 This chew treat by Barkwothies is not just a usual pack of chews for your dog but a pack of surprises. Each packet of these chews consists of 5 chews which will include gullet sticks, bully sticks, sausages, ears, and antlers.
These chews are of the right size for your little pooch and they are grain-free as well as rawhide-free. This treat is perfect if you want to give your dog something that is both tasty and healthy.
5. Buddy Biscuit Treat for Dogs
Buddy Biscuits canine treats are full of flavour and are made with basic ingredients including peanut butter. They are loaded up with top-notch ingredients and contain no additional gluten, corn, soy, yeast, sugar, salt, or added substances.
Also See: Wondering What Your Dog Is Thinking?
These yummy solid canine treats can be given as a well-deserved treat or as canine snacks between suppers.
Regardless of whether your canine is little, huge, youthful, or old — they will certainly cherish the wonderful crunch and mouth-watering flavour of these biscuit treats for dogs.
6. Prairie Dog Smoked Pig Ears
Pamper your little buddy with a scrumptious treat with Prairie Dog Smoked Pig Ears! These treats made up of all-natural ingredients highlight a chewy surface and scrumptious pork flavour that will have your puppy slobbering with enchantment.
These moderately smoked pig ears give a tasty nibble to your canine and are a sound option in contrast to rawhide.
Made with simply pig ears alone, this treat fills in as an incredible singular ingredient treat for your pooch.
They are likewise great for your dog's teeth and gums by assisting with diminishing tartar and plaque development all while refreshing breath.
Bring the flavour of the farm home to your little buddy with Prairie Dog and trust us your hairy companion will cherish it!
7. Beef Liver Treat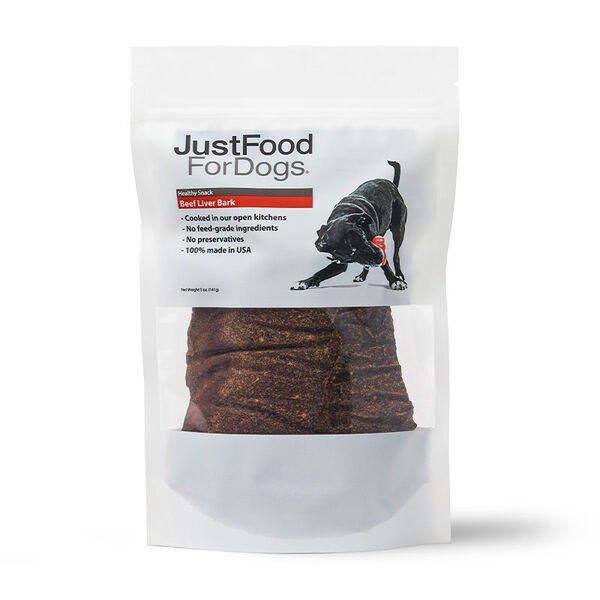 This crunchy beef liver bark treat by Just Food For Dogs resembles a wafer for your canine. Each bark of the treatment can be effortlessly severed into smaller treats,
making them ideal for the purpose of training your dog, or for those times when your little friend has been a good boy and deserves the treat.
This treat is the perfect combination of healthy and tasty which will make your dog fall in love with it (and love you even more for buying it). This treat has no preservatives added to it nor any artificial flavour, which makes them a great buy.
8. Waggin' Train Chicken Jerky Tenders Dog Treats
We know how much dogs love chicken and so we have found the perfect treat to make your dog very happy.
This Jerky Tenders Dog Treat by Waggin' is made up entirely of chicken. This treat contains real chicken breast and is made up of only two ingredients without any artificial colours or flavours. This treat is a dream come true for your dog.
Are you looking for Affordable Pet Care Services in Delhi NCR, Then download Monkoodog PetCare App.
9. Natural Elk Antler Dog Chew Treat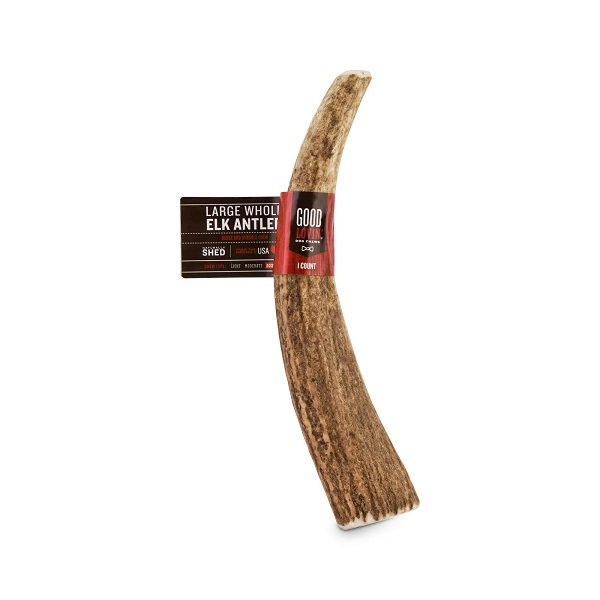 If you don't like the mess that is created by certain types of dog treats, this treat is the perfect buy for you.
This Elk Antler Dog Chew treat by Good Lovin is all naturally shed elk antlers of premium quality. This treat is the best choice if your little buddy loves chewing.
These antlers are full of calcium, phosphorus, manganese, and zinc, further, they have no artificial dye which makes them completely odourless.
In fact, even after hours of chewing, these treats will not leave behind any mess or colour in your house.
Also See: 3 Ways To Reduce Digestive Problems In Your Pooch
10. Pet Greens Healthy Dog Treats by Pet Greens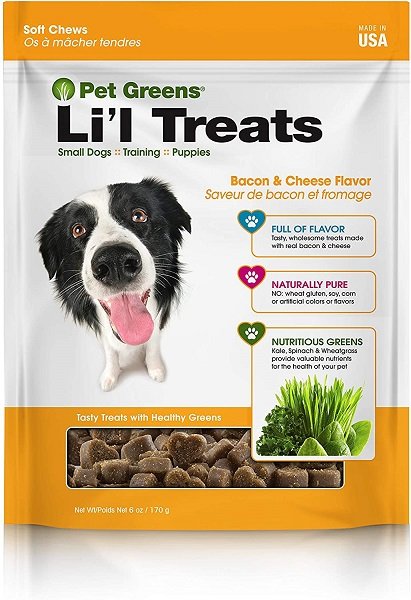 Give your puppy a nibble brimming with healthy goodness with Pet Greens Healthy Salmon Semi-Moist Li'l Dog Treats.
The highlight of this treat is salmon as the main fixing with spinach, kale, and wheatgrass for a supplement-rich source of fundamental nutrients, minerals, protein, and fibre for improved assimilation and general health.
These treats incorporate sustaining omega-3 unsaturated fats for skin and coat wellbeing while at the same time fulfilling your little companion's longing for tasty greens.
They likewise contain no soy, corn, wheat gluten, and counterfeit flavours for those dogs with sensitivities.
Also See: Top 10 Dog-Friendly Hotels In The USA