A 3-legged Pomeranian dog saves owner's life with a heroic move. Tom Kissel, the owner of 3 legged dog, owes his life to him and a quick-thinking stranger.
Tater Tot, a mix between Pomeranian and Jack Russel, is Kissel's 15-year-old dog, a cancer survivor. Tater tot had lost his leg while battling cancer. But that did not kill his spirit. Tater tot is still as lively as ever and loves to accompany Kissel on his trips.
The heroic move
On one such trip, Kissel, who is 76 years old, was going to spend the day boating in the Allegheny River at River Forest. He took Tater Tot along with him. Kissel was on the docks preparing his boat when all of a sudden an unexpected wave came and knocked out Kissel. Kissel lost his consciousness and fell into the river, sinking below the surface.
The three-legged senior dog, without any hesitation, jumped right in to save his owner.
Lucky for Kissel, Mary Jo Lender, a veteran nurse, was near them, docking her boat and her husband. They immediately noticed the pooch splashing and struggling to swim in the river
The Lender said that the splashing noises grabbed her attention, and soon after, she noticed that Kissel was underwater.
She alerted other people nearby, and three of them could pull the motionless Kissel out of the water. Kissel stepped into action and administered CPR until help reached.
Lender reveals that she was sceptical about Kissel's situation and worried he might not make it.
All is fine?
Allegheny Township police arrived and used a defibrillator to shock Kissel's heart and make it beat again.
Kissel had gone into a coma and had to receive hospitalization for quite some time.
Kissel has now recovered his strengths and can go boating again with his family and his loyal canine.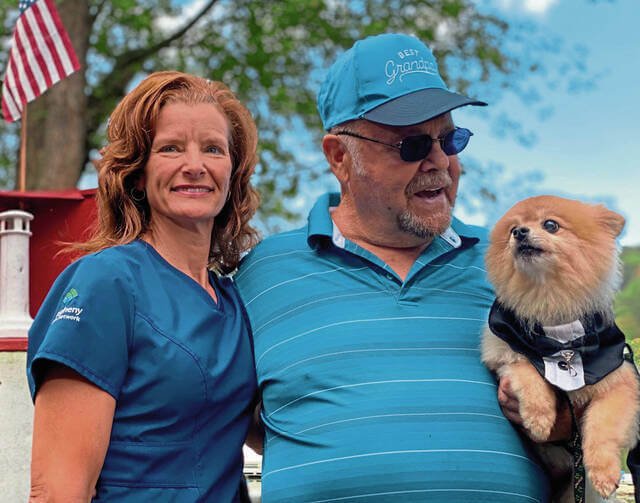 Recognizing the Hero
A ceremony sponsored by Heart Associations at the River Forest Yacht Club in Allegheny Township recognized Mary Jo, Lender and tater tot's brave work.
Two awards were presented to Lender at the ceremony. Tater tot received lots of admiration, and the cute dog was dressed up in a tux.
When Tom Kissel woke from his coma, he had no memory of what had happened, and there were no other eyewitnesses. But Kissel knows he owes his life to tater tot and an amazing stranger.
Tater Tot is called a "little man" lovingly by Kissel, who describes him as being full of spirit for a dog his size.
Kissel knows how valuable Tater tot is and takes him along everywhere he goes.