It is not always possible to help all the dogs from war-torn nations worldwide. Many often die due to reasons like disabilities, starvation, bombing, and accidents. A lucky few survive the ordeal when they are adopted and rehomed to safer and much more loved homes all around the world.
Kringle, a disabled Anatolian Shepherd breed mix, was rescued from the war-torn streets of Kabul in Afghanistan by a rescue organization named Charity NOWZAD and sent to the UK. 
Caption: Vet of NOWZAD charity is petting the dog they rescued from Afghanistan – Kringle Credits: Somerset County Gazette
Run by Pen Farthing and Hannah once Kringle (then an unnamed dog) reached the NOWZAD shelter, it did not take long before the Shepherd was adopted by Pauline Homes Brown from Wellington, UK.
Aside from severe antisocial behavior, Kringle had a defective front leg that allowed minimal movement and constant chronic pain. Post rehoming a specialist was appointed to check Kringle's condition and plan out a viable treatment option to make life easier for him. His right front leg was deformed resulting in the obstruction of day to day life activities.
Dr. Malcolm Jack, the Cave Veterinary Specialist from West Buckland created a special surgical plan to help correct the congenital defect of his limb medically termed as Angular Limbic deformity, which often causes extreme pain and lameness beside the abnormal physical protrusion of the bone.
Caption: 3D images of Kringle's leg to be fixed by a surgery.
Post the CT Scan, a careful 3D analyzed jig was created by a specialist clinical firm VET3D, for a clear, faultless and concise surgical interpretation. The surgery was declared a complete success and X-rays showed that the limbs were finally in a correct and exact anatomical alignment.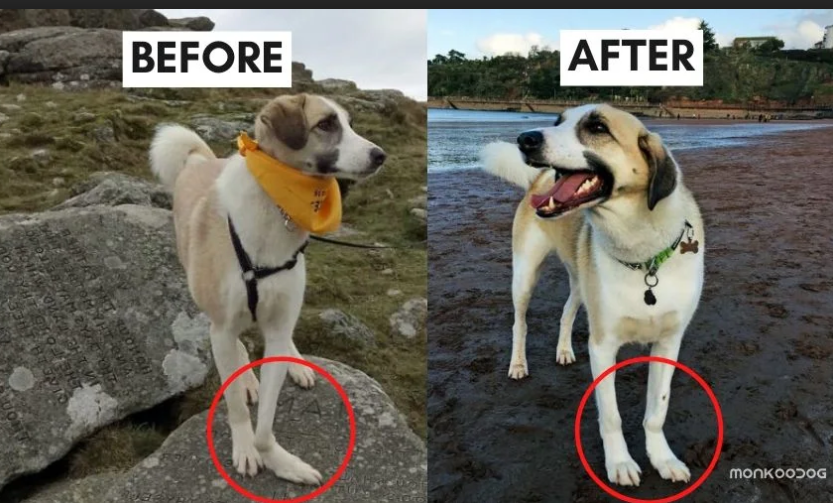 Caption: the rescued dog – Kringle's before and after surgery pictures of him.
With his newfound lease of life, Kringle is bound to begin his journey of chasing squirrels and birds and Pauline cannot wait to see the transformation. Pauline even stated that the 18 months-long journeys from receiving the extremely timid and feral Kringle at the Heathrow airport to seeing him flourish as a loving and goofy pet dog is very emotional and endearing for her and her family.