In a recent incident of adversity and miracles, a college student was distraught to find her apartment burned down. The young girl was thoroughly devastated, particularly because her four-legged companion, Rebel, had perished in the fire. Nevertheless, the young student was In For a miraculous Surprise.
According to the reports of Animalkind Stories, When the apartment fire broke out, Kayla was instructing soccer. Her tummy knotted up in the car on the way home. Kayla could tell the fire was severe based on the rising smoke cloud in the sky.
Source: FLICKR/FORT GEORGE G. MEADE PUBLIC AFFAIRS OFFICE
Kayla was frantic to return to her apartment and save Rebel, her four-legged companion. She worried it was already too late to witness the flames exiting the structure as she was parking.
In her statement, Kayla said that by the time she reached her place, the building was up in intense flames following the terrifying fire outbreak.
However, despite the fact, she ardently begged the firefighters to go for her dog. But Kayla was sadly informed that it was already too late and unsafe for the firefighter to go in for the rescue. The chances of survival of her dog, Rebel, in the roaring fire was impossible.
Heartbroken and with no course of action to work on, Kayla left the scene. She was in severe misery for the following days.
Source: FACEBOOK/ANIMALKIND STORIES
Rebel stepped into Kayla's life when she reduced the dog from a shelter. The two instantly fell in love, forming a strong, long-lasting bond.
A few days later, Kayla returned to the fire scene, searching for something concrete to remember her dog. The smoke had cleared at that time, and she hoped to be able to walk inside and locate Rebel's dog tags.
However, on entering the scene, she felt her ears were playing tricks on her as she stood in front of the burned-out, collapsing structure. Because wait, Did she hear a bark? Well, definitely yes, Kayla was in for a miraculous Surprise!!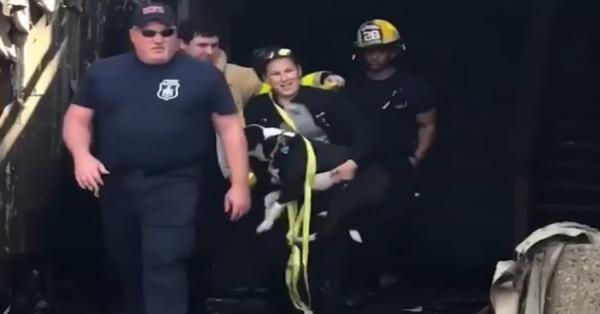 Source: FACEBOOK/ANIMALKIND STORIES
Kayla claimed she heard the faintest, weakest bark but was almost positive it was her Rebel. She quickly dialed 911 and requested that the fire department come in and look for her dog. Sure enough, he'd made it through the flames!!
No one knows how Rebel managed to leave with his life, but he did, and he did it inexplicably without harm.
Check out the video here: 
Kayla and Rebel were ecstatic to be reunited. And undoubtedly, it was a heartwarming reunion. Though the college student lost a lot in the outbreak,
Kayla stated she didn't mind losing everything else in the apartment fire because the most essential of all survived. Her best bud, Rebel. Until they can find a more permanent living solution, the two reside in dorm accommodation at Kayla's college.