When Amanda Leask went on the podium of Britain's Got Talent, it was supposed to be yet another normal dog trick. However, her story created a worldwide phenomenon. Once her interview got aired in 'this Morning' the viewers got emotional and thousands of people from all over the world came forward pledging to help her cause.
On one side we consider dogs as humanity's best friend while on the other side serving dog meat on the dinner table is also considered a normal day to day life occurrence. Each day thousands of dogs are illegally poached into meat markets for the sake of feeding human hunger.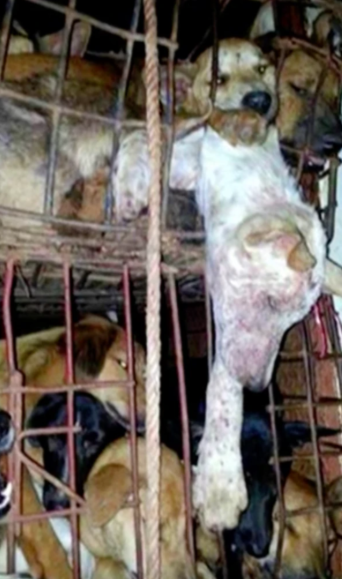 'Miracle' was one of the many dogs stolen from the middle of the road and loaded into a large truck on the route to the illegal dog market of Thailand just like any other day. Luckily enough Animal Rights Activists could catch the truck in time to see it filled with hundreds of dogs inhumanly piled up above one another.
'Miracle' was one of the hundred dogs rescued and sent to Great Britain where Amanda Leask took on the responsibility of helping Miracle begin a new journey. Amanda a proud mom to over 40 rescues has won numerous awards for her activities., but she never knew how profound the effect of this new mixed breed rescue would be in her life. 
When she went up the podium of Britain's Got Talent with 4 of her dogs, people expected tricks but not a heartwarming story behind the lead dog's performance. Turn out that Miracle is not just a rescued dog but is also a great therapy dog.
 Amanda's son Kyle Leask is suffering from Cerebral Palsy and is severely autistic. However, Miracle seems to be very tuned to Kyle and what he needs. In the words of Amanda, Kyle and Miracle find solace in each other's company due to their troubled life. 
Amanda spoke of how Miracle helps Kyle in a very gentle and calm manner to live life without needing to feel anxious or verbal communication. Amanda's effort to make Miracle a happy dog and Miracle's zeal to not let the past affect his today has become a worldwide sensation and people can't get enough of the story.