It is simply amazing to encounter and experience the astounding things that dogs can do. Adding to their many talents and charms is this amazing clip of a dog painting an adorable picture.
Remember Secret, the sweet and gifted Australian Shepherd, who won millions of hearts with her dancing video? Well, She's here once again to enchant you with another of her skills!! Only this time it includes a paintbrush and a canvas.
Originally shared on a doggo's Instagram web page, the video has garnered a lot of attention. In fact, it will leave you thoroughly tempted to bestow this delightful pooch with lots of cuddles.
Watch out this amazing clip with Secret sitting next to the finished painting with a paw-print signature from the endearing artist herself. Click here to check out the video.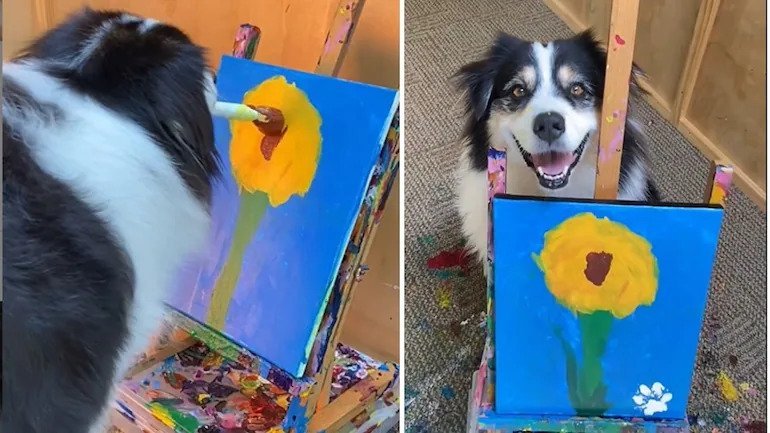 The caption complementing the clip read- Secret drew a sunflower! Or maybe it's a daisy? We've had a lot of fun drawing different shapes and brush strokes lately, and she's getting to the point where she can draw recognizable shapes on her own without aiming.
The video opens with Secret drawing a lovely yellow flower while holding a brush in her mouth. Moving on, the clip ends with the furry artist sitting next to the finished painting that has a signature from the adorable designer itself.
The clip was shared on July 18 and has garnered over 1.7 lakh likes and multiple reactions. People couldn't hold back from showering praises on the talented pooch. While many suggested that Secret should paint more artistic pieces, others expressed their definite desire to invest in dog ​​art. The canine friends of Secret also shared their comments of appreciation.
Also See: Tips For Staying In A Dog-Friendly Hotel
And what's more, with her absolutely stunning artistic talent, Secret has further succeeded in securing the nickname of 'Doggo Van Gogh', from the admiring netizens!!
Note:
Do you have a story tip? E-mail: woof@monkoodog.com
The perfect app for pet lovers is right here – presenting the power-packed Monkoodog application. Brought to you by Stepett Technologies, this app flaunts a host of features that make grooming and maintaining your dog's health and appearance easy breezy. This application provides 360-degree dog-related services that include finding the nearest pets up for adoption in your location to providing informative news bits about dogs across the world. You can also look up essential pet-care services such as dog's health records, vaccinations, your dog's every day. And you can also look for Pet Service providers, dog parks, dog trainers, or beaches, learning about your pet, and much more! Here is the best Dog Monitor app for Android!