Could you ever imagine that a dog could be the face of some of the most iconic movie posters of the world?
Imagine the famous poster from Steven Spielberg's Jaw where it is a dog face instead of the scary shark face you have to look at? It is certainly going to be cuter and less scary for sure. Burger, an Ohio based family dog is currently the talk of the nation for a very unique reason.
Brian Stanley, an Ohio based entrepreneur adopted two dogs from the New Lease on Life shelter near Youngstown, Ohio. Soon enough the dogs became a very integral part of the family and best friends with his 8 yrs old son.
However, Burger, being a very curious natured dog, decided that he wanted to explore the neighbor's porch and began to dig through under the 6-foot tall fence. To prevent him from digging, Brian decided to cut a hole in the middle of the fence, so that Burger could pop out his head and look at the neighbors rather than dig through and invade their porch.
Once the pandemic created a nationwide lockdown, Brian and his young son decided to try something interesting. They began recreating iconic posters around the fence cutout with dog-inspired quotes and film taglines.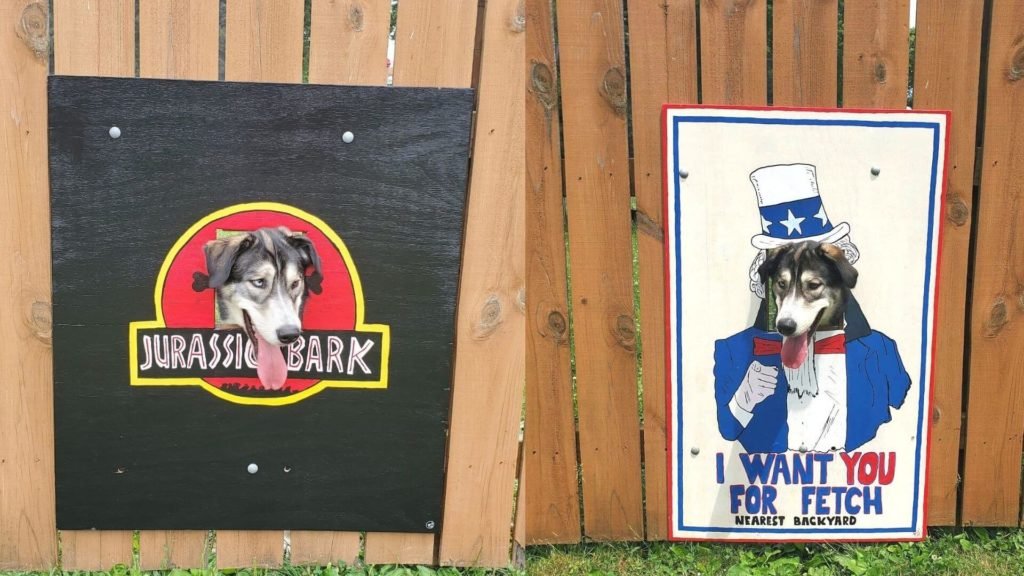 To their surprise, the community of Ohio couldn't get enough of these posters and often stopped to honk and wait for Bruger to pop his head through the hole. Soon enough people began to share the photos of Burger inspired film posters on social media.
These days Brian Stanley and his son recreate their fence art every 3 weeks. Local commuters often patiently wait for the fence art to change, so as to see Burger's head popping out of new artwork. Though Burger seems to be very happy with all the attention, Ripley seems to be still getting used to the newfound fame and rarely showcases his cute face through the fence hole.
The rising popularity of Brian's artwork inspired him to take it a step further. He created a social media page titled "The Dog Fence" that showcases dog-inspired paintings and fence art. These paintings and artwork often include faces of adoptable dogs from all over the country of The United States to help promote Dog adoption rather than dog purchase.