New Rules proposed by the UK Government, are all set to put an end to the "grim trade" of puppy smuggling and forestall cruelty to canines.
The proposal incorporates raising the base age at which little dogs can be imported from 15 weeks to at least six months as well as prohibiting the import of canines with trimmed ears or docked tails.
Though this trade was prohibited in the UK in 2006, yet as of today canines with trimmed ears can be easily spotted on social media platforms, especially on the social handles of influencers and celebrities.
In addition to a ban on importing young puppies, a prohibition on importing heavily pregnant dogs will also be proposed under the new rules. These principles are basically designed to safeguard and ensure the welfare of canines brought into the UK every year.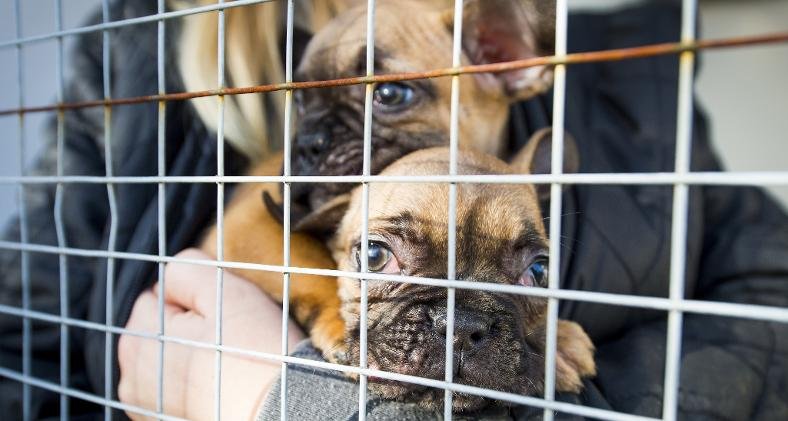 The proposal was strictly important as on record over 66,000 canines were commercially imported last year. Out of which the number of young puppies intercepted for not meeting UK pet import regulations drastically surged by 160 percent, from 324 in 2019 to 843 in 2020. Furthermore, according to the reports of the Department for Environment, Food and Rural Affairs evidence points at a sudden rise in animal import and smuggling, particularly in low-welfare conditions.
Also See: Everything You Need To Know About Dog Tear Stains
An incidence of cruel behavior was reported with as many as six underage puppies. They were found covered in sticky oil and suffering from diarrhea, at the port of Dover. These little babies were imported illegally from Romania, traveling in the back of a van for more than 24 hours.
In another case, four Beagle puppies with ages ranging between seven to eight weeks were found in the back of an abandoned vehicle in London, in horrendous condition. They were quite tiny, deprived of food and water. These puppies were illegally imported from the Republic of Ireland.
As per the reports of RSPCA, a rise of 620 percent of canines was found to have their ears trimmed in the previous five years. It is a difficult cycle that includes surgically altering or removing a dog's outer ears to make them look more aggressive.
The main purpose of the new rule being introduced by the government is to raise the minimum age for importing puppies to ensure that they are not separated from their mother too early, which could increase their risk of becoming ill or dying.
Also See: How To Brush Your Dog's Teeth
Declaring a meeting on the proposition, animal welfare minister Lord Goldsmith, proclaimed 'smuggling puppies is a horrid exchange, and we are set on to clamp it down. Raising the base import age for pups will assist in ensuring a safe environment for many puppies and prevent criminals benefitting from the surge in demands for pets.
The consultation was heartily welcomed by media vet and animal welfare campaigner, Dr. Marc Abraham, and RSPCA chief executive, Chris Sherwood. They saw it as a significant step in the fight against these cruel practices.
Note:
Do you have a story tip? E-mail: woof@monkoodog.com
The perfect app for pet lovers is right here – presenting the power-packed Monkoodog application. Brought to you by Stepett Technologies, this app flaunts a host of features that make grooming and maintaining your dog's health and appearance easy breezy. This application provides 360-degree dog-related services that include finding the nearest pets up for adoption in your location to providing informative news bits about dogs across the world. You can also lookup essential pet-care services such as dog's health records, vaccinations, your dog's every day. And you can also look for Pet Service providers, dog parks, dog trainers, or beaches, learning about your pet, and much more! Here is the best Dog Monitor app for Android!
Also See: How To Train Your Dog For Fetch Command