Katy Perry is perhaps one of the best musicians of the 21st century that America discovered. The singer who has given us some of the most iconic chart-toppers like 'Not the end of the world', 'Dark Horse', 'This is how you do it', 'Smile' and many more is known for numerous benevolent endeavors worldwide.
The 36 yrs old California born singer recently took onto the microblogging site Twitter and shared a tweet expressing her desire to move towards an alternate and healthier lifestyle. She mentioned her decision to move into a Vegan lifestyle on the 16th of January, 2021. The post went live late on Saturday night only to immediately grab the attention of the worldwide fans and followers of the singer.
While on one side, she received an enormous amount of praise for her decision to make such a healthy transition, there was also a huge massive outcry to the decision. Since her post went live on Twitter, Katy Perry has been constantly receiving a substantial amount of backlash and criticism. However, the entire debacle is for something else that was included in her short post.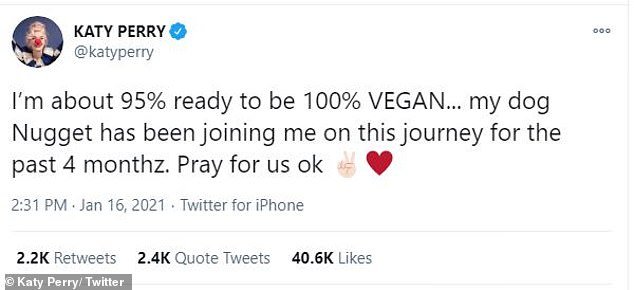 The exact wordings of the short post included a decision that she seems to have taken even for her dog Nugget, which has caused the massive uproar. It is a well-known fact that dogs and humans have a differently-abled internal digestive system. Dogs' ability to digest nutrients is different than that of humans.
As a vegan diet solely relies on plant-based nutrition, it is still considered a very controversial lifestyle system according to many health experts. Protein is the primary necessary nutrient component that dogs rely heavily upon. A vegan diet mainly comprises nutritional supplements that have been completely extracted from plants.
From mock meat created out of soybean and other vegetables to milk derived from almonds, coconut, soya chunks, and many other such variants, veganism eradicates any and every animal products from the diet and lifestyle.
While it is a very great initiative in the battle against massive animal product consumption worldwide, many are skeptical about how well veganism can compensate for the balanced nutritional necessities of a human body.
According to the Roar singer, she has been contemplating the idea for over 4 months now and had already been making slow changes in her lifestyle for quite some time now for the transition. The singer engaged to Actor Orlando Bloom gave birth to their daughter Daisy in the month of August 2020 and since then has been regularly posting pictures and quotes on her social media handle.
Also See: German Shepherd Got Saved From A Frame Window After Hanging For Hours
The fact that Katy Perry decided to include her pet dog Nugget into her lifestyle change decision has sparked the entire debacle further. Though they are domesticated beings and are used to the majority of human dietary elements, their anatomical system is not apt for digesting complex plant-based protein.
However, amidst all these debates, PETA has come forward ardently supporting Katy Perry in her new lifestyle choice and even went on to post a list of few high protein vegan dietary supplements for dogs for her to take into account while changing Nuggets diet.
Though Katy Perry has two dogs Nugget and Butters, Nuggets is a social media star in her own rights. The micro teacup Poodle made her music video debut with Katy Perry's song Roar and since then has been part of numerous commercials and red carpet invites.
Also See: A Golden Retriever Puppy Playing Prank On His Other Pooch Siblings