Korea has always been in the limelight in the past few decades. While the Southern Democratic nation is on route to becoming one of the highest GDP grossers of the world and has already left a deep impression on the world economy, Northern Korea still remains one of the poorest nations under severe oppression and inhumane dictatorship.
Known for the tyrannical regime of the Kim family, the Nuclear threat they present to the world is the only claim to glory this oppressed nation of North Korea has. One of the most isolated nations with little to no contact with the outside world has always been a source of fascination for many.
Amidst the global fight to ban dog meat trade, North Korea is once again in the news but for all the wrong reasons. The President of North Korea, Kim Jong-Un declared it illegal to own any pet dog in a bizarre announcement in the month of July.
The government of North Korea has ordered all the pet dogs to be handed over to the government, where they would be either used in the dog meat trade for restaurants or kept in zoos. Many believe that the extreme shortage of food in the nation was caused due to famine and years of mismanagement of the already poor citizens, the government has now turned towards meat from pets especially dogs.
A leading media house from South Korea reported that their informant in North Korea has reported that the president has ordered to use force if needed and confiscated all the pet dogs in the country.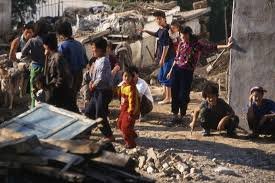 The few images available online that were captured with hidden cameras, drones, and telescopic lenses clearly showcase how horrible the condition is within North Korea. From feeding on grasses and worms to using their own feces for fertilizers, North Korea is a true hell on earth to live at.
The forceful inhumane act may have disturbed animal lovers worldwide, but given how tightly secured the nation is from the outside world, it is impossible for any Animal Right organization to fight against it.