A new graffiti artist is in the town, named Banksy. He is one of a kind because Banksy is a dog who loves creativity. Banksy is recreating art as a part of an appeal to find a forever home for him.
Bristol, an animal rescue centre, is taking a tour of the artworks around the city to make paw print versions on canvas.
banksy's story
Banksy has been with the animal rescue centre for 19 weeks. He didn't have a precisely good start with life. The average period of a dog's stay at the animal rescue centre is six weeks, but it is unusually long for Banksy.
'Banksy is a very cute, lovely, and a dog with a cheeky personality, 'said the rescue centre's manager, Jodie Hayward.
'Banksy has been into a few homes already but could not find a forever home. He is now looking for a comfortable, permanent and lovely home for himself,' said the centre.
Also Read:-She Just Wants Attention! Look At This Adorable Pup Striving For Attention No Matter What!
not just any dog
According to Jodie Hayward, Banksy is a pup who is different. He has a passion for painting. He enjoys colours. In her words, 'Banksy loves creativity. It's a great activity for him. Moreover, he enjoys doing it and passes his day this way.'
He has painted a lot so far. Banksy's most famous one is his version of "Cat and Dog" artwork. He likes to use his nose and his paws to paint. He spread the paint and created art.
'Banksy is not very comfortable in crowds. He is best when living alone without other cats, dogs, and little children, said Hayward.' He has a little social anxiety and doesn't know much about how he should behave in certain places in certain situations.'
Banksy has a lot of potential if he finds the right place he is comfortable in. He is mainly misunderstood. If he finds the right family to live with, he can light up their world.
Gina Jones, the fundraising manager of the animal rescue centre, calls Banksy "Cheeky Chappie". She is also desperately trying to find a perfect home for Banksy.
Banksy's trainer, Kaya, is working hard in training him so that he is trained to be a pet. She keeps him busy with a lot of training. 'He is intelligent and a fast learner', said Kaya.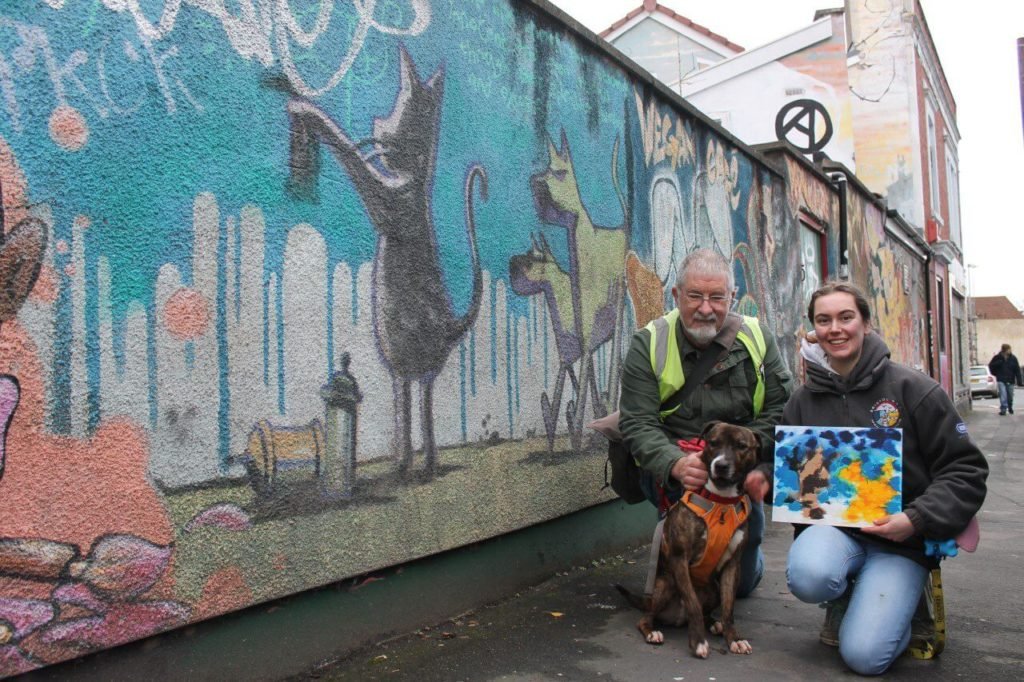 Banksy's artworks will be auctioned, and the funds will be used to fund the animal shelters.
The Bristol Animal Rescue Centre has been working for the animals since 1887. They provide shelter to almost 14000 vulnerable animals who need their help every year.
Also Read:-Buddha Smile On This Little Dog's Face Is The Happiest Thing You'll See Today.
Get your Personal Pet Care Assistant Now! Available on