With numerous diseases and infections affecting life forms, dogs are not immune to these ailments. In the latest study conducted by the scientists from the Royal Veterinary College (RVC) London, England experimenting on more than 22,000 dogs, they have researched and analyzed the breeds most susceptible to ear infections.
According to the studies of the scientist from RVC London, canines with long, flappy, and hanging ears are at higher risks of ear infection, as compared to their other relatives from the Canidae family. In fact, smaller dog breeds with a body weight up to 22lbs (10kg), are less receptive to these infections, than the larger breeds.
Ear infections, scientifically known as  'otitis externa', are one of the most common ailments in dogs. The most symptoms of the same include, the dog's ear becomes inflamed, smelly, itchy, swollen, and painful for the dog. Nevertheless if left untreated, otitis externa can spread deeply, affecting the ear canal and causing serious harm.
According to this latest study, the researchers analyzed the health records of over 22,333 dogs in the UK. The analysis reported that about 7.3 percent of the dogs had suffered from ear infections, with a certain canine breed more susceptible than others.
Large dog breeds, particularly those with long, flappy, or hanging ears were found to be standing at the highest risk. While Basset Hounds topped this research list, Chinese Shar-Pei, Labradoodles, Beagles, and Golden Retrievers closely followed in.
Contrary to this, anatomically smaller members of the Canidae family such as Chihuahua, Yorkshire Terrier, and Jack Russell Terrier were found to be at the lowest risk of ear infection. 
Meanwhile, compared to those with erect ear cartilage, breeds with droopy ears anatomy were deduced to be 1.76 times more vulnerable to the risk. While dogs with morphologically, V-shaped drop ears had 1.84 times the risk of infection.
Male dogs were also found to be 1.21 times more vulnerable to contracting ear infections than their female counterparts. Whereas dogs over one year of age were also at increased risk of infection.
Also See: 3 Nutrition and Supplementation Tips for Senior Dogs
Senior Lecturer in Companion Animal Epidemiology at the RVC as well as lead author of the paper, Dr. Dan O'Neill in his statement said that humans have bred dogs with all sorts of extreme body shapes, over a hundred years ago. However, it is now, with progressing times that we are able to conduct studies and fully realize the impact of these varying body shapes, affecting the health of the different dog breeds.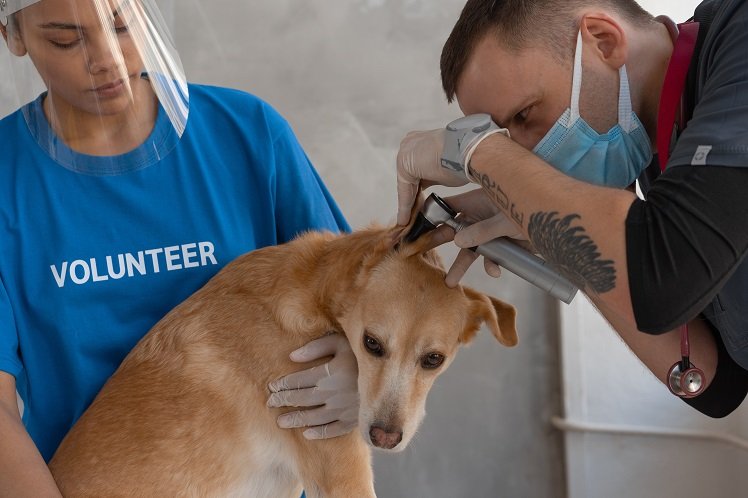 The recent studies help in deducing the dog breed most vulnerable to ear infections as well as make us wonder if we have gone too far in our quest for variety, in terms of how our dogs look.
The Royal Veterinary College (RVC) London team hopes the research will help owners to better detect the signs of ear infection and thereby respond early.
In case your canine does suffer from an ear infection, the experts advise resorting to using ear cleaners with antimicrobial properties, gentle ear cleaning with a dry cloth, and avoidance of overzealous ear-cleaning or plucking.
Note:
Do you have a story tip? E-mail: woof@monkoodog.com
The perfect app for pet lovers is right here – presenting the power-packed Monkoodog application. Brought to you by Stepett Technologies, this app flaunts a host of features that make grooming and maintaining your dog's health and appearance easy breezy. This application provides 360-degree dog-related services that include finding the nearest pets up for adoption in your location to providing informative news bits about dogs across the world. You can also look up essential pet-care services such as dog's health records, vaccinations, your dog's every day. And you can also look for Pet Service providers, dog parks, dog trainers, or beaches, learning about your pet, and much more! Here is the best Dog Monitor app for Android!
Also See: Best Supplement For Muscle Gain In Dog