Given the current gloomy scenario all around us due to the scary second wave of the Corona Virus caused a pandemic, the world is already stressed and depressed. Small incidences of laughter and happiness from around the world are perhaps the best medicine to spread positivity and keep us going.
This past year, social media has become a major source of communication as well as a mood enhancer due to the ongoing on and off global lockdown. People from all over the world have been posting inspiring quotes, videos, and messages in addition to lots of personal videos and incidents too.
One of the most favorite kinds of fun-filled and loved video categories that most of us can never seem to get enough of are the animal videos. Especially the ones recorded about pets are the most loving and hilarious ones.
We all know pets, especially dogs tend to have a very unique personality. Unlike cats who prefer their own company, dogs are more of a constant attention seeker. They tend to be very vocal about what they want. In fact, their attention and playfulness have often been regarded as the perfect cure for depression and other mental anxieties and illnesses.
Sometimes their nature is more of a full-fledged source of entertainment. One of the most vocal dog breeds with very strong personality traits is Husky. Known for a very resilient and bossy temperament, Huskies require constant training and attention to keep their boisterous and playful nature in control.
A highly intelligent breed, Huskies often are adamant when they want to do something that their master says no to. Sophie Ewan knew it very well when she first adopted Rex as a Puppy 3 yrs back. Goofy yet a very good boy, Sophie is quite used to Rex and his stubborn streak.
While most of the time Rex prefers listening to what Sophie says, there are occasional scenarios when Rex decides that he needs more attention from her and thus comes out with an extremely vocal personality.
Deciding to record Rex and some of his odd hilarious moments, Sophie was in for a huge surprise when one of Rex's goofiest moments was captured in her camera. Sophie had strictly instructed and taught Rex that he is not allowed to go into the upstairs bedroom.
She went ahead and explained that the upper section of the house tends to get extremely heated during summer months which is generally not good for Huskie. This was the reason why from the very beginning she trained Rex to never go upstairs.
Also See: 10 Low-Shedding Dog Breeds That Make Perfect Couch Companions For You
Though a majority of the time Rex prefers following instructions to the T, there are times when he rebels. One of these moments was recorded in her camera that she, later on, went on to share in her Instagram account, which garnered millions of views. Soon the video also became a Youtube sensation and people from all over the world began to comment and shower love and appreciation for Rex and his personality.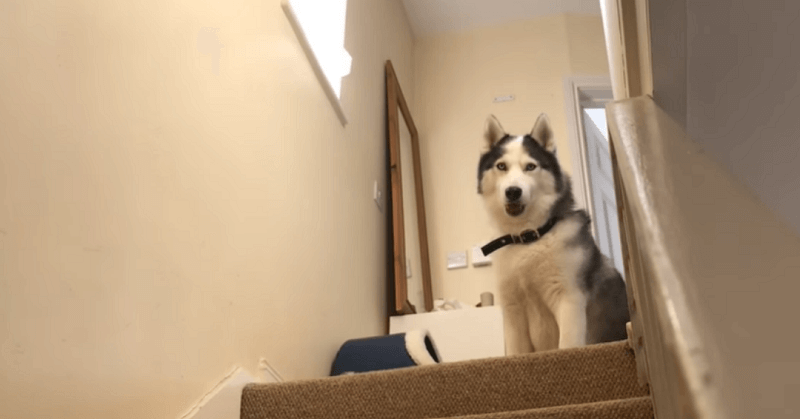 In the video, it can be seen that Rex is on the upper landing and when Sophie calls him downstairs, Rex refuses immediately by being extremely vocal with his howling. Sophie said that his vocal howl is one of the most hilarious signs of protest that Rex has.
Also See: AKC (American Kennel Club) Listed Most Popular Dog Breeds
In fact, even the slightest delay in his dinnertime can cause Rex to showcase his displeasure with the same howling. Rex has his own Instagram account where Sophie regularly posts updates and moments about him which are definitely worth scrolling through. You can follow Rex on his Instagram @rexthemajestichusky.
Note:
Do you have a story tip? E-mail: woof@monkoodog.com
The perfect app for pet lovers is right here – presenting the power-packed Monkoodog application. Brought to you by Stepett Technologies, this app flaunts a host of features that make grooming and maintaining your dog's health and appearance easy breezy. This application provides 360 degree dog-related services that include finding the nearest pets up for adoption in your location to providing informative news bits about dogs across the world. You can also look up essential pet-care services such as dog's health records, vaccinations, your dog's everyday. And you can also look for Pet Service providers, dog park, dog trainers, or beach, learning about your pet, and much more! Here is the best Dog Monitor app for Android!