Islamic state founder and chief Abu Bakr al Baghdadi got chased by a military trained dog named Conan up to the end of the dark tunnel. The terror of being chased and torn into pieces of mass forced Baghdadi to blow up his highly explosive vest in the dark tunnel of Syria.
The most wanted terrorist (48) was chased by the American troops with their trained K-9 dogs and robots in the US raid on his ground of Syria's Idlib province.
The dog got injured when Baghdadi blew his explosive vest in the dark tunnel in Syria as the dog was right back to him in the incident. Fortunately, the dog is recovering very well, one of LiveHeed sources posted.
"The dog belongs to a classified unit. It is recovering well from wounds and will join back the unit soon. So, we are not going to release any photo or name or identity of the dog. We are protecting the Dog's identity," said Mark Milley – the Chairman of the US Joint Chiefs of Staff Generals with Secretary of Defense – Mark Esper, in a joint news conference.
BUT Soon after the conference, Trump tweeted a picture of the dog without revealing the name on Friday morning.
We have declassified a picture of the wonderful dog (name not declassified) that did such a GREAT JOB in capturing and killing the Leader of ISIS, Abu Bakr al-Baghdadi! pic.twitter.com/PDMx9nZWvw

— Donald J. Trump (@realDonaldTrump) October 28, 2019
As soon Trump tweeted the picture of the dog, media guessed right the name of the dog is Conan. And the dog got famed overnight.
The US President Donald Trump met the courageous dog at his oval office in White House and credited him for the utmost bravery performance in the operation.
— Donald J. Trump (@realDonaldTrump) November 25, 2019
Trump praised the dog for doing an unexpected outstanding performance in haunting and forcing the leader of ISIS – Baghdadi to homicide.
Trump told the reporters, "No one got hurt or injured, except the dog who was brought back and now is doing very well. Baghdadi died like cowards."
The Heroic Breed – Belgian Malinois
This breed is a special breed that has been now increasingly used by the Military and Police. The compact size, intelligence, high speed, and strong jaw makes them ideal for sniffing operations, search and rescue, explosive ordnance, hunt and kill. That's why they are also known as 'Maligators' and 'hairless missiles' by military people.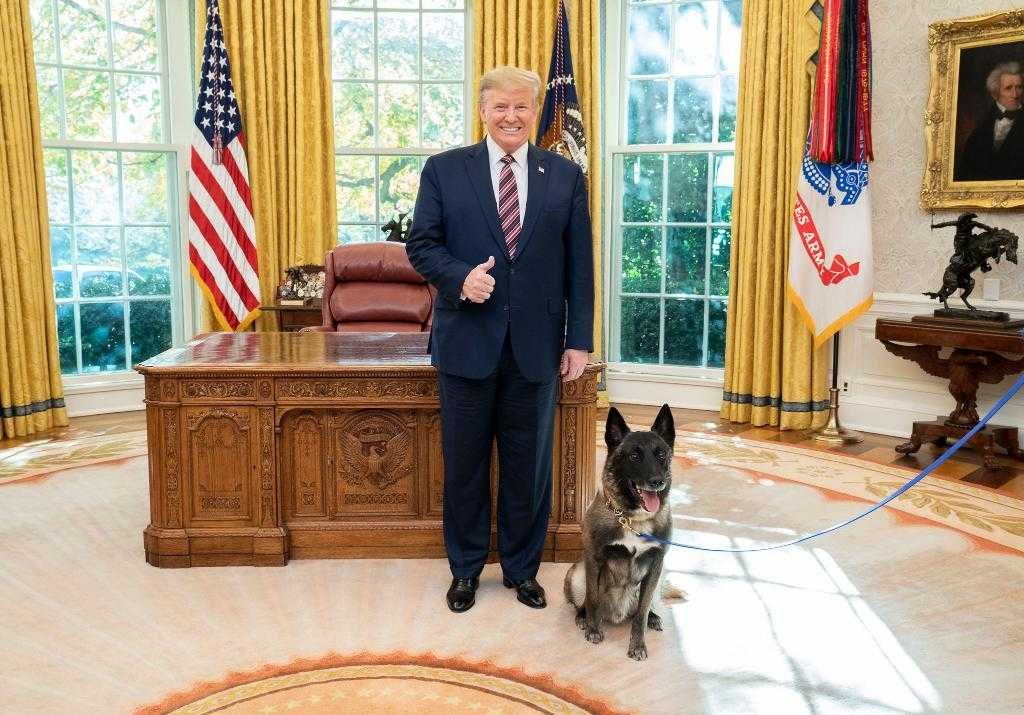 Dogs like Canon are trained very well to be ready to fight in battles where they have to jump out of the plane with human soldiers.
Conan belongs to US Delta Force which handles the highly secretive US joint special operation across the globe. In which the highly-trained dog is often conveyed to American Troops in the conflicted areas.