There is nothing as fun as taking a road trip with your little buddy. If you and your dog love to travel around the world and you are planning on taking your furry friend on his Tips For A Road Trip.
Or If the last road trip that you took with your buddy turned out to be a disaster because of whatever reasons and you want to do it the right way this time then you are in luck because we have compiled some of the Helpful pro tips that will surely safe your road trip with your dog from ending up a disaster again.
So before you pack your bags and head out on the adventure with your pooch, let's take a quick look at some Pro Tips for a Road Trip with your Dog.
Also See:- India Best Places – Explore Travel Blogs, News, and Events
1. Visit your Vet
If you are planning on a road trip with your dog anytime soon, the first thing to do is to take your dog on a visit to your vet.
Ensure your dog's vaccinations are up to date and also that it is on preventive medication for fleas and ticks before you leave for the trip.
Even if your dog is on time with his vaccination and preventive medication it is advisable to take your dog to the vet for a regular checkup at least 10 days before you plan on leaving for your road trip.
2. Get your Dog microchipped before leaving
There is nothing like too much caution when it comes to the security of your dog. Make sure you get your dog microchipped before leaving for the road trip, it will act as an extra measure of security if you and your dog get separated because of any reason.
Also See: Best Mouth-Watering Dog Treats Available Online
3. Pick the Right Destination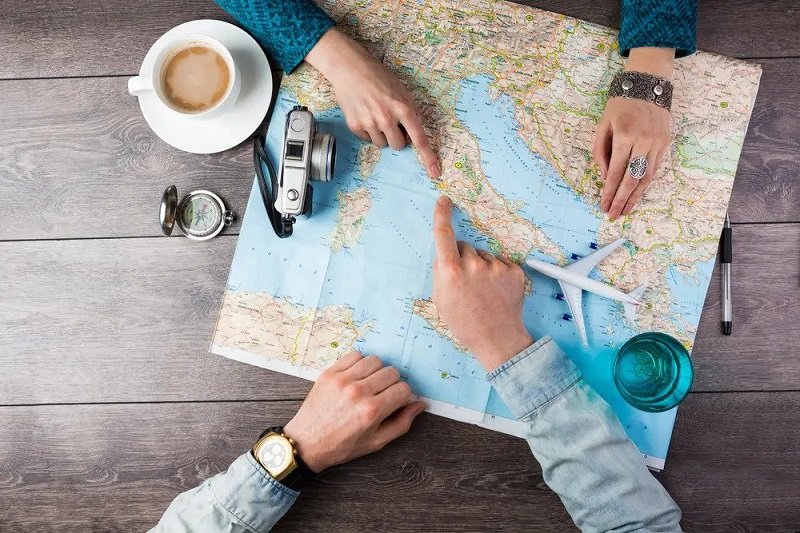 Now in the excitement to travel with your little buddy, you might end up overlooking where exactly you are going and getting all the much-needed information about the place.
The first thing on your checklist should be researching the place where you will be taking your dog. Find out if the place is pet-friendly or not.
You do not want to take a road trip all the way and end up with a place that does not even have dog-friendly hotels.
A quick search through Bring Fido orDogfriendly.com will help you pick the right place for your road trip with your dog.
4. Pack the Essentials
What you pack on a road trip with your dog is something you should be aware of. It is also necessary to know where you are keeping what when you pack your bag for a road trip with your dog so that there is no element of surprise and you are ready for everything that might come in handy on the road trip and also you will not waste your time fiddling around in the bag to find what you need at the time that you need it. Some of the essentials you should absolutely pack on a road trip with your dog are:
Water Bowl
Your dog's regular food
Medications
Poop Bags
Updated tags, a collar, and a leash
Medical records and vaccination certificates (especially rabies)
Grooming supplies and a towel
A kennel
Dog bed and/or blankets
Favourite toys
5. Don't Feed your Dog Right Before Departure
If you are planning on leaving on the trip around your dog's mealtime, then try to change the mealtime for your dog that day and instead serve his meal 3 to 4 hours before leaving for the trip, otherwise, there is a good chance that your dog might end up puking in the car. Also, make sure to take your dog for a little walk before you leave for the trip.
Also See: Wondering What Your Dog Is Thinking?
6. Designate a place for your Dog in the Car
It is essential for your dog to be restrained in a moving vehicle for its own safety.
While travelling with your dog it is a safer and more comfortable option for both you and your dog if your dog is designated a place in your car.
Here are some best car accessories that you can use while travelling with your dog to make your travel fun and safe.
7. Take short breaks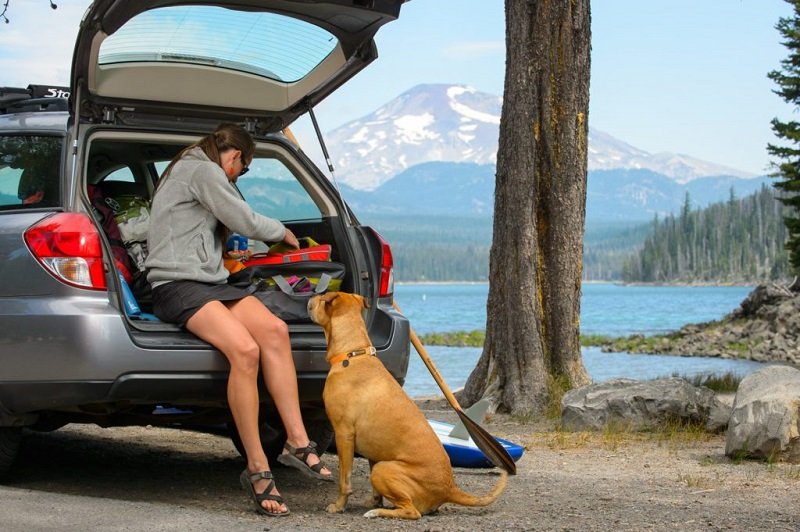 Once your trip has started make sure that you take short breaks every now and then because your pooch will be needing bathroom breaks.
If you feel like your dog is getting restless in the car after a point in time, then it will be a good idea to take a break and take your dog outside for a walk, this will help him stay calm.
With the help of these tips on your road trip with your little pooch, you will be perfectly prepared for everything that comes your way on this trip.
We hope you have the best possible time and a fantastic adventure with your little best friend on the road trip. Happy Journey!
Also See: Famous Dog Sports That You Might Never Know Before