Dogs are often termed as human's best mates or friends. Keeping dogs as pets has become very common among everyone. Dog's and humans' emotions are always highlighted. Even if a dog stays with you for a week you are attached to it. A bored pup when left all alone is bound to find things to entertain itself. There are many puzzle toys for dogs these days in the market. 
So as we keep dogs as our family members we should keep them and treat them as one of our human friends. Keeping a dog is not the only thing you should take care of: their food habits, hygiene, clothing and also their enjoyment.
What are Puzzle Toys?
Puzzle toys are toys designed to keep your dogs busy whenever you have any kind of work or office.
But sometimes we can see that the puzzle toy material is not good. This happens because the manufacturer uses bad quality of plastic or silicon. So, it is very necessary for one to buy puzzle toys from sites which are good and known. And even if you buy from the local market make sure you are not cheated and you buy a good Puzzle toy for your best mate.
There are companies like Kong, Outward hound, Starmark etc which manufacture the best quality toys for dogs. You can surf on websites like Amazon, Chewy, PetSmart and Outward Hound for cool dog stuff.
So tie your seat belt tight to look into these amazing pet puzzle toys for your cuties and take a quick decision which one you want for them.
Now let's dig into the 20 best-puzzle toys for your pets :
1. Kong Classic Dog Toy
If you are an old dog parent you might know that Kong has been producing chewing dog toys for more than 30 years. The bouncy rubbery soft puzzled toy can be the best treat for your dog mates.
These toys are very soft and chewy and give the best pleasure to your dog's. It is very affordable, reliable and keeps your dogs engaged. This toy is even recommended by veterinarians and many dog trainers.
2. Sniff Smelly Mattie Snuffle Mat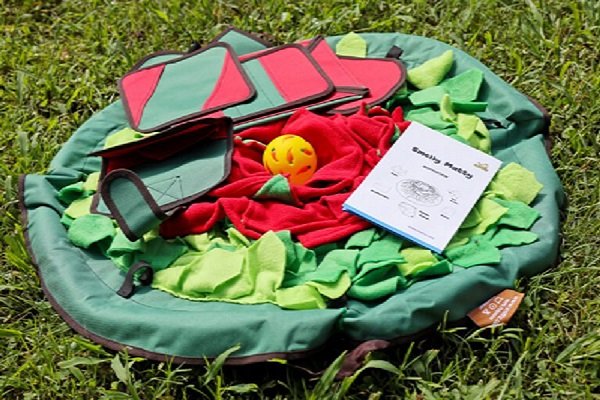 Dogs always use Instinct to forage their food. This is the reason they will spend two hours trying to get the lost chips that they smell under the fridge.
This adorable beautiful snaffle mat has 11 layers of grass and petals. This puzzle toy includes a handkerchief, puzzle board, book, wallet and ball pockets.
These mats capture your dogs' smelling power. By this process, there is a great stress relief for dogs with anxiety. These are numerous hiding spots for food which maximizes playtime and always keeps them snuffing.
3. Outward Hound Hide-A-Squirrel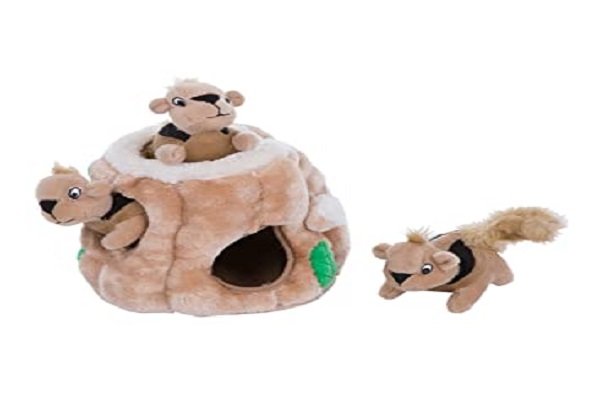 You will get to know your dog's hunting skills with this brain buster featuring their favorite backyard friend that is the squirrel.
This puzzle toy has a large plush tree trunk stuffed with six fluffy and squeaky squirrels. Your dog will have to put their nose into the trunk and then get hold of the squirrels. Once they sniff out all the squirrels then you have to put them back again and start it over again!
There are other things in place of squirrels like bees, raccoons etc. Dogs are huge fans of these kinds of things and they love to play with these puzzle toys.
4. Trixie Flip Board Strategy Game
This puzzle flip board game has a switch, hinges and cones so your pet friend will need to use a variety of techniques to uncover their treats.
This puzzle game helps to modify your dog's cognitive habits as it requires figuring out how each portion opens. You can also find the booklet to find new designs or to create new stuff that will make them guess more.
4. Trixie Chess Games
You can now challenge your pet to a battle of intelligence with the help of this puzzle chess game.
There are four different levels that offer increased difficulty your pet gets to know and his master in each puzzle. The first puzzle requires lifting cones, the second incorporates sliders, the third adds a second row of sliders that moves in opposite directions and the fourth combines all the pieces.
Also See:- 10 Innovative Trending Pet Toys Of 2021
This game engages your pet's curiosity. Always use the instructions in the booklet for some training tips and tricks which can enhance the way you play together this puzzle toy.
5. Bulltug Trash N' Seek
This is a super cute puzzling toy and this game is a bit of a twist on the squirrel puzzle.
There are several mysterious pandas that start the game which are hiding out in a garbage bag. The round shape of the raccoon makes it difficult to remove them from the opening and the dog is too busy to open a garbage bag containing a rope to tie at the top.
It is perfect for dogs that like to play tug of war. Squeakers in the records and the bottom of the bag wood peak your pup's curiosity and playful nature.
7. West Paw Zogoflex Qwizl
This puzzle toy is great for some serious chewers because it offers a mental puzzle and a great treat.
This is made up of durable rubber and the innovative design treats your dog with the smell of yummy treats inside. Due to the smell, they will be kept occupied for as long as it takes for the treats to come out. It is also a great way to distract them from all the bad habits of breaking stuff or scratching couch pillows or anything from their teeth.
8. Bob-A-Lot interactive toy
This puzzling toy is an adjustable wobbling base that is to trigger some exciting and playful dogs.
These customize difficult levels make your dog easily challenged and the treats which are present inside can easily trigger the hunting nature or behavior of a dog. The puzzle has street of a variety of different taps, nudge, and poke. Soya pups can discover a variety of rewards.
9. Outward Hound Dog Tornado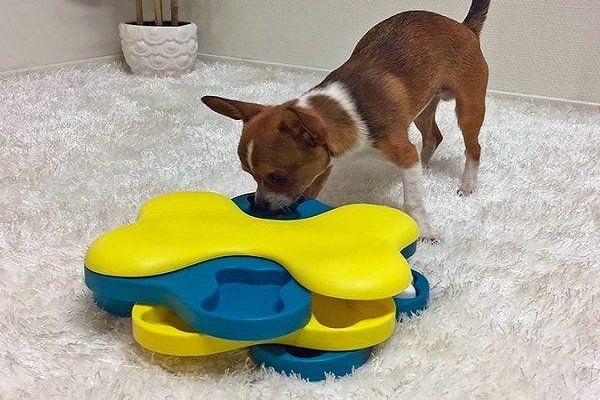 This is a unique kind of puzzle toy.
Basically, it is a brain teaser. It features a creative rotating disc design with their treats hidden in the three layers. Your pet will have to use its nose and paws to get those discs to rotate in the right way.
You can increase the difficulty by adding white plastic blocks into the mix which can create a hurdle in their way from discovering the goodies.
10. Spot Flip N' Slide Treat Dispenser
This puzzle toy was created in bright colours which fits the spectrum of a dog's visual or grabbing the attention and increasing the focus level.
This toy tests the decision-making skills and shifts the dog's IQ as they determine the best way to slide, uncover and flip their goodies. You can also add additional prices to puzzle your dog.
11.  Outward Hound Interactive Puzzle
This Puzzle toy has six treat compartments with 6 locking bone pieces that can stump your pet.
These pieces of bones have to be turned, twisted, or nudged in a specific way to open each compartment for the treat. The game can engage your pet's cognitive reasoning abilities and mentally stimulate them for times.
These toys were created by Nina Otto son who has studied the impact of mental stimulation on a dog's health for over 25 years.
12. Trixie Mad Scientist
Here you can consider your dog to be so smart that they belong in a science lab. This is a perfect game for them. This puzzle toy game features three beakers that hold yummy treats.
This is an immediate puzzle but still, you can start your dogs off within an easier version by removing the leader of the beaker.
13. Doskocil Treat POD rope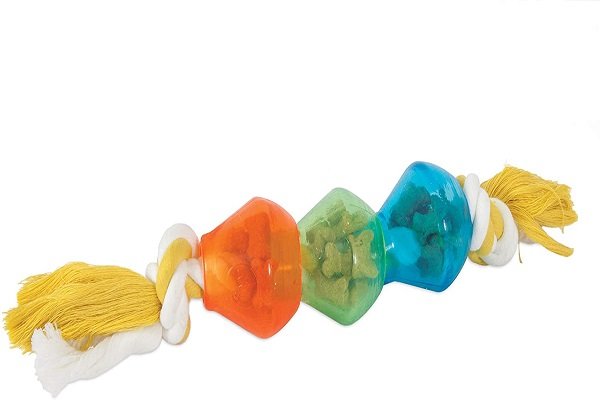 Looking into a puzzle toy that can get wheels burning while doubling the physical activity then this treat for rope offers the best for both worlds. You can fill the pots with their dog's favorite treat: caustic delicious peanut butter and watch their concentration to attempt to claim the reward by engaging in a fun game of tug of war using the rope. They would even love you more for refilling their treats!
14. Our Pets IQ Treat Ball
Another puzzling toy that can mentally stimulate your dogs that can encourage your dog to get physical exercise as well the IQ treat ball is best. This would come in a food-dispensing design which would drop treats depending on how your dog rolls it around and it has an adjustable interior disc which allows increasing the difficult challenges. This puzzle toy is an excellent way to keep your dog's brain working hard while he tries them out.
15. Carpet Hatch Interactive Chew Toy
This puzzle toy is a combination of hygiene with cognitive play. Here your pup would clean their teeth while they try to uncover the hidden treats. These are colourful rotating rubber spikes that would fix in your pop speech and the interior treat would release some good goodies as the gear twist and turns. This puzzling toy is also a great way to massage the gums of your puppies. These puzzling toys are for dogs weighing more than 26 pounds.
16. West Paw Qwizl Treat Dispensing Dog Puzzle Toy
Shaped like wrapped tubes this puzzle toy can be tough with dog food, apple slices, jerky strips, carrot sticks etc. as long as it is healthy to eat and your dog likes any stuff into the Quiz. This puzzle toy can help in improving the showing power of your pet and will make their gums stronger. These toys are very durable and can be used for a long time. Your dog friend would be very happy sitting at a corner and having its goodies.
17. Petsafe Busy Buddy Tug-A-Meal dispensing Dog
This puzzle toy is more clay and less work so it may be a better thing for your dog who needs mental stimulation but also is easily frustrated by more challenging Puzzle toys. Your dogwood loves this amazing piece as this can help them in playing with patients playing.
Also See:- 12 Games To Play With Your Dog
Puzzle toys help the dog's brain to work properly as the dog gets engaged into some work because if they would sit at a place I delete they can be ye lazy so to kill the laziness this puzzle toys can really benefit your dogs should do to get try this amazing toy and help your dog to gain more and more interest in playing and to stay active every time so that there is no laziness in your dogs for.
18. West Paw Zogoflex Toppl Interactive Puzzle Top
As discussed, early puzzle toys really help a dog to stay active in this puzzle. Toy dogs have to work to know their reward from the toy which has trapped trees inside it. To make this puzzle toy even more surprising for your precious meals you can interlock a small or a large piece so that the challenge gets bigger. Because of this large size, it is difficult for your dog to take out the treat and they invest their time and brain both to bring the goodies out.
19. Waffle Puzzle Toy
This is a really cute Puzzle for the dogs as they have to only press the button from their nose in the middle and from the site's goodies would flip. It is a treat type puzzle for the dogs and it helps your dog to solve the puzzle quickly and eat the treats well.
Reasons you should try interactive puzzle toys:
They provide much-needed exercise.
They alleviate boredom.
They're great for sensitive tummies.
They help prevent anxiety.
They help with weight management.
They're fun.
They keep puppies out of trouble.
They help prevent dementia in older pets.
Food is the only weakness for every pet and one can really make their pup have food in an interactive way by using these puzzle toys as they keep your dogs occupied and would help in maintaining their health, mind and gums. Do you know that these puzzle toys are just for fun? You can actually feed your dog the entire meal by using these food puzzle toys.
These are an excellent choice for slowing down your pubes who eat very fast and in an unpleasant manner? If your puppy is eating in an appropriate manner and very fast this can lead to indigestion and vomiting. Now depending on your dog's age, size and health they should get 30 minutes to hours of each day for exercising just like the human body.
Your dog also runs and plays to stay happy and healthy. By the difficult puzzles toys, your dog exercise will definitely increase physically as well as mentally. By playing with these toys every day they should learn to be well mannered and be active whenever and wherever needed. It sharpens the mental stimulation of your dogs. When sometimes you cannot be at home aura busy with some household work then you cannot play with your pet or give time to them.
In this situation, these puzzle toys would help your pet keep distracted and not create any kind of a nuisance for things like scratching, tearing or throwing things away. When eating slowly without a purpose allows your body to feel full but from a smaller amount of food, the food puzzles allow your dog to take by b h every period and minutes in a proper way and chew the food so that they can develop a good eating habit with a proper portion of nutrition in them.
The peace of the world is a fascinating place. These puzzle cognitive toys would maintain a balance of their innocence and curiosity in a safe and healthy activity.
As our dog friends age, they need to exercise their brains so that they would not face problems like memory loss. These food puzzles are a great way to make their memory cells active and keep them busy thinking and solving problems by using their head in their senior years also. Remember one thing: dogs enjoy good challenges now and then. These puzzle toys have plenty of Health and behaviour benefits for your dog to solve and to have fun.
Also See:- 4 Essential Dog Accessories To Find On Your Next Shopping Trip
So I wish you all
HAPPY PET PARENTING!!