This ongoing Covid-19 threat has forced a massive change in general human existence. For the first time ever, human beings all over the world have been forced to resign to their homes for weeks on end to fight the crisis. In this blog, we inform you about the Top 10 dog-friendly hotels in the USA.
In a situation as such, it is natural for people to plan vacations for later or just go to a retreat, lay back, and enjoy the facilities. But what about your pet dogs?
They have been loyal companions during this crisis and deserve a "stay-cation" too.
Vacations are the best way to take a load of your career off by yourself and what could be better for dog-lovers than the chance to go on a vacation with your pooch?
It is a wonderful opportunity to bond with your pet dog and enjoy the vacation with the help of dog-friendly, safe, and sanitized hotels in the US that not only allow dogs to stay but also provide special amenities to maximize their comfort.
Hotel-owners in the United States have taken note of a growing trend among dog-owners to take their pets on vacation with them and developed pet-friendly hotels that will be a perfect retreat for you and your dog.
The following blog will discuss the top 10 dog-friendly hotels in the United States that you can visit after the Covid-19 threat is no more.
Are you looking for Affordable Pet Care Services in Delhi NCR, Then download Monkoodog PetCare App.
10. The Ritz Carlton
It is situated in Laguna Niguel. Ranked no. 22 best luxury hotel in California, this hotel allows dogs to stay with their owners and enjoy the pet-centric festivities that the hotel hosts all year round. 
These include seasonal festivals like Howl-O-Ween and photos with Santa during the Annual Yappy Howl-iday Celebration.
The hotel has a Posh Pooch list of amenities including dog beds, water bowls, complimentary chew toys, room service meant for the dogs, a walking trail map, and waste bags.
Additionally, the pet owners receive a Club Yappy loyalty card for discounts at hotel outlets and the spa. The Ritz Carlton allows two dogs to stay in one room for a cleaning fee of 150 dollars per stay and a 50 dollars nightly fee.
9. The Mark.
Located in New York City and situated just a few blocks away from Central Park, The Mark has ranked no. 16 on The US News list of best hotels in New York City.
The hotel welcomes dogs with a Molly Mutt dog bed, signature Mark water bowls, a custom placemat, and gourmet treats for the dogs.
Another advantage of being so close to Central Park is that the hotel puts its guests and their dogs within walking distance of green stretches of open space and walking trails.
The Mark charges a one-time only 115 dollars fee per stay. The concierge can also recommend dog-walking and dog-sitting services.
Also See: 10 Signs Through Which Your Dog Communicates To You
8. The Cosmopolitan of Las Vegas
The 9th best hotel in Sin City invites dogs to stay with their owners in their rooms.
The pet dogs are provided with special perks from BarkBox, which is a monthly subscription service for dogs, along with treats and water bowls.
The Cosmopolitan also boasts of an outdoor, fenced-in play area for the pups to play near the Bamboo Pool.
7. The Beverly Hills Hotel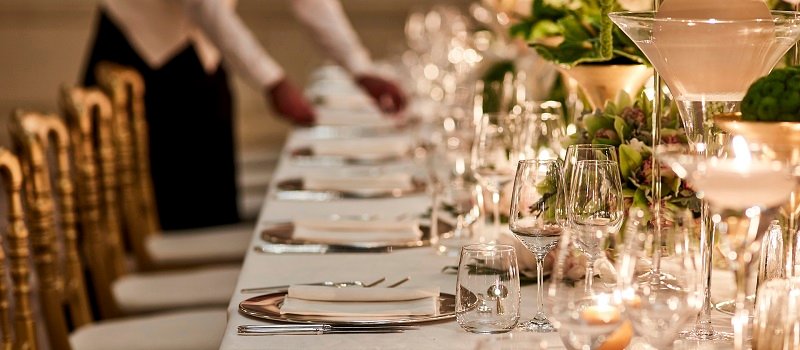 This hotel is ranked 4th in Los Angeles. Pets are pampered generously in this hotel where they can enjoy many pet-friendly amenities.
Some of these are pink tennis balls, dog treats, personal beds and bowls, and a personalized bone-shaped cookie with the dog's name on it during the welcome.
While the hotel charges an extra 35 dollars for pet dogs who will be staying with their owners, there are dog-walking and pet-sitting services also available at all times.
Also See: Top 10 Websites Every Dog Owner Must Know
6. The Calistoga Ranch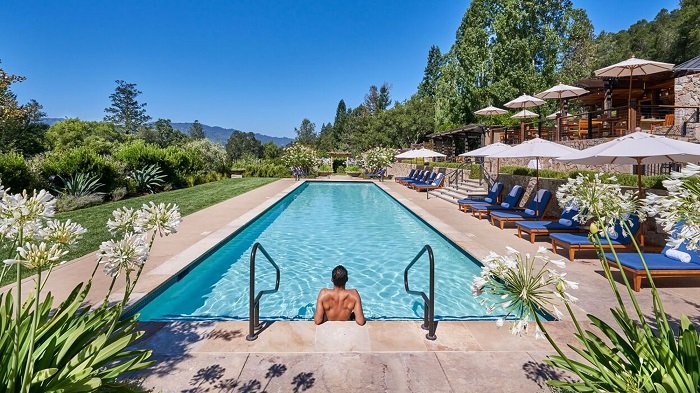 The Calistoga Ranch is an Auberge Resort. This resort is a dog-friendly property in Napa Valley and welcomes dogs of all shapes and sizes.
The Calistoga Ranch also offers a specialized dog menu and activity itinerary allowing travellers to order room service for their dogs and explore the nearest dog-friendly venues. The hotel charges a 125 dollars fee per pet, per stay.
5. The Greenwich Hotel
Ranked the third best hotel in New York City, and the 19th best hotel in the USA. This hotel welcomes pet dogs along with their human parents at no extra cost.
There is no weight limit for pets and the hotel provides the guest dogs their personal beds and bowls.
4. The Hermitage Hotel
This hotel has ranked no. 1 best hotel in Nashville and for a good reason. This pet-friendly US-based hotel provides custom dog beds, treats, water bowls, and evening turndown service.
They also provide dog-sitting, walking, and massage services at a mere 50 dollars nightly fee.
The hotel is situated near many parks making it easier for dog owners to go on runs with their furry travel buddies.
3. The Umstead Hotel and Spa
Located in North Carolina. Ranked no. 1 in all of North Carolina, this hotel provides a pet bed, a water bowl, and treats, along with dog-walking and dog-sitting services for a one-time fee of 200 dollars.
2. The Little Nell
A quaint and beautiful hotel in Aspen, Colorado. It ranked no. 1 best hotel in Aspen and no. 14 in the USA.
The hotel provides ample pet amenities like dog beds, water bowls, and gourmet dog dining options. The hotel also provides a cute Puppy Jet Lag Kit to help dogs adjust to the altitude of Aspen.
The Little Nell not just welcomes all kinds of dogs, but also offers walking and pet-sitting services. There is a lovely pet-friendly trail that visitors should not miss if they stay in the hotel.
1. The Jefferson in Washington DC.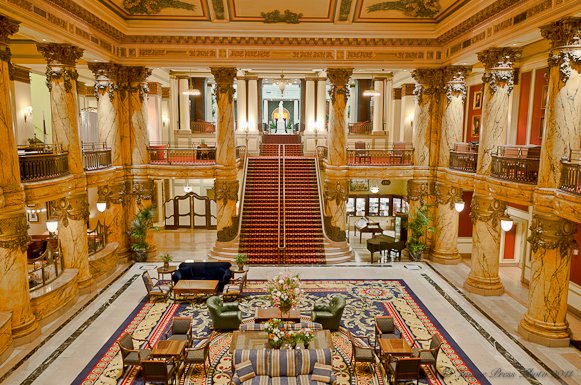 This hotel is not just the no. 1 hotel in Washington but also ranked no. 2 in the entire United States of America. The hotel invites guests' dogs to stay with their human parents in any of the rooms.
The pets are given their personal beds, dog bowls, and treats. Up to two dogs per traveller are allowed to stay at the hotel and charge a 50-dollar fee per dog per stay.
Pet parents are also given a map of the nearest walking routes. Jefferson also has its own pet ambassador, a beagle named Lord Monticello who is also the "Executive Canine Officer" of the hotel.