Here's to a brand new beginning!
Whilst quarantine and lockdown all over the globe are taking a toll on us at the moment, the only thing that can lighten our moods and bring that smile back on our faces is nothing but something 'paw-some'!
A furry friend is the one solace you can turn to when life looks bleak when the weather is dull when there hasn't been your day (your week, your month, or even your year…) or just simply for some fuzzy cuddles!
Want to plan a vacation after this pandemic declines and we go back to our normal lives? Check out these pet-friendly destinations and start packing right away!
So while you've been busy making that Dalgona coffee, or challenging your friends with Instagram bingos, or merely lying on your couch doing 'Netflix n' Chill', some of your favorite celebrities were adding paws to their houses.
Even as some turned foster parents for little pups rescued at shelter homes, others brought them back to enliven their dwelling once and for all. So here's a list of celebrities who adopted a dog in 2020 for you to 'paws and reflect' upon! Grab your pup-corns, and look at some adorable treat for your eyes as you binge-watch adopted dogs!
Want tips for choosing a perfect dog for you to dote on? Head to these tips to make it possible!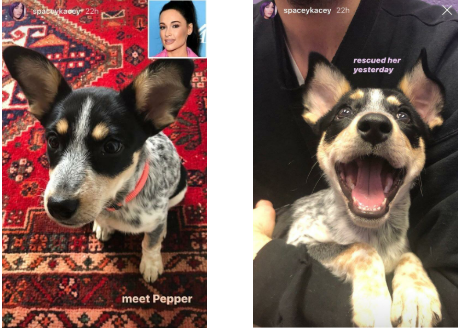 "…Baby, don't you know? // That you are my golden hour // The color of my sky..." Kacey was calling out to a little munchkin while recording her song, Golden Hour.
On January 29th this year, Kacey Musgraves shared a series of photos on her Instagram story, introducing the newest member of her family to her followers on the social media platform. The Grammy Award-winning singer made known through the snaps that she and her husband Ruston Kelly had adopted a dog to become parents to an adorable puppy, whom they named Pepper.
She captioned the first story "Meet Pepper", which showed the speckled-fur pup sitting upright on a red carpet in their home, looking up at the camera with those most sought-after puppy-eyes!
The second picture captioned "Rescued her yesterday" had a 'heartwarming snap of the puppy smiling widely in Kelly's arms revealing the rescue', reported People. The last portrait had another much cutesy picture of the puppy still snug in its dad's arms, which the singer captioned "our little pound puppy".
Sharing a precious snapshot of her newest adopted dog, Lili Reinhart became another celebrity to have welcomed a puppy in her home from a rescue shelter home.
The American Actress, known for portraying Betty Cooper on The CW teen drama series Riverdale, couldn't stop doting over her 'Milo', as is seen in the picture she shared on Instagram on 20th February.
As was revealed from the caption, "This is my new baby. He has quickly become a great love of mine. Meet Milo, my rescue sweetheart, from @fureverfreed.", Reinhart had brought home the puppy from 'Furever Freed Dog Rescue B.C.", an organization cum shelter home that saves and helps people adopt abandoned and abused dogs from "high-kill shelters".
It is not unusual that fostering often leads to the parents adopting the kid as attachment followed by separation can be painful!
Austin Pets Alive, an animal shelter based in Texas posted a photo of American actor Kyle Chandler and his wife Kathryn Chandler on 18th March, which showed them all wide-smiled cuddling a little puppy, apparently named 'Little Clive' as read the caption.
The shelter home released the picture of Chandler and wife with their latest addition to the family. The pic with a caption on their social media handle read, "Actor Kyle Chandler and his wife Kathryn stopped by yesterday with the intention of fostering a dog. Little Clive stole their hearts and they decided to adopt instead!" They also revealed that it was not the first time the Chandler family had adopted a dog.
https://www.instagram.com/p/B9nQ2OMHzwr/?utm_source=ig_web_copy_link
Another name on the Team Adoption of 2020 is none other than Mario Lopez, whose "family just keeps growing"! With their latest addition to the family, Lopez shared an adorable video of him with his children and wife, announcing their "newest member of the family" as they had adopted a dog Oscar DeLaHoya Lopez, a Frenchie.
On 12th March, the American actor shared their joy with their fans as well, as excitedly they introduced the Frenchie. A family couldn't be more perfect!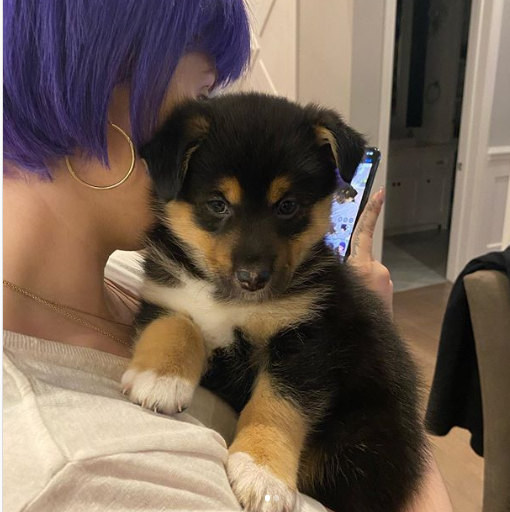 Huddled over her shoulder, Kelly Osbourne introduced the puppy she recently adopted on 5th February. She told her Instagram fam about the same through a post which made it clear how she got the pooch.
The singer-songwriter wrote, "This is the newest member of my family. My brother's dog Ruby had puppies. She is a Pomeranian Husky mixed with Australian Shepherd. What should I name her?"
Many interesting replies popped in the comments section, suggesting 'Tracey', 'Bowzer', and 'Pebbles', to name a few, as the puppy's names.
Daenerys may find a loyal 'pet' in Dragon, but Emilia Clarke melted over something else, as she adopted a dog! On 21st January, she shared some absolute endearing pictures of her with a puffball on her lap on her social media handle. She captioned it, "He just can't stop. He physically cannot stop being the MOST BEAUTIFUL PUPPY IN THE ENTIRE WORLD."
And although her name, Emilia Isobel Euphemia Rose Clarke, might be a long break, she named the beautiful pup a simple, Ted!
https://www.instagram.com/p/B69DD85pZ9c/?utm_source=ig_web_copy_link
Like Ellen (DeGeneres) always brings smile faces to us all, it looks like she, along with The Wagmor Pet Hotel & Spa, brought bliss to American model Chrissy Teigen this time! On 6th January, Teigen shared her adopted dog, Petey's video on Instagram with a caption thanking Ellen and The Wagmor Pets 'for making her aware of that adorable little rescue family.' She further added, "This little guy grabbed our heart first and will hold onto it forever." Well, that's exactly what all pups and dogs do!
Did you enjoy reading how your favorite celebs have adopted a dog during just the first quarter of the year? Head on to Monkoodog for some amazing content and other dog-related stuff to cheer you up!