In need of a vacation but don't want to leave your pet alone at home or in the care of someone else? We get you! We bring you the list of Pet-Friendly hotel in Delhi NCR. No more worrying about leaving your pet behind.
Give yourself and your beloved pet a well-deserved vacation. Get the well-waited spa, put those cucumbers on your eyes and relax.
Call us to Book a soothing and relaxing Spa date for your furry baby right at your home.
1. Off The Leash
Where: Sector 59, Baharampur Naya, Gurugram
In search of a dog-friendly cafe? In Gurgaon, we've discovered the ideal eatery for pet owners.
Off The Leash offers special meals and services so that your pet may have a good time while you create a close relationship with your dog.
Additionally, it includes a pool, a tonne of activities, and a large field for them to play on. The meals are also customized to your pet's requirements.
2. Top Dog Luxury Pet Resorts
Where: Top Dog Luxury Pet Resorts Farm, Gurgaon Sector 23a
Yes, just like you, your animal companion requires a vacation. A large resort created specifically for your furry friends is TopDog Luxury Pet Resorts.
They feature tiny challenge fields and a splash pool for your pets to get the much-needed adrenaline boost.
They include childcare suites and rooms with TVs that were created by animal behaviorist Gautam Kari, who had his training in the US.
There is soothing music playing with an awareness of your furry kids. What more do you need? Visit this Pet-Friendly Hotel in Delhi NCR
3. The Retreat by Walias
Where: Sohna, Gurgaon
Consider visiting a location that is free of tension and chaos.
The Retreat by Walias is the ideal weekend getaway location for you and your furry child.
Here, there are no additional fees for dogs, which is fantastic.
They provide lodging with a garden and a balcony and have garden views. You have access to the tennis court at this home as well.
So get a room here and have a wonderful getaway with your pet friend!
4. Heritage Village Resort & Spa
Where: Naharpur Rd, Manesar, Gurugram, Haryana
The pet-friendly Heritage Village Resort & Spa is a resort destination with a Rajasthani theme located distant from the city's bustle.
The resort offers all the comforts and amenities for you and your animal companion.
The resort will make sure your pet is having fun in his place while you engage in some self-pampering sessions.
We advise you to take a little weekend getaway with your pet child!
Are you looking for Pet Care Services in Delhi NCR, Then download Monkoodog PetCare App.
5. Awesome Farmstays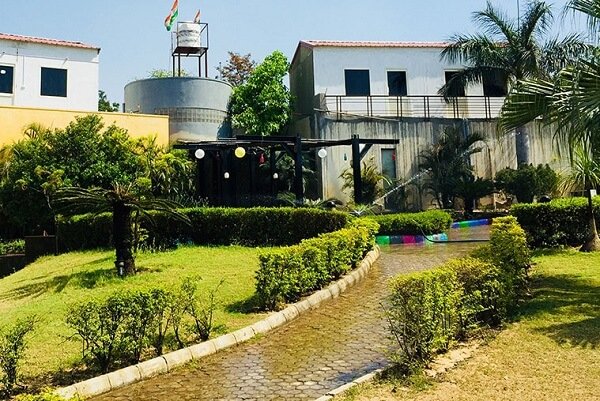 Where: Ansals Aravali Estate, Village Gairatpur Bas, Off, Sohna – Gurgaon Rd
Awesome Farm Stays should be your first choice if your concept of a vacation is to stay in a tranquil location with your pet friend and indulge in some activities. Imagine waking up to the sound of rustling leaves and chirping birds.
This Pet-Friendly Hotel in Delhi NCR has several activities you may do with your dog, including walks and ball games. Don't forget to bring everything your furry pets will need while you are going here.
Also Read:- Tips for Staying in a Dog-Friendly Hotel
6. Roots Cafe
Where: Leisure Valley Rd, Sector 29, Gurugram
Roots: Cafe In The Park, as its name suggests, locates in the middle of a park and is famous for its casual atmosphere.
It offers a variety of breakfast alternatives and opens early in the morning.
This cafe welcomes dogs and offers a buffet and an outside park area where the animals can play and relax.
This Gurgaon café that welcomes pets and serves fantastic, home-style cuisine is a real treat, especially in the winter.
7. SimBliss Farm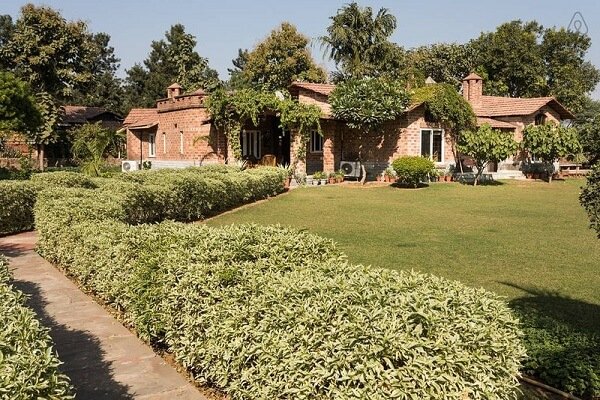 Where: C-62, Pachgaon, Mohammadpur Rd, Manesar, Gurugram
Want to take a break but don't want to abandon your pet? After that, you must travel to Manesar's Slimbliss Farm.
They offer ample area for your furry child to explore freely in their four-bedroom farmhouse and grounds.
It's the ideal setting for a home party, and it's an added plus if your guests enjoy your dog!
As you enjoy those delicious mocktails, you may relax on the hammocks or play in the garden.
8. Cafe Soul Garden
Where: Block C2, Besides Supermart 2, Sector 43, Gurugram
When you go into Cafe Soul Garden, a luxurious garden restaurant, you'll love the design, which perfectly fits the name.
It offers an indoor seating room with a pool table option and an outdoor seating area that perfectly recreates the experience of dining in a garden.
The entire environment takes on an entirely different atmosphere when the lights are on.
The outdoor space is ideal for the pets to explore and have quality time, and the lamps hanging about add to the mood.
9. The Taj Gateway Resort
Where: Po Damdama, Off Sohna-Gurgaon Rd, Gurgaon
When you feel like you need a break, The Taj Gateway Resort is the first place that springs to mind for a brief getaway.
Take a little walk amidst the beautiful foliage with your animal friend to refresh your thoughts.
They provide a sizable area for your dog to play in the water and run about and a cosy place to unwind. 
Because of their extensive training, the staff at this spa takes care of your pet while you relax with a spa treatment making it the best Pet-Friendly Hotel in Delhi NCR.
It's the ideal location for a pet-friendly vacation getaway! 
Are you looking for Pet Care Services in Delhi NCR, Then download Monkoodog PetCare App.