Does your furry friend give you a tough time whenever you try to cut its nails? Does the thought of cutting dog nails make you anxious and you want to put off the task for the next day? Do you also wonder often how to trim your dog's nails without any harm?
Well, I understand your concern because clipping dog nails requires a lot of patience and a proper technique.
Tough or not but trimming your dog's nails is a task that you cannot put off for days because it is an important part of dog paw care. If left uncut for a long time, your dog's nails will grow too long which can create unnecessary trouble for you. Long nails can break down easily or get chipped and trimmed which can cause pain to the dog. Moreover, long nails make it difficult for the dog to stand and walk properly.
Trimming dog nails has not only some benefits for your dog but it is also important from a hygiene aspect for the well-being of your dog.  Short nails will not cause any hindrance when your dog is walking. Your carpets and beddings will be safe from the damage of long nails. Long nails can injure you or the dog himself thus the best way to protect both is to clip the dog's nails.
You might wonder often when is the right time to trim your dog's nails. Here is the ideal tip, check whether your dog's nails make a clicking sound on the floor while walking, if yes! then it's time for the trim. If your dog is mostly indoors and goes outdoors only rarely then it will need less frequent nail trimming. The frequency of trimming dog nails also depends on dog breed because some dogs tend to grow nails faster than others.
Essential Tips for Tension-free Dog Nail Trimming
I understand that trimming dog nails is an anxiety-laden task for both owner and dog but if done right, can make the experience seamless. Follow the tips below to make sure you are doing the job right!
I understand that trimming dog nails is an anxiety-laden task for both owner and dog but if done right, can make the experience seamless. Follow the tips below to make sure you are doing the job right!
1. Make your Dog Feel Comfortable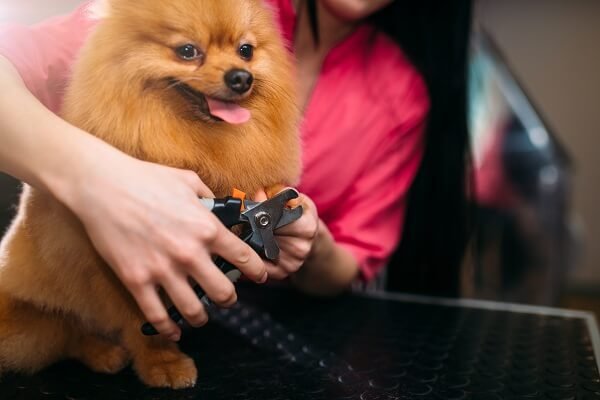 Comfort is the priority. Before beginning, give attention to your dog, listen to them, and make them comfy with the process. Use every precaution to make sure that the nail trimming process is safe and you don't end up hurting your furry friend.
Once you start trimming dog nails, pay heed to any signs of discomfort. Some dogs will be calm as you proceed with nail clipping but some will show obvious hints of inconvenience. If you feel the dog is not liking it and acting aggressive, halt the process and leave it for the next day.
When you are trimming your dog's nails for the first time, try to make the experience a positive one. First, introduce them to the trimming tool by letting them sniff it. Every time you take the clipper out, give them a treat, maybe a cheese cube so that they are excited about this. Then touch the clipper to their paw and observe their reaction. If they are calm, then proceed with the dog nail cutting.
2. Start the Practice from a Young Age
According to experts, familiarizing your dog with the practice of nail trimming at a young age can be very helpful. Get your pup acquainted with the nail grinding tool and with the way you are going to hold his/her paws. This habit will make them understand that nail trimming is not a scary or agonizing practice.
Rewarding them with treats can further make the process a stress-free practice for them. Remember that you are preparing them for a life-long habit so make sure they build a positive association with the nail grinding tool and with the nail trimming process itself.
3. Research where to Trim Dog Nails before Trimming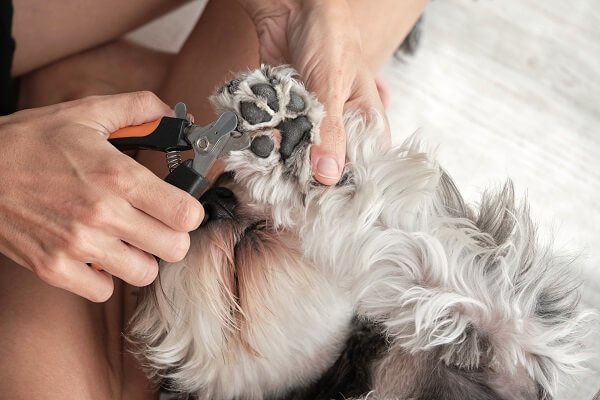 To know how to trim dog nails, you should know which part of the nails should be trimmed. And to know that you must be aware of the anatomy of the dog nail. The dog nail consists of two parts;
The quick
The horn-like nail
Just like humans, dogs do not have any sensations in the nail part itself hence they do not feel any pain if it is trimmed. However, the other part quickly consists of blood vessels and nerves. The nail quick of the dog is extremely sensitive and can bleed if cut in the wrong way. This is because the nerve in the quick sends the sensation signals back to the brain which makes the dog feel the pain.
Also See:- Clipping Your Puppy's Nails Without Stressing Them Out
You need to be extra cautious about quickness because it is a bit tricky to spot if the dog has dark nails whereas if the dog's nails are light you can spot the nail quickly.
a) Trimming Light Dog Nails
If your dog has light-colored nails, consider yourself lucky because half of your worries are resolved. You can easily spot quickly in the white nails from the side as the soft pink tissue in the middle of the nail. To see it clearly, hold up the paw of your dog towards the light and spot the quick which seems like a nail inside a nail.
Now when it comes to clipping dog nails, you should cut the dog nails just before you reach the quick. When the surface of the trimmed nail turns pink, this is where you should cease further trimming. If you cut further, it will cause pain to the dog and they might react gratingly.
b) Trimming Dark Dog Nails
Trimming of dark dog nails is different from light ones. It is quite challenging because you are unable to see the quick from the side. If your dog has hooked nails, it makes the job a bit easier as you can simply clip off the hook protecting the quick. But if your dog's nails are not hooked you need to pay considerable attention so that it quick is and not hit.
When you start clipping, observe the nail head-on. At the start, the nail will have a white or grey center but as you proceed further the center will start appearing black and then pink. This is where you should stop dog nail clipping because the quick start right after the pink part.
4. Soak the Nails for Effortless Trimming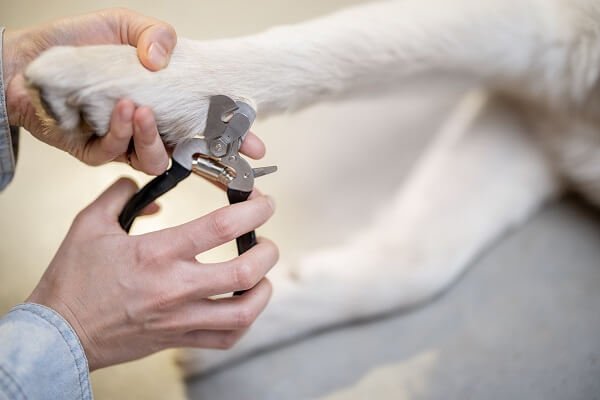 If you are scheduling dog nail trimming, make sure to keep it right after the bath time of the dog. This is because bathing makes the nails softer and they are easy to clip.
This is for the dogs who stay calm during the bath. If your dog hates taking the bath, and gets overexcited, trimming nails afterward is not the best idea as it can make him/her feel more uncomfortable.
For such dogs, soaking the nails in the water for a bit is the alternative solution. This will make the nails softer and hence easier to clip. Older dogs tend to have more tough nails in comparison to puppies so you need to wait a bit until the nails get a little softer.
5. Gather your Trimming Equipment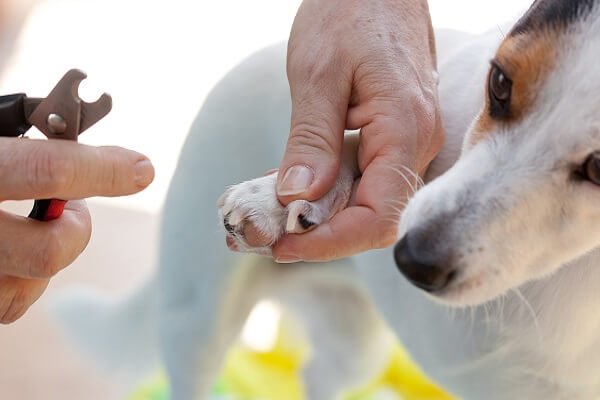 Prepare all the essential tools beforehand so you can get done with dog nail trimming quickly. The tools that you will need include;
a) A clipper or a grinder
You can use either a Dog Nail Grinder or nail clipper as per your liking. Nail grinders are a safer option because it grinds the nail from the top and slowly makes their way down, whereas clippers clip the whole nail instantly. However, if you try to use a grinder hastily, it will make the nails hot due to grinding which could eventually lead to pain and discomfort for your pup.
Thus you need to be slow and thorough if you use a grinder. If you are using a nail trimmer make sure to get the one with a size and style appropriate for your dog. If using clippers:
For small pups, you should use scissor-style or guillotine nail clippers
For dogs of medium and large size, large nail clippers are used
b) Styptic Powder
No matter how you trim dog nails, accidents can happen any time while cutting nails and that's perfectly fine. If there is bleeding while nail clipping, firstly stay calm and apply pressure to the nail tip to stop bleeding. After that, dip the nail in the styptic powder as it quickly halts the bleeding.
c) Nail Filer
After you are done trimming dog nails with the clipper, shape the rough edges using a dog nail filer. It is the finishing tool that smooths out the edges of the freshly cut nails. Nail fillers should be an essential part of the nail grooming kit.
Smooth nails help you protect your bedding, rugs, and carpets from dog snagging. Smooth edges also protect you and the dog himself from injury. Some pet owners use an electric nail grinder for complete nail trimming because it does not cause a pinching sensation which is often dogs dread. However, it can be a laborious task and make the dog anxious.
d) Treats and Snacks for your Dog
Nail clipping is not necessarily a pleasing experience for pets. To make the process tolerable, keep snacks and treats at hand for your furry friend to make him feel relaxed. Keep treats like peanut butter, and cheese cubes with you when you begin nail trimming. And don't forget to praise your furry friend throughout the process for cooperating well.
6. Condition Dog Nails with a Healthy Diet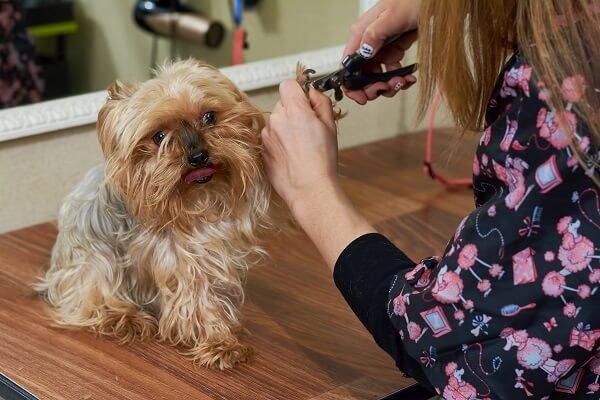 Weak nails tend to splinter or chip when you try to clip them. Hence healthy nails are important for perfect dog nail trimming. Dog's nail health directly depends upon their diet. Make sure to give your dog a balanced diet that is full of unsaturated fats. Fish oil supplements such as salmon oil are beneficial for this purpose.
Also See:- The Ultimate Guide To A Perfectly Groomed Pet
If you feel like your dog's skin and nails are getting brittle, add salmon oil to the diet. Check the quality of your dog's food by reading the ingredients on the labels and ensuring that the dog is getting all the nutrients that are needed for a healthy body and healthy nails.
7. Consider Getting Professional Help
If your dog is extremely terrified of nail clipping, or you find it very difficult to trim nails and it makes you anxious, this is when you should consider getting professional help.
Don't force yourself to do the job if you are not confident enough. It's not easy to make your dog cooperate if he/she is not comfortable during the process.
Save yourself from the trouble, your dog from the injury, and get the help of someone who is pro at this job.
Dog nail trimming and grooming experts will not only save your time but also give your dog a pleasant experience of a pedicure. You can learn from their professional practice as well.
They will demonstrate to you how to trim dog nails safely and will coach you during your first try.
Conclusion
Dog nail trimming is not only important to keep your dog hygienic but also to save the dog from trouble during walking and standing. Not every dog is a fan of this nail trimming practice, therefore you will need to put some extra effort and be extra cautious when you deal with such dogs.
The right technique is to make your dog comfortable by giving treats and making him familiar with the tools. Don't forget to soak the nails before trimming and then clip the nails while protecting the quick. Keep styptic powder near you in case you cut the dog's nail quickly.
With the correct technique and right tools, you can pull off this seemingly difficult task without any trouble. And don't forget practice makes perfect. You might not be good at it at the start, but continuous practice will eventually make you the pro of a dog's pedicure. Follow the tips mentioned above to make the learning process easy for you.
Also See:- Grooming Pets At Home: The Dos And Don'ts Of Grooming Pets