While we fuss a lot about what we eat for each meal, most of us give the same old dog food day in and day out to our dogs. Yes, it is an extremely easy way as you just have to pour food from a packet to the bowl and voila, the dog's meal is ready. You are forgetting that dogs too have certain nutritional requirements to be met for successful development, which will not be satisfied with store-bought dog food.
Dog Food Recipes
Remember that each breed has different nutritional requirements and they again vary with the stage of development and the dog's weight. You need to make every meal homemade, but once in a while (3-4 times a week), just to make sure your dog is eating healthy.
Before you decide to start cooking your dog's meals, consult with a professional, and note down what you have to add to the diet as some items might be very dangerous to your dog. Here are a few healthy and easy to make dog food that you must definitely try out.
Old Style Chicken dog food recipe by Damn Delicious
1. Old Style Chicken
This recipe is easy to make and can also be stored and used for multiple servings. You can also substitute turkey or beef instead of chicken.
Ingredients:
3 pounds of chicken
1 ½ cups of rice
3 cups chopped spinach
2 shredded carrots
½ cup of peas
1 zucchini
1 tbsp olive oil
Method:
Cook the rice first and keep it aside.
Heat olive oil in a large pot and cook the chicken for about 10 minutes.
Add all the other vegetables and let it cook for another 10 minutes. Add little oil if necessary.
Cool it down and serve.
2. Meatballs
We all love meatballs and dogs do too! Meatballs are different from their regular meal and you can treat them with it once in a while. This recipe is also rich in fiber and promotes healthy digestion. Moreover, this recipe also includes pumpkin and thus helps to soften stools which is very beneficial to older dogs. The inclusion of eggs makes it a good protein source as well.
Ingredients:
10 lbs ground lean beef
3 cups of pumpkin puree
2 cups of oats
4 boiled carrots
4 eggs
3 slices of cubed bread
flour
salt
spinach/kale chopped
Method:
Mix all the ingredients except flour in a bowl and make them into medium shaped balls.
Roll over the balls in flour.
Place them on a baking tray and keep in the oven at around 400 degrees Fahrenheit for 20-25 minutes. Your cooking time will depend on the size of the balls.
Also See: Best 7 Accessories To Make Your Car Dog-Friendly
3. Meatloaf
This simple meatloaf recipe is not just easy to make but is very healthy too. The meatloaf is a quite heavy meal and you can give this to your dog in case you will miss a mealtime; this meatloaf will keep him full.
Ingredients:
1 lb lean ground beef
2 eggs
½ cup of cottage cheese (paneer)
1 ½ cups oats
1 ½ cups of grated vegetables (mixed) – you can use any vegetables or your dog's favorites, like carrots, spinach, etc.
Method:
Preheat the oven, 350 degrees Fahrenheit for about 5 minutes.
Mix all the ingredients in a bowl and transfer it to a baking pan.
Bake for 30-40 minutes.
Cool and serve.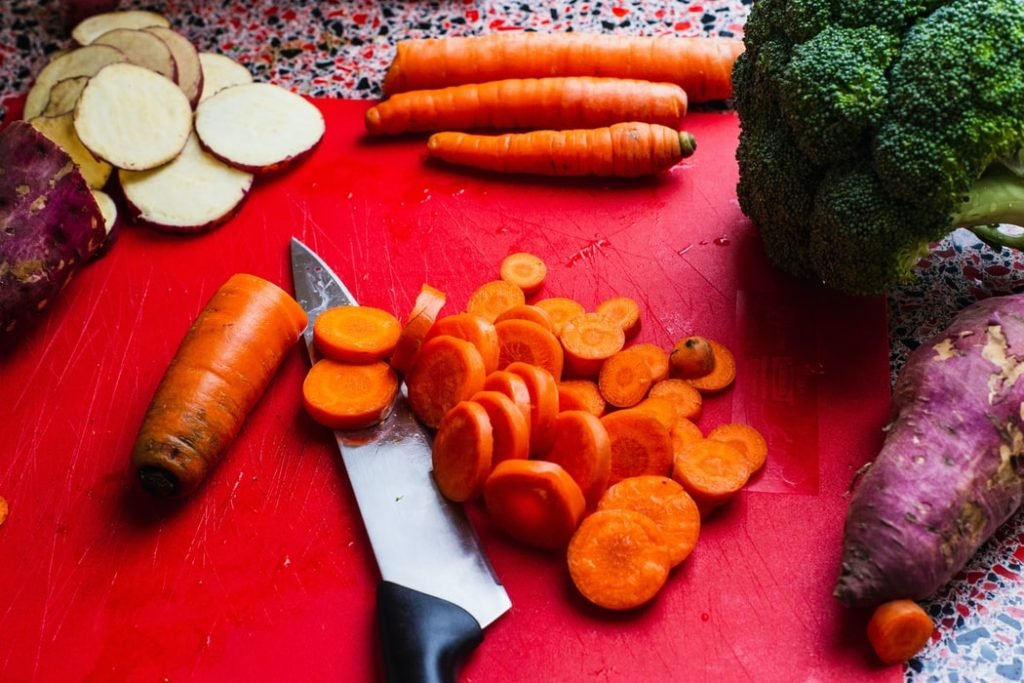 4. Veggie Bowl
Most often dog owners forget that pure vegetable meals are beneficial to dogs as well. Most of the time, the dog eats either dog food or heavy food loaded with meat. In such cases, it is good to give a pure veggie meal once in a while as a detox and to improve digestion. It also includes several plant nutrients that your dog has been missing. You can use this recipe to serve three meals.
Ingredients:
1 sweet potato, large
15 ounces of black beans
2 cups cooked rice
spinach/kale, chopped
Method:
Cook the sweet potato, beans, and spinach in a pressure cooker for 15-20 minutes.
Combine it with the rice and serve.
Note: You can also bake all the vegetables in an oven instead of a pressure cooker as well.
Also See: Most Trendy And Cool Dog Collars Of 2020
5. Vegetable Stew
This is a simple vegetarian meal that is slightly soupy and very healthy. It is made of nutritious veggies and is very beneficial for digestion.
Ingredients:
3 cups cooked chickpeas
3 tbsp vegetable oil
4 tbsp peanut butter
3 cups vegetable stock (low salt content)
1 chopped carrot
celery
sliced beet
Method:
Mash all the chickpeas.
Mix oil, peanut butter, and stock.
Blend all the vegetables in a blender for 20-30 seconds.
Mix all the three mixtures together. Serve.
Tips to remember
You must know that not all vegetables are beneficial for dogs and that some need to be avoided. Also, avoid using salt or spice while making dog food by trying to enhance the flavor. Remember this, dog food is best if bland. Also, your dog might be allergic to certain food items. In case of any digestive issues after a meal, try to avoid those items. It is highly advisable to feel a protein-rich meat diet for dogs as it is required for healthy development and reproduction. Use vegan meals only once in a while as a detox. Growing puppies and breeding dogs especially require meat diets.