Curating a diet for your puppy might be a difficult task as it involves a lot of planning. But what should you feed your dog as they slowly grow older? It is crucial that you make the changes in your dog's body as they grow older into account while creating a diet for them. In this blog, we inform you about How To Buy The Best Senior Dog Food.
From preventive diets that make sure medical complications do not occur to age-specific diets aimed at treating certain ailments, there is a kind of feed for every dog, and every dog-related reason out there. It is entirely up to you to decide which diet works best for your dog and go ahead with it.
Typically, dogs who are of 7 years of age or older are considered to be senior dogs. However, this varies with the breed, and with many larger breeds that do not live as long as smaller ones, the age of seniority may even be as less as 5. Thus, it is important that you start to make the necessary changes to your pooch's diet as they grow older.
Has your dog hit the mark of seniority? If you're confused about what to feed your senior dog and what to keep away, here is all that you need to know before comparing labels and choosing the best senior dog feed brand.
Are you looking for Affordable Pet Care Services in Delhi NCR, Then download Monkoodog PetCare App.
Also See: 10 Common Mistakes That Shorten Your Dog's Life
Calories And Proteins: How Much Does Your Dog Need?
There are lots of things to consider when it comes to selecting the right sort of senior dog food. The dog's breed and level of activity matter in this case too. Sometimes, as dogs grow older, their level of physical activity goes down and they no longer love chasing the frisbee as they did as pups.
Owing to this reason, a lot of brands of senior dog food have a low content of calories and proteins. If you find that your senior dog is gaining weight and refusing to work out, such a formula might help the situation.
That being said, there are many breeds of dogs that lose their ability to metabolize food quickly and efficiently as they grow older. This means that their digestive abilities weaken with age and they require a high-calorie diet that contains lots of proteins that are easy to digest. Such a diet will help your dog maintain their muscle tone and remain healthy.
Also See: 10 Reasons Why Dog Socialization Is Important
What Else Do You Need In The Best Senior Dog Food?
Aside from the regular amounts of protein and calories, your senior dog requires a lot more nutrients to remain healthy. These additional nutrients have been discussed in brief here.
Glucosamine and Chondroitin: These supplements help in healing cartilage and aid many senior dogs in moving without pain.
Anti-oxidants: Antioxidants help increase your dog's immunity which gets a little compromised at old age.
Decreased Potassium and Sodium levels: Lowering levels of potassium in your dog's diet can help in maintaining healthy kidney function and decreased levels of sodium help in regulating your dog's blood pressure.
Omega 3 Fatty Acids: Omega 3 Fatty Acids help in decreasing inflammation and maintaining healthy kidney function. These are found in fish oil, certain plants, and nut oil.
Extra Fiber: Senior dogs develop problems like constipation after a certain age and they require extra fibre in their diet to deal with that. However, too much fibre may cause problems to your dog's diet, and hence, it is best to deal with constipation with regular exercise and adding extra roughage only when required.
1. Nutro Ultra Senior Dog Dry Food
Nutro Ultra Dry Dog Food is crafted for dogs that are 5 years of age or older. It contains lean proteins and other holistic ingredients to ensure that your pooch gets the right nutrition.
The best senior dog foods have naturally sourced ingredients and that is why this product has no artificial colours, preservatives, or flavours.
2. Wellness Senior Dog Food
Wellness Senior Dog Food is a reputable brand that makes well-rounded nutritional meals for older dogs. The recipe is curated with natural ingredients like chicken, white fish, canola oil, brown rice, oatmeal, and carrots so that your dog finds it palatable and eats at the right hours.
The recipe also contains glucosamine and calcium to maintain bone and joint health in senior dogs. This recipe also balances your dog's body weight and body mass to provide overall protection.
3. VICTOR Senior Healthy Weight Dry Dog Food
As we have read earlier, senior dogs require a high content of digestible protein. VICTOR Senior Dry Dog Food has premium quality beef, fish, chicken, and pork content.
It consists of 78% proteins and helps your senior dog maintain muscle tone. This senior dog food is specially curated for sensitive tummies to ensure better digestion and weight control.
4. Blue Buffalo Life Protection Formula Senior Chicken & Brown Rice Recipe Dry Dog Food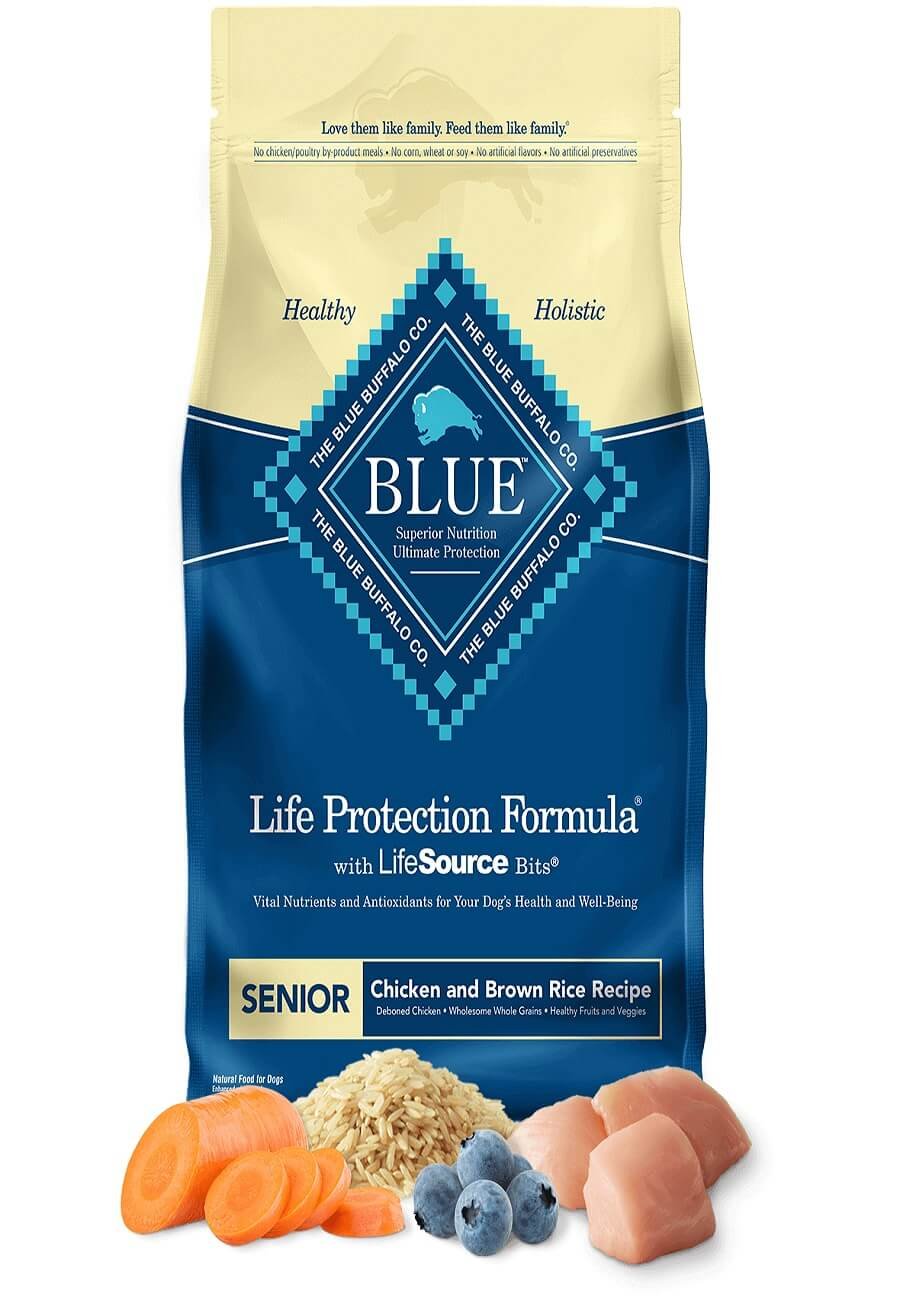 The Blue Buffalo recipe is ideal for dogs who are prone to bone and joint dysfunction as it contains high levels of glucosamine and chondroitin.
This wet food recipe contains proteins from real, cooked chicken and vegetables like peas. This formula also contains omega 3 and omega 6 fatty acids from flax seeds while the barley, oatmeal, and brown rice maintain the carbs and dietary fibre levels.
The formula is also soft to chew making it easier for dogs with dental problems to chew.
5. American Journey Chicken and Sweet Potato Senior Recipe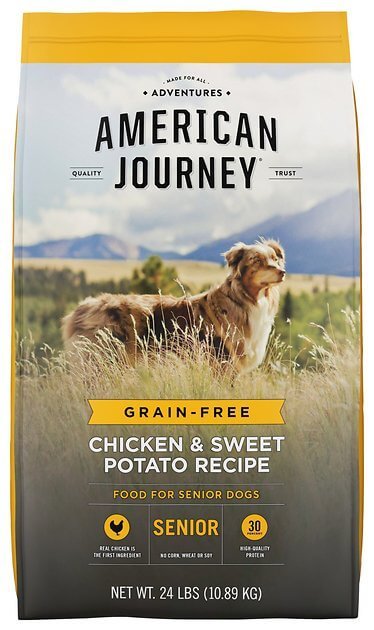 Consisting of deboned chicken, chicken meal, turkey meal, sweet potatoes, and peas, this recipe has a high content of glucosamine and chondroitin, meant to support your dog's joint and bone health.
It has medium-chain triglycerides that aid brain health in elderly dogs, antioxidants that keep the immune system proper, and omega and fatty acids to maintain proper skin and coat.
You love your dog beyond anything and want to ensure a happy and healthy old age for them. So, if your dog is a senior and you don't know the changes that they will require in their diet, this detailed guide should be of help.
Also See: Top 10 Hunting Dog Breeds That Are Best In Hunting