Nothing breaks our hearts like the news of a dying pooch. Well, today's piece of news is a reminder that our furry angels also bid goodbyes.
In a heartbreaking series of photos that went viral on the internet, a dog parent can be seen pushing his dying furry best friend up on his favorite mountain. The pooch was in a wheelbarrow and the dog parent called the incident their one final adventure together.
The dog's parent, Carlos Fresco, is 57 years old and he wanted to take his beloved Labradoodle Monty on his last walk in Wales. The poor dog has been battling leukemia for the past 18 months now.
Carlos Fresco had traveled 180 miles all the way from London to reside with a friend of his in the Brecon Beacons, and this is where he and Monty had previously gotten the opportunity to explore the beautiful mountains together and bond with each other.
Mr. Fresco knew that there was no way that 10-year-old Monty who was very unwell and weak would be able to climb 2,900ft up Pen-Y-Fan peak, and thus he determined to take his furry little friend on his last adventure on the mountain pushed him all the way up in a wheelbarrow.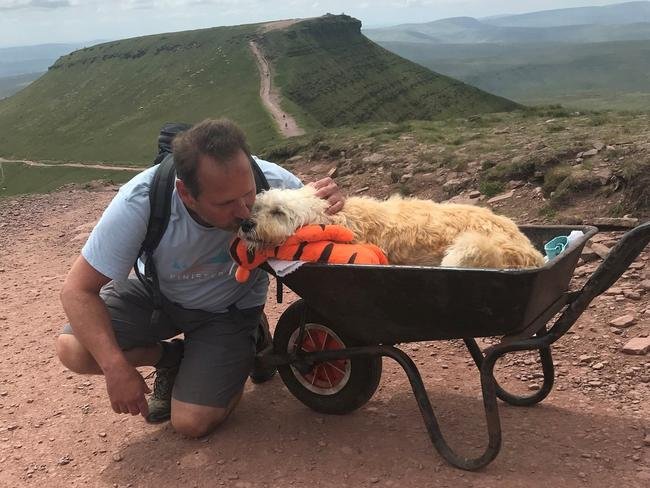 This site was very emotional for the fellow dog lovers as well, and incredibly all of them offered to help the pair climb up the mountain.
Mr. Fresco said that his little furry friend adored mountains and thus he had to figure a way to take him there as a tribute to the dog.
Mr. Fresco came up with the idea of rolling his dog up the hill when he came across an old rusty wheelbarrow. The moment he saw it, he decided to take his dog on its last adventure, and thus he dusted off the wheelbarrow and oil it up. The very next day, he kept Monty the dog on it and stuffed it with blankets so that Monty stayed comfortable through the climb, and then he started his journey to climb the mountain.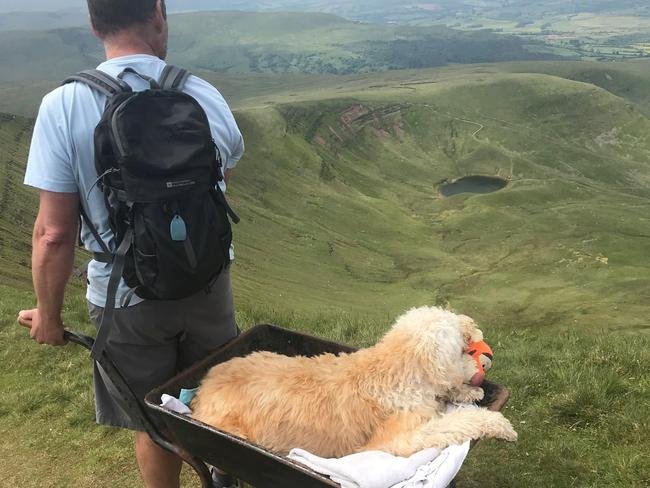 As per Mr. Fresco, Monty loved the entire experience and was very happy to have reached the summit of his favorite mountain. Even though Mr. Fresco knows that his little friend is dying as his cancer has returned, he is happy that the two got to relive their best memory together and even in these tough times bonded and enjoyed each other's company.
Note:
Do you have a story tip? E-mail: woof@monkoodog.com
The perfect app for pet lovers is right here – presenting the power-packed Monkoodog application. Brought to you by Stepett Technologies, this app flaunts a host of features that make grooming and maintaining your dog's health and appearance easy breezy. This application provides 360 degree dog-related services that include finding the nearest pets up for adoption in your location to providing informative news bits about dogs across the world. You can also look up essential pet-care services such as dog's health records, vaccinations, your dog's everyday. And you can also look for Pet Service providers, dog park, dog trainers, or beach, learning about your pet, and much more! Here is the best Dog Monitor app for Android!