It is not rare to see interspecies bonding because be it animal or human, emotions are a part of every living being. However, one particular story has taken the internet with frenzy and people just do not seem to get enough of it.
In one of those rare moments a dog became the best friend to a pigeon and nothing seems to be able to keep them apart. Herman and Lundy are two unconventional friends who are completely oblivious to the fame and attention they are receiving from all over the world.
Herman is a flightless pigeon who has lost her ability to fly due to a neurological condition. Lundy is a tiny 8 weeks old Chihuahua, who has disabled hind limbs making him unable to walk. The unlikely pair were both rescued by Mia Foundation in Rochester, New York and that's how Herman met Lundy.
According to Sue Rogers, the founder of the organization, most of the time rescued animals are rehomed or adopted. A rare few of them are kept and groomed to help in various school programs like therapy for bullying, peer pressure and much more.
Both Herman and Lundy had a rough start to life. While Herman was found about a year ago at a parking lot struggling to move for over three days, Lundy was diagnosed with Swimmer's Syndrome and abandoned by his breeder.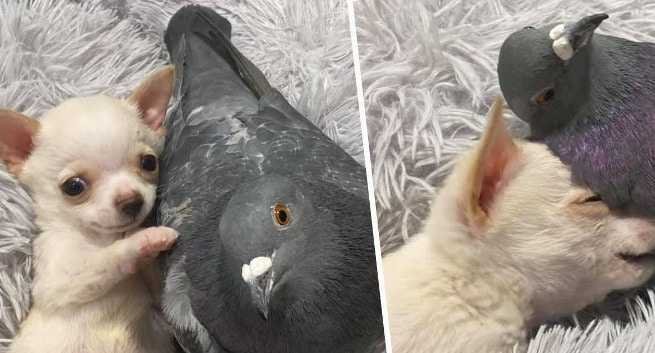 The friendship between both first came into notice when some of the volunteers at the rescue shelter saw both of them cuddling together oblivious to their differences. Sue decided to click a few pictures and post them online. The initial appreciation became a worldwide phenomenon and donations began to pour in from all over the world to help Herman and Lundy. In 48 hrs of posting the pictures, $6000 have already been raised and much more is on the way.
Lundy is already in consideration for adoption by one of her rescuers while Herman is definitely on route for a surgical rehabilitation program.
Sue is grateful for the immense support she has received and she has promised to work harder to save many more Herman and Lundy who need help.