Priyanka Chopra is perhaps one of the most loved Indian celebs on the global list of icons. Her stylish antics and breathtaking style has always been a mesmerizing hit among the media as well as the fans. However what makes her even more adorable and popular is her immense love for her pets. Her social media handle is as much about her pets as it is about herself and her family.
Since getting married to singer Nick Jonas, she has often been spotted amidst a myriad of social gatherings and other family events. However the popular Hollywood/Bollywood actress does not seem to be bothered with her marital status and seems to be juggling the life of an international celebrity and wife in a very beautiful manner.
The multi-talented actress seems to even find time to dedicate herself to her pets amidst all the roles she has to play. Notably one of her dogs, Diana has always been a star in her own rights. Piggy Chops never fails to show her love and pride for Diana anytime the media mentions her. A rescue, Diana was adopted by the Baywatch star when she was merely four months old. Since then photos and cute pictures of Diana has been making round in Priyanka's social media handles under the tagline "Diaries of Diana"
The former Miss World is currently riding high due to the phenomenal success of her movie "The White Tiger" released on Netflix. received very well by the public and critics alike, the film is a beautiful rendition of Arvind Adiga's novel by the same name. Considering the fact that the novel landed Mr Arind Adiga, a Booker prize despite it being only his debut novel, the storyline is bound to be mesmerizing enough.
However, what was more surprising is that it took over a decade to create a film based on this iconic novel despite its amazing potential. Since the film released on OOTD platform Netflix, there has only been positive that is being said. Alongside Priyanka Chopra, the film stars veteran bollywood actor, Rajkumar Rao and debutante Adarsh Gaurav and has been directed by yet another very skilled debutante Ramin Bahrani.
Also See: Meet The World's Most Pampered Pomeranian
Co-incidentally Priyanka is also the executive producer of the film and has notably been praised for her choice of investing in such a beautiful film. Starring alongside such heavyweight stars like Mrs Chopra Jonas and Rajkumar Rao, Adarsh Gaurav has been praised for his stunningly great acting skills.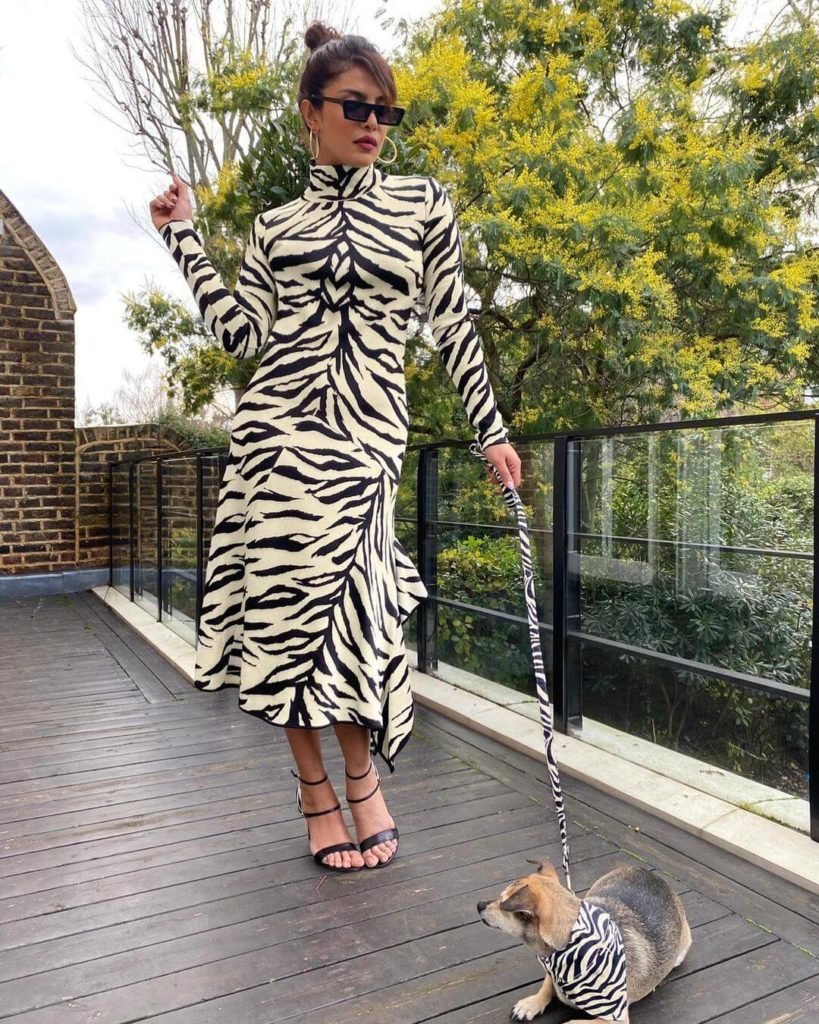 Celebrating the success of the beautifully designed film, the 38 yrs old actress decided to post a picture with Diana, the latest addition to her family. However within minutes of the photo being posted, it went viral and for reasons one cannot even imagine. Dressed in white tiger printed dress, Priyanka had Diana along in a cute white tiger skin printed leash and scarf. Posing in her balcony as though she is all ready to go out on a red carpet premiere of "The White Tiger", the photo has garnered a tremendous number of views, likes and reshares as expected.
Also See: Katy Perry In News For Converting To Veganism With Her Beloved Dog Nugget
Giving the photo a very elegant and classy look she combined her animal print dress with a nice black glare, a chic bun, big hoop earrings and a pair of black couture stilettos. Her entire look may have been an epitome of style and elegance but it is actually Diana in the scar that stole the entire spotlight.
However Piggy Chops does not seem to mind giving the limelight away to her adorable pooch because it is clear from the title of the post that's what she also had hoped for. She rightfully titled the photo as 'A white tiger and her cub @diariesofdiana #TheWhiteTiger "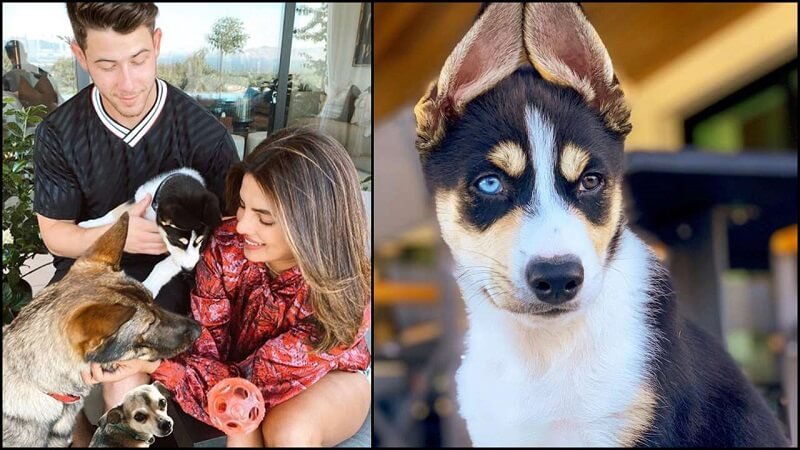 Interestingly enough, Priyanka also has 2 other dogs by the name Brando, who is a Cocker Spaniel and Panda who is a Australian Shepherd. Brando is also often seen as a part of her posts and selfies many times. Since Diana joined her family, her social media handle often has beautiful and cute images of both the pets together too.
Also See: California Two Dogs Set A New World Record For Most Stunts Performed In 60 Seconds