Dogs have a way of making their way into your heart. They soon end up becoming your best friend, constant companion, sibling, or even a child of your own. It is natural that you do not want to be separated from your furballs even when you are travelling. In this blog, we inform you about travelling with your dog.
If it were up to you, you would take your pooch to every single corner of the world you would go to. However, while you may love your dogs like you would your children, there are several practical problems pertaining to travelling with them.
It often becomes too expensive to take your dog on a vacation with you via air travel. Animals may also get sick on ships, steamers, and other kinds of water transport. However, if you are travelling through Europe and the United Kingdom with your four-legged, travel buddy, then there is a nice network of train routes that can help you get from one destination to another.
Even though rail travel is far from dog-friendly, it is still a better option than travelling by air for them. Moreover, train journeys entail frequent stoppages which means that you and your canine partner can get off anywhere if they feel stressed. This makes the journey relaxing for both of you.
However, before we start off, there are some pretty basic rules that your dog is required to check off. These rules are in accordance with the Pet Travel Scheme and must be adhered to strictly. These rules are:
Your dog needs to be fitted with a microchip.
Your dog needs to have a pet passport.
Your dog needs to be up to date with all their vaccinations.
Remember to always look up the government rules in place regarding travelling with pets wherever you go.
Are dogs allowed on trains?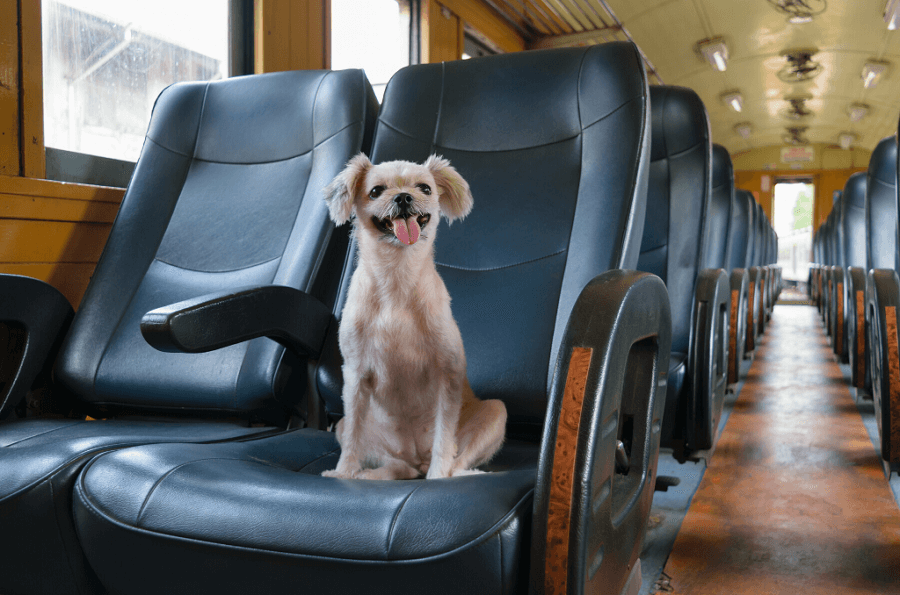 The first question you need to ask is if dogs are allowed to travel by train in the first place. The good news is that most major railway service providers allow dogs to travel with their owners via train.
However, it is still a better idea to check with the railway lines policy before booking the tickets to ensure that there is no confusion later. You must also make sure that there are train connections.
Tramways, public transport, or coaches may not allow dogs in transit to travel with them. You need to be careful of cross-city transfers where certain restrictions may apply.
Also See: Do Not Miss Out On These Supplements For Puppies
Your dog's temperament!
Another important consideration in travelling with your dog is their temperament. If your pooch is easy-going or is used to travelling, then this should not be a problem. However, if your dog is shy, introverted, or afraid of crowded places and noise, then this may be a little tricky.
Train stations are loud and crowded places where people may pat or stroke your dog without checking with you at first. That is why you ought to socialize with them as much as you can before taking them out on a trip.
They need to be socialized with all sorts of people and especially children. You must get your dog used to such situations and consult your vet if you think you need some support. If you're still not sure, you may have to invest in a muzzle and make your dog wear it before starting the journey.
In case your dog is blind or deaf or faces some other challenge, you must buy a leash and comfortable harness to travel with them.
At the railway station
It is always a good idea to reach the railway station with some time on hand. You must keep your dog calm and curious about the new environment to avoid unnecessary stress.
If your dog is content and occupied, it will be easier for you to find your coach, buy tickets and other provisions, and more.
To get to the platform, you will most likely need to use escalators. Remember to always carry your dog on the escalator and make sure they have good obedience training.
It is crucial at this time for your dog to obey your commands. The more relaxed you are, the lesser stressed your dog will be.
On the platform
Sometimes trains appear very suddenly, making extremely loud noises. This can scare your dog and put them in danger. Make sure that your dog is well away from the edge of the platform.
If possible, look for a quiet area, away from the core hustle and bustle, and make sure your dog is calm and relaxed before boarding the train.
Be very careful of the steps while boarding the train. If your dog is of a smaller breed, you can carry them on the train. In other cases, carefully guide your dog with you on the train.
Things to remember
When travelling with your dog, try to book a seat with a window view. Dogs love looking out the window and this will keep them occupied for hours. The view outside will keep them from feeling claustrophobic and avoid unnecessary stress.
Remember to carry their favourite chew toy or blanket to keep them from feeling home-sick. You can also carry treats if your dog calms down on being treat-bribed. It is also important to take them on toilet runs before boarding the train, especially if the journey is a break-free one.
Make sure you're carrying adequate water, food supplements, poo bags, and more. Do not forget the medicine pouch at home if your dog is on some sort of medication.
These are just a few steps that you can follow to ensure a smoother experience for your pooch on a trail. These simple pointers can go a long way in making the journey more stress-free for you and your dog.
We hope this blog helped you and that your little buddy has an amazing time on their upcoming vacations.