It is no secret that dog parents love to accessorize their furry babies. From cute little bow ties to stylish collars, there is a cute accessory available for every canine fashionista out there. When it comes to making fashion statements, your dog deserves nothing less than the best of what is out there. Be it the bold green and red of Gucci or a monogrammed Louis Vuitton, your favorite designer brands that you buy clothes and accessories from also design cute collars, leashes, harnesses, and other accessories for your pet dogs.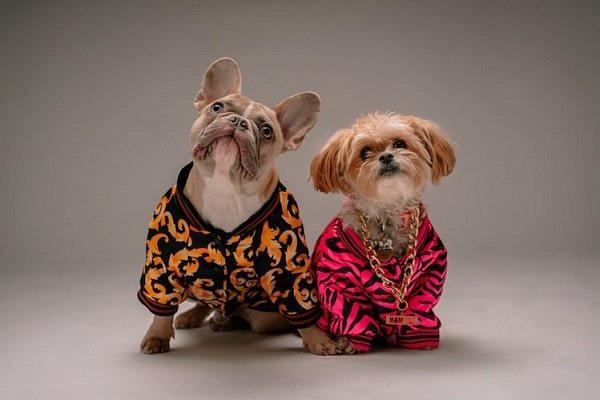 From going for a run to the dog park to attending social events with your pet dog, there is a different kind of collar and leash for every, single occasion out there, and what better way to bling up your dog than with pretty accessories? While most brands cover collars, leashes, harnesses, and other accessories, here we have enlisted the top 7 designer dog collars of the most extravagant brands along with what they will cost you, if you want to give it to your pet dog.
Most Expensive Luxury Dog Collar Brands in the World
1. Ralph Lauren Sable Woven Leather Collar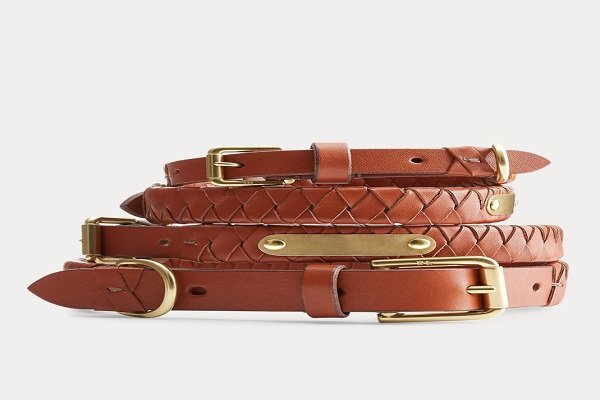 First up, is the Sable Woven Leather Collar from Ralph Lauren. Featuring handwoven details, this collar is available in four different sizes from extra small to large, and in two color variants, black, and saddle. The hardware on the collar is silver and looks riveting on any breed of dog.
Download Monkoodog PetCare App
The Ralph Lauren Sable Leather dog collar costs from 114 dollars to 140 dollars, depending on the size and color variant you order.
2. Hartman and Rose's Haute Couture Octagon
Number two on the list would be the Hartman and Rose's Haute Couture Octagon in Lavender and Tanzanite. It's an affordable range of collars by the Canadian designer house made from high-quality Italian leather.
The centerpiece comprises the Tanzanite Swarovski crystal octagon with a clear Swarovski crystal surround. Handcrafted in Canada, lined with Italian black leather, and polished with 22-carat gold polish, this unique design is bound to make your pet dog look mind-blowing.
The collar costs 149 dollars and comes in eight different sizes. This lavender beauty can also be paired with plain leads available in two sizes.
3. Tiffany and Co.
Third on the list is the stylish and sleek dog collar from Tiffany and Co. The Italian leather built alongside the brand value it carries makes it a perfect item for your pet dog. The serene blue-collar is complimented with gorgeous palladium-plated metal hardware.
The collars are available in 5 different sizes from extra small to extra large. This collar costs 210 dollars to 310 dollars, according to the size you require.
4. Black and Beige Dior Oblique Jacquard Dog Collar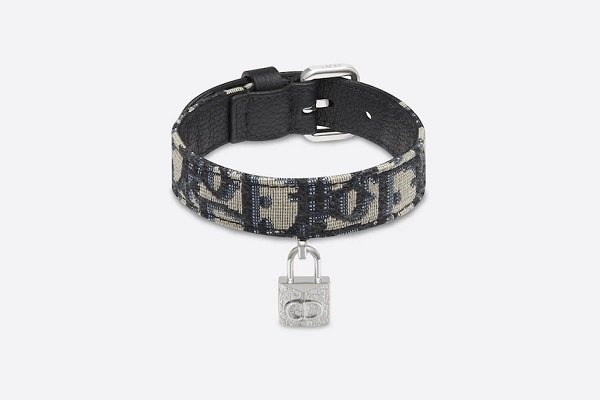 The fourth item of the list would be the Black and Beige Dior Oblique Jacquard dog collar. This stylish collar centered with a decorative padlock engraved with the Christian Dior logo is a sophisticated and luxurious accessory for your pet dog.
Lined with black calfskin, this collar is available in three general sizes. Priced at $397, this collar makes for the perfect gift for your pet dog.
5. Louis Vuitton Baxter Dog Collar
At number five, Louis Vuitton has designed a dog collar specifically for smaller breeds of dogs. The Baxter dog collar is the Louis Vuitton monogrammed canvas with natural leather backing, gold brass knuckle chains, and an ID tag.
The Baxter dog collar comes in two sizes, the Baxter Dog collar PM which comes for $440, and the Baxter Extra Small Dog Collar for yet smaller comes for 380 dollars.
6. Big Dogs Chains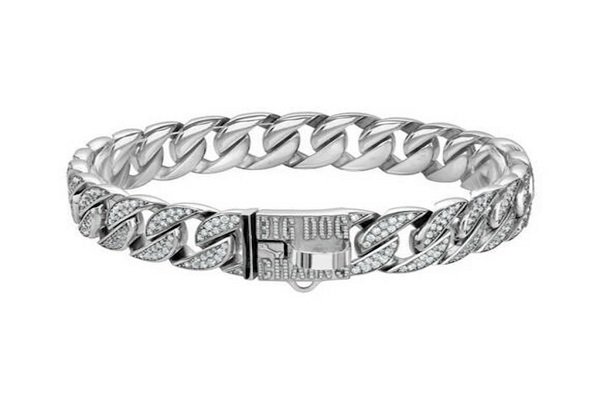 The sixth item on the list is the range of sturdy, well-built chain collars. This ranges from 18 to 30 inches and is perfect for a beefy breed of dogs like Pitbulls, Bulldogs, and others. There is a wide range of designs available, namely, The Caesar, The Magnum, The Spartan, and many, many more.
The Kilo Solid 10K Gold chain and the Royal Ice chain are the two most expensive and luxuriant chains from the brand. While the Kilo Solid Gold chain costs 35,000 USD, the diamond-encrusted Royal Ice chain costs 499,999.99 USD. These gold and diamond-encrusted dog collars will make a super funky gift for your big dog.
7. Amour Amour Dog Collar
The final item on the list is the world's most expensive dog collars, the diamond embedded Amour Amour dog collar. Once known as "the Bugatti of dog collars", this hyper luxe collar is a 52-carat collar with 1,600 handset diamonds with a 7 carat, color graded, brilliant-shaped centerpiece.
The collar has amassed acclaim from several media houses, and blogs and has featured on a number of documentaries and TV shows.
In case you liked these dog collars and chains, you can check out the respective websites to source these perfect little gifts for your precious pet dogs.