With over a billion pets globally, dogs lead the pack, accounting for almost half of the population. In the US alone, about 49% of pet owners keep dogs. They are very good companions, which is the main reason for this preference. Most households treat them with love and care like other family members. However, opening a dog grooming business isn't always an easy job.
A lot of people struggle with handling their furry little friends who may be fractious during grooming. Furthermore, the endless clipping, trimming, brushing, and washing may literally and metaphorically be a pain in the neck for owners. Consequently, dog owners increasingly seek such services, making a dog grooming business profitable.
If you are thinking about starting your dog grooming business, here is a 10-step action plan and some tips to start a Dog Grooming Business.
1. Study the Market
It is probably the first thing you will hear about starting any business. For starters, do a general analysis of the industry to help you grasp the emerging trends, requirements, and opportunities. Here is how to go about it:
Identify Competitors: Find out already existing businesses in the grooming industry that you will most likely face. Identify their strengths and weaknesses and create a better value proposition attractive to all customers.
Specify Your Niche and Target Market: Identify service gaps and find what you can offer that other businesses are missing. Finding your niche will help you define your target market. For example, you may consider breed-specific grooming, age-specific, size-specific, or special needs grooming. Remember, it is easier to attract a loyal customer base by specializing in one niche.
Identify Possible Bottlenecks: Another way to enhance your study of the market is to learn about the common struggles so that you find ways to overcome them beforehand. For example, handling aggressive dogs is a common challenge. However, you can solve it by learning professional restraining measures without hurting the pet or the groomer.
Also read: How you should groom a Golden Retriever.
2. Get a Business Plan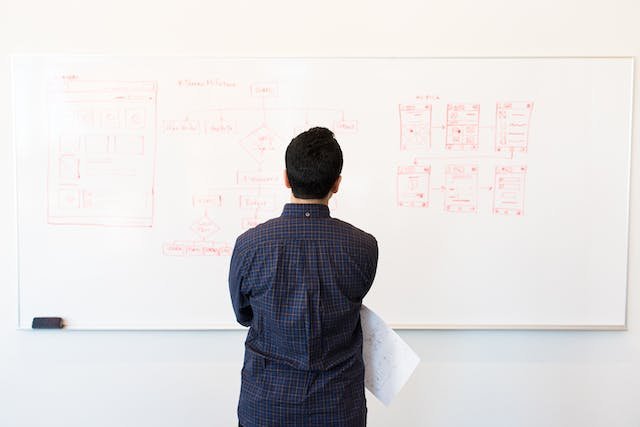 A business plan is such an important document that will guide you through the stages of your company from its inception. Your plan should include a value proposition, general services offered, staffing, capital, and tangible and intellectual assets.
You can also engage a consultant or financial advisor to steer you in the right direction and help you avoid beginner mistakes. Leadar is a great place to start; you can look up professionals based on skill, location, social media, or company.
3. Choose a Business Name
The dream of every business person is to eventually create a brand, and this starts with choosing the most suitable name. Be creative enough to come up with a name that is unique, memorable, and that will resonate with customers as a provider of grooming services. For example, Scenthound and Pampered Paws Salon are examples of clever and creative names in the industry that are a success.
4. Find a Suitable Location
Use your market analysis to find out where there is a complete lack of or a shortage of grooming services, albeit with favorable competition. An appropriate location for your company is one that is:
In close proximity to your customers
Favorable rental and operating costs
Has high traffic
Able to accommodate the growth of your company
Has the necessary amenities and a parking lot
Secure for the pets, staff, and customers
5. Hire Staff or Learn the Skill
Even though groomers don't necessarily need formal training or qualifications to do the job, there are basic skills needed. For example, learn how to brush fur, wash, trim, and calm down the canines during the process of tidying. If you do not have these simple skills, as a business owner you can hire staff with prior grooming experience.
However, there are dog grooming courses that will enhance your understanding of the craft and make you a professional.
6. Consolidate Your Finances
A dog grooming venture may not be cheap to set up, and the start-up cost may range from $3,500 all the way up to $10,000. Therefore, using your earlier market analysis, find out what you need and determine the amount of capital you will require. It is also advisable to research ahead of time to prepare for a loan application in case you need to boost your finances to start the venture.
7. Decide on Pricing
According to Forbes statistics, Americans cough up an average of $730 annually on their canines. To decide on pricing, keep that in mind while also considering the following:
Competitor pricing
Your business's profit margin
Customer base and purchasing power
Pricing vs unique selling proposition
Penetration pricing to attract customers
Remember to make your pricing fair for your customers without hurting your profits.
8. Register Your Business
For it to be considered a legal entity, you must comply and register your business as an LLC, partnership, corporation, or sole proprietorship. Additionally, applying for the Employer Identification Number is a legal obligation. Also, to start operating, you will have to apply for permits and licenses in your state.
Registering your company will oblige you to pay taxes and comply with the IRS as per your revenue through the official company bank accounts.
9. Leverage Your Website, Social Media, and Software
Running your company digitally has many advantages, and having a website and social media is the first step. For instance, you will be able to reach more customers online and attract referrals too. Carry out integrated marketing by utilizing email, website, and social media in one campaign targeting one objective.
Once the business starts making good returns, you can scale operations and add an app to help with appointments, payments, reminders, and customer feedback.
10. Market and Advertise
For a new venture, you will have to woo prospective customers to become loyal customers. For starters, optimize your website through SEO. Additionally, utilize Google Ads or pay for advertisements on social media.
Giving out business cards, flyers, and brochures to people walking their pets is a cost-free marketing strategy for a grooming venture. Remember to use discounts and welcome packets to entice new customers.

Conclusion
Dog grooming is an essential service for most owners, given the challenge that comes with it. What is more, most states in the US have laws and regulations that demand proper care and welfare of these furry friends. This creates an enticing opportunity for groomers to help with the typical time-consuming tasks. To tap into this industry, besides following this 10-point plan, remember to be professional in handling pets, as this is the most challenging bit of the job.