The majority of dogs, like people, experience anxiety from time to time. It's a common emotional reaction. Some dogs, on the other hand, are more stressed than others. Dog anxiety affects all breeds, yet it differs from one dog to the next.
The good news is that you have a variety of options for assisting your puppy through difficult times. It's also in their best interests to assist them in managing their Anxiety before it increases or becomes a chronic illness.
Dogs, like people, suffer from Anxiety. It is a natural and healthy emotion, despite the fact that it is unpleasant. Dog anxiety affects all breeds, yet it differs from one dog to the next. Every dog suffers from this from time to time, but if not addressed on time, the dog might develop an anxiety disorder. And, this anxiety, if left untreated, can develop into behavioral and other problems.
What Causes Anxiety in Dogs?
Anxiety might appear to emerge out of nowhere, In general, any significant change in your dog's regular routine might cause sadness or anxiety symptoms.
Big life events, such as moving to a new house, having a new kid, or getting a new companion, may all affect a dog's feelings.
The following are some of the most prevalent reasons for dog anxiety:
1. Fear
Loud sounds, unfamiliar persons or animals, visual cues like hats or umbrellas, new or strange locations, specific scenarios — like the vet's office or vehicle journeys — or surfaces like grass or wood floors can trigger fear-related Anxiety. Although not all dogs react to these stimuli but mostly stressed dogs do get affected by these stimuli.
2. Separation
When dogs with separation anxiety are left alone or separated from their family, they are unable to find solace. Unwanted actions, including peeing and defecating in the house, damaging furniture, and furnishings, and barking, are common manifestations of Anxiety.
3. Oldage
Age-related Anxiety is mostly seen in older dogs, which has been linked to CDS (Cognitive Dysfunction Syndrome). Memory, learning, perception, and awareness begin to deteriorate in dogs with CDS, comparable to the early stages of Alzheimer's disease in humans. Senior dogs are naturally confused and anxious as a result of this.
4. Hormones
Hormones in female dogs after postpartum and testosterone in unneutered males can lead to Anxiety.
5. Forcible Actions
Puppies develop Anxiety when forced into situations they don't want themselves to be involved in. They also show Anxiety when they are exposed to an outside environment after being deprived of it for 14 weeks.
Download Monkoodog PetCare App
Are There Different Types of Anxiety in Dogs?
Multiple variables can induce these distinct forms of Anxiety, and they can even happen at the same time.
Separation anxiety occurs when your dog is apart from you or other usual providers, such as when you move to a new place or change your routine. When people think of anxiousness in their pets, they usually think of this.
Generalized Anxiety Even in well-trained dogs, this might emerge "out of nowhere" with no apparent reason or trigger.
Environmental Anxiety manifests as a dread of leaving the house or visiting a certain site, such as a veterinarian's office. Loud noises or terrifying events, such as sirens, alarms, crackers, or thunder, can also create environmental Anxiety.
Social Anxiety is over being among diverse people or pets. Lack of socialization and previous rescue could be the result of Social Anxiety.
Is Anxiety Breed Specific?
Certain dog breeds, particularly working dogs, are prone to Anxiety. Some of the breeds are more prone to Anxiety than others:
Labrador Retrievers, German Shepherds, Border Collies, Cavalier King Charles Spaniels, Cocker Spaniels, etc are a few examples.
How Can I Tell If My Dog Is Having Anxiety?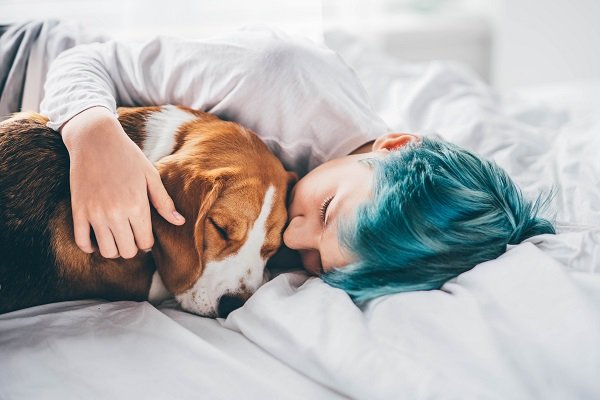 The signs and symptoms of Anxiety vary from dog to dog, depending on the nature and intensity of the Anxiety. Still, the best method to tell whether your dog is anxious is to watch their body language.
1. Barking & Winning
Vocalization is a typical form of self-expression in dogs, although it can become more intense when they are stressed. Fearful or anxious dogs may whine or bark to attract your attention or self-soothe.
2. Body Posture
Dogs usually carry the same amount of weight on all four legs. A healthy dog with no health problems transfers his weight to his back legs or cowers if stressed. When dogs are terrified, they may tuck their tails or become stiff.
3. Panting
When dogs are overheated, enthusiastic, or anxious, they pant. If your dog is panting despite not having exercised, he might be stressed.
4. Yawning, Drooling, and Licking
When dogs are sleepy or bored, they yawn. We all know they all yawn when they are anxious. But anxious yawning is louder and lasts longer than a drowsy yawn. When dogs are frightened, they may drool and lick their paw excessively.
5. Changes in the Appearance of the Eyes and Ears
Dilated pupils and fast blinking are common in agitated dogs, just as they are in disturbed people. They may open their eyes wide and show more sclera (white) than usual, making them appear startled. The ears, which usually are relaxed or alert, are pinned against the head.
6. Body Mechanism
Nervous dogs, like people, might have a sudden impulse to go to the toilet. Your dog may be establishing territory and reacting to the stress at the same time when it urinates quickly after meeting a new canine companion. Stress can also manifest itself in the form of refusal to eat or a lack of bowel function.
7. Destructive Behavior
A dog that is facing separation anxiety might put a hell storm in your house. Chewing carpets and furniture and running all around with destruction steps are also signs of Anxiety.
8. Restlessness and Shivering
Your dog might roam around the whole house searching for a comfortable spot to chill but won't find it due to its restlessness. It might suddenly start shivering when encountering an unwanted situation or someone. Shivering in sleep is also seen in anxious dogs.
Download Monkoodog PetCare App
How Can I Help My Anxious Dog?
You must be familiar with your dog's natural temperament in order to distinguish stress symptoms from normal behavior. Then you'll know whether he's licking his lips out of Anxiety or because he wants a treat.
Stay Away from the Things That Make Them Uncomfortable.
Identifying the indications and causes of your dog's Anxiety and removing them from these circumstances is the greatest method to treat them with Anxiety. Never penalize or reprimand your dog for their behavior. Seek help from veterinary behaviorists and qualified behavior trainers who employ positive training methods, and stay away from your dog's anxiety triggers until it is under control.
Socialize Them as Soon as Possible.
A dog's essential socialization stage is between the ages of 4 and 16. This is when a dog's brain is actively learning how to accept and engage with other members of the social group (dogs, people, and other animals) and the surroundings. Regular handling and exposure to different circumstances in a non-threatening way are critical for a puppy's development into a sociable, confident, and happy adult.
Attention
Increase the amount of time you spend with your dog. But wait until you observe indicators of enjoyment, such as a wagging tail, before rewarding them. Regular walks, playtimes, and other things you know your dog enjoys will keep them active.
Counter-Conditioning and Training
To address dog anxiety, owners can employ a variety of training techniques. Counterconditioning is one of the methods. The goal of counterconditioning is to modify your dog's response to the anxiety-inducing stimuli, generally by substituting a more desired behavior, like sitting or focusing on the owner, for the nervous or aggressive behavior.
Anti-Anxiety Medications
Your veterinarian may prescribe drugs or natural remedies if your dog develops a major anxiety issue. SSRIs and antidepressants, such as fluoxetine and clomipramine, are sometimes used for dogs with Anxiety. To assist your dog cope with predicted anxiety-producing situations such as thunderstorms, fireworks, or automobile journeys, your veterinarian may prescribe a benzodiazepine in combination with an antidepressant.
Considering Facts of Dog Anxiety
Poor treatment by humans will almost always result in an uneasy pet.
A dog that is active and exercises daily is a healthy dog.
Natural herbs actually work in case of dog anxiety.
The symptoms of anxiety exerted by a dog are most of the time towards itself.
Giving excess amounts of attention at the wrong time is also unhealthy.
Download Monkoodog PetCare App