When you have a dog in your life, there is seldom a chance for you to have a peaceful or calm day. They become an essential and integral part of the family. Parting with them is emotional torture. Georgie and Edward Bell of Jedburg are now in complete mental and physical breakdown point because of the same reason.
Ruby was five years old while her daughter beetle was 2 yrs old when they had gone missing last year on December 11th. The two adorable and extremely well-loved and cared for Border Terriers disappeared under mysterious circumstances from the Lothian Estate of Jedburg while they were playing around.
Ruby and Beatle with the Bell's younger daughter –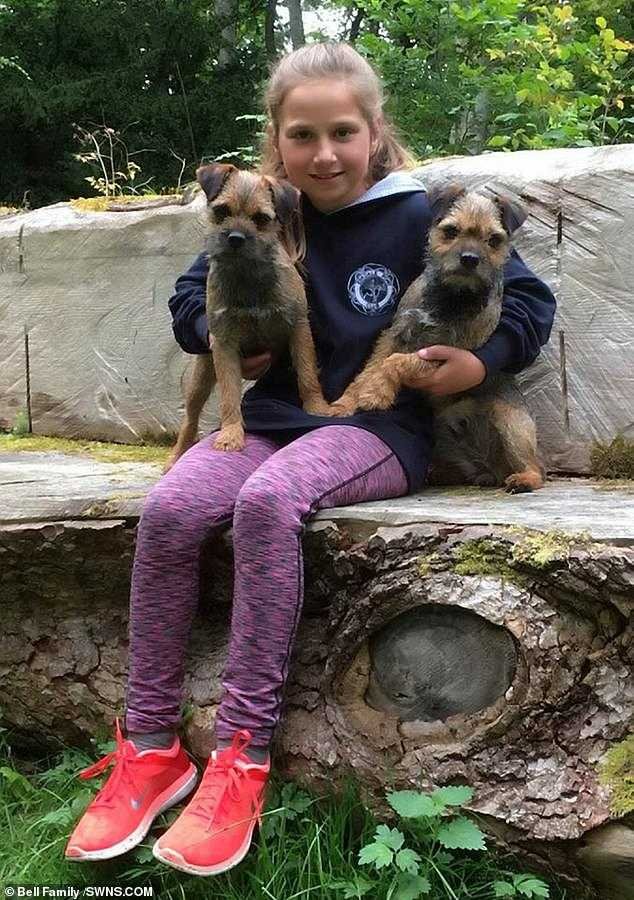 Christmas is around the corner in a few weeks, but this family is yet to start with their preparations. The entire family is busy trying all means possible to find their twin dogs Ruby and Beetle.
Initially, a reward of 10 thousand Euro was announced for the safe return of the dogs. Through various local publications and social media platform, the family tried to spread the word about the reward, hoping to get some or another answer.
There was even a strange call from Galway, Ireland a few weeks later with the promise of returning the dogs. However, nothing has changed, and no one came. A return call to the number only led to a dead-end breaking Georgie bell's heart further.
It has been 1 yr since the Scot Border Terriers, and the Bell Family is yet to give up on the search. Recently raising the award money to 20 thousand Euro, the couple has decided to further their search by sending out information as far and wide as possible.
According to Edward Bell, the dogs were not just family but also the part of their legacy. They were a significant part of the family and would always be. This tremendous faith and love the couple has for their dogs, makes us wonder who and why had someone stolen Ruby and Beatle.
Watch out the news of Georgie and Edward Bell at –
https://www.dailyrecord.co.uk/news/scottish-news/distressed-scots-dog-owners-offer-21071734
Most importantly, why were the dogs not being returned even after the announcement of such a hefty reward. Because the price of the dogs is way less than the reward money, many suspect that this kidnapping was more for personal satisfaction than anything else.
As time pass by, Georgie and Edward Bell are still waiting that any moment the dogs will hope in through the front door barking and jumping.