Former US President Barack Obama's pet dog, Bo has passed away after a long and brave battle with cancer. The Obamas took to social media to express their griefs and concerns after the loss of their beloved companion.
The news of Bo passing away was shared on Instagram where both Barack and Michelle Obama break this terrible news to their followers and express grief at the passing away of a dog who the former President called a "true friend and loyal companion".
Mr. Obama wrote a lot of touching things about his furry buddy including the facts that he tolerated all the fuss of living in the White House, had a big bark but no bite, loved to jump in the pool in summers, spent a lot of fun times with the children, lived for scraps around the dinner table, and had great hair.
Bo was a Portuguese water dog who was a gift to the Obamas by the Late Senator Edward M. Kennedy, D-Mass., who was a significant supporter in Barack Obama's 2008 Presidential campaign who later became close to the family. This present helped Mr. Obama keep his promise to his girls, Sasha and Malia, who were told they could get a dog after the elections.
They were joined by a companion dog named Sunny who started living in the White House in 2013. Both of these dogs were a constant presence around the house and very popular among the visitors. The dogs even joined the Obamas in attending events and entertaining guests often.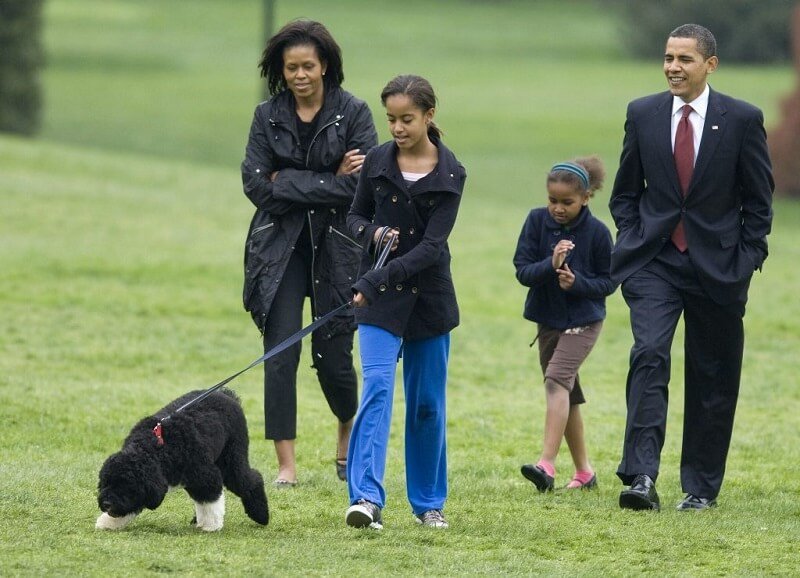 They entertained the crowds at the annual Easter Egg Roll and Bo often accompanied Mrs. Obama in welcoming tourists. The dogs would also help cheer up wounded service members as well as hospitalized children who were visited by the First Lady each year before Christmas.
Mrs. Obama posted a slideshow with pictures of Bo, including one where he is sitting behind the President's Resolute Desk at the Oval Office, and recounted the wonderful time when the delightful dog would add some levity to the White House.
He was there through a lot of challenging times faced by the couple as well as all the significant moments they shared in the White House including when the Pope came to visit. The former First Lady wrote that she is grateful for the time they got to spend with Bo last year due to the pandemic and said that Bo was the happiest for it – all his people were under one roof again.
Do you have a story tip? E-mail: woof@monkoodog.com
You can also follow us on Instagram and Twitter and download the dog news app from Google Play.