If there is one thing that dogs love as much as they love treats then it is toys. No dog ever gets tired of playing, Period. Whether you have a tiny little chihuahua or a big labrador, they are all fond of toys whether it be a small squeaky ball or a chew toy, or a frisbee. They will love the toys, and you for bringing them for them. Today we have brought you a list of the most innovative pet toys of 2021 so that you can buy a toy present for your little buddy.
Are you looking for Pet Care Services in Delhi NCR, Then download Monkoodog PetCare App.
Let's take a look at the 10 innovative pet toys of 2021
1. Trixie Poker Box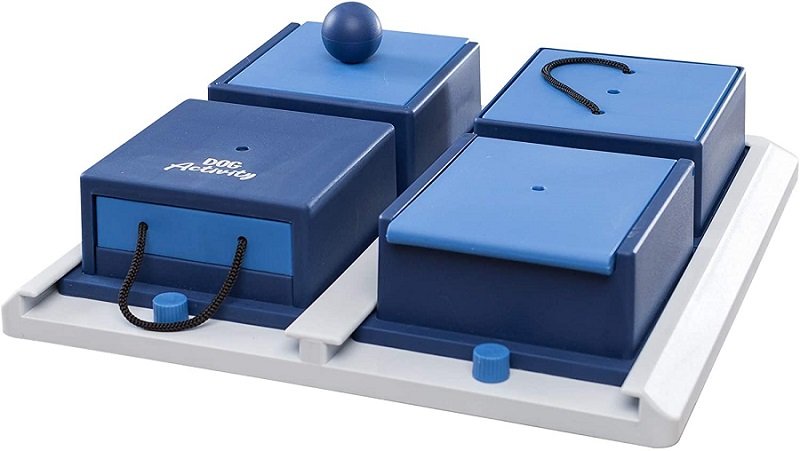 As we already know that dogs are very intelligent creatures and they love playing Period. And thus, this Poker Box by Trixie is one of those wonderful innovations of 2020 that will help you to channel your dog's energy in the right way and give him the much-needed mental exercise along with his physical exercise.
This game comprises 4 different compartments, each presenting a different challenge to be mastered by your canine.
These boxes can be opened using flaps, knobs, ropes, and drawers. It comes with an instruction manual to increase the level for various tips and tricks to make the most out of this toy.
2. Treat Dispensing Dog Toy by Eileen & Elisa
There is nothing like a fun toy for your canine that also helps them to increase their IQ. This treat-dispensing toy by Eileen & Elisa is the best of both worlds.
This treat dispensing dog toy is in the shape of an egg which makes it harder for small and medium-sized dogs to put it in their mouth completely and difficult for them to chew it and ensure that it is not destroyed too soon by your dog like his other toys.
Interactive treat toys such as this one help in building your dog's IQ and also helps decrease destructive behaviour on their end.
3. Talking Babble Ball by Pet Qwerks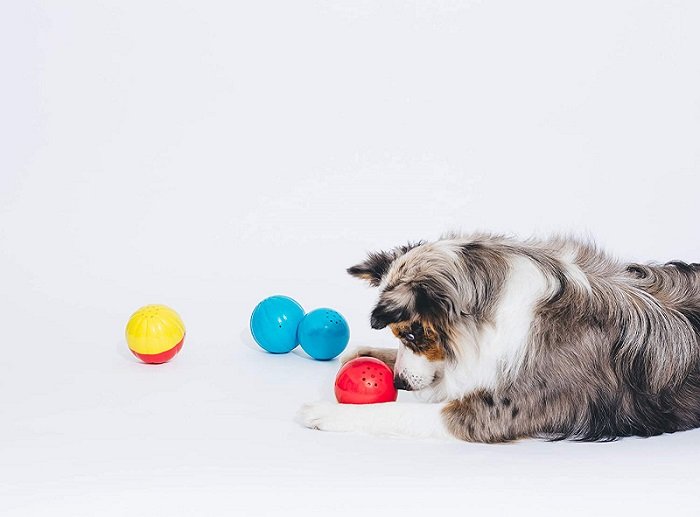 Let's take a moment and pretend to be dogs. Now, we know how much dogs love balls. Now let's think about a ball that plays with your dog and not just the (usual) other way around..mindblowing, isn't it?
Talking Babble Ball is an interactive toy that makes over 20 wisecracks & sounds. It is durable with replaceable batteries. They are activated automatically by motion. These are of great help for exercise and we assure you, your dog will never be bored again.
4. Squirrel Squeaky Puzzle Dog Toy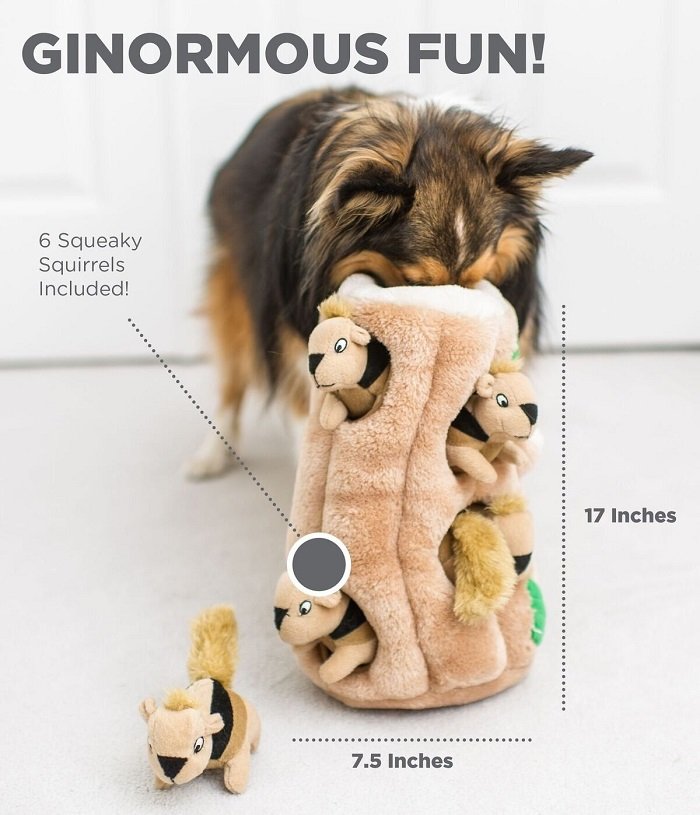 Wouldn't the perfect toy be the one that while being fun for your dog to play with, also helps him in his mental as well as physical exercise? Well, it is 2020 and anything is possible.
This squirrel squeaky puzzle dog toy is an all-in-one toy. It's a puzzle that will help your dog with his mental exercise (much needed), and the squirrels in the puzzle are removable which means you can play fetch with it as well. Every squirrel in the puzzle squeaks which your dog will love.
5. Benebone dog Chew Toy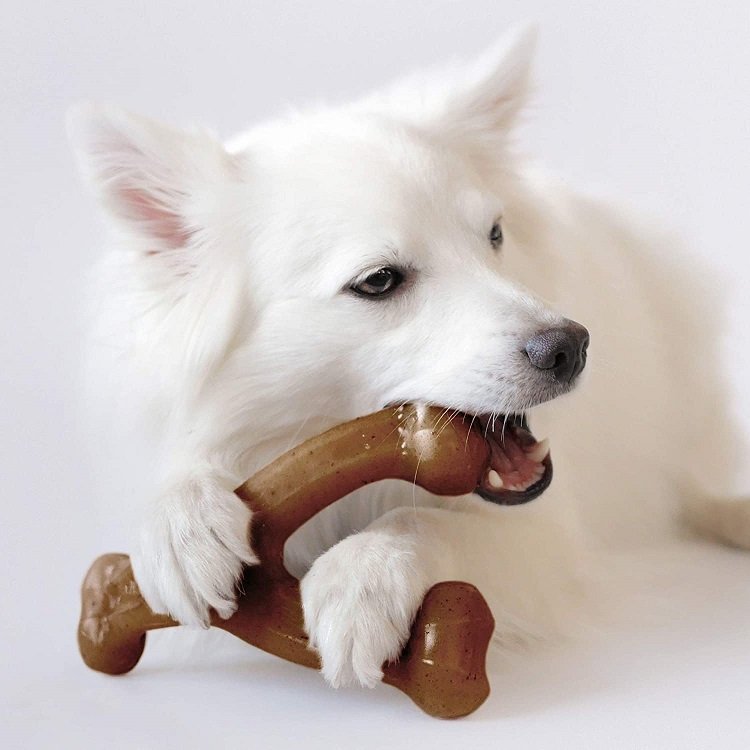 You would be wondering what is innovative about a dogbone. This chew toy is not just a random dogbone but rather is a super bone.
If your dog is a chewer who loves chewing then this toy is for him, this chew toy will last longer than the other dog bones you got for your little buddy.
And the best part is that these bones are one hundred per cent bacon-flavoured, for real.
6. Giggle Ball Dog Toy
Wobble Wag Giggle Ball Dog Toy is an intuitive ball that draws in your canine's interest and sense to play, with very entertaining sounds, and one-of-a-kind tones and movement intended to depict human laughter and happiness. Three tubes that are inside the ball let out sounds when it moves around, all without the requirement for batteries. Your pooch will have some good times with this fun toy.
Are you looking for Pet Care Services in Delhi NCR, Then download Monkoodog PetCare App.
7. Indestructible Ring Durable Dog Chew Toy
Do you have a fierce chewer at home? If yes, then you have likely amassed a burial ground of toys that were not up to the mark.
In the wake of testing more than 80 diverse bite toys, we are sure just one bite toy is proper for fierce chewers – tried by the ground-breaking jaws of Labradors, Pitbulls, German Shepherds, and a Great Dane.
Goughnuts Chew Rings. made in the USA, is made up of top-notch rubber that can endure aggressive chewing sessions and it comes in various sizes to meet your dog's requirements.
8. Trixie Flip & Fun Dog Activity, Strategy Game Toy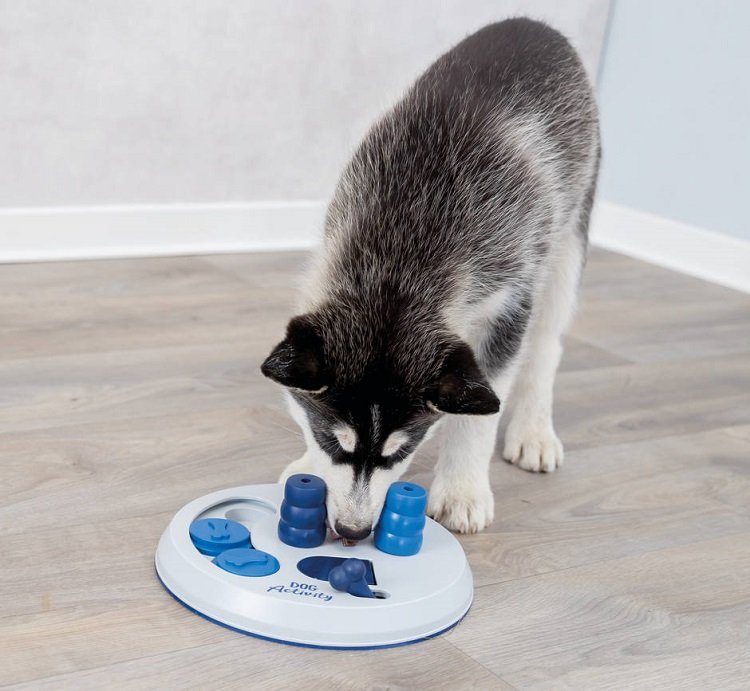 Games that provide mental exercise for your dog are one of the best possible toys available on the market. This Dog toy by Trixie Flip is one of its kind strategy game toy for your pup.
This toy has non-slip rubber feet which ensures that it doesn't keep slipping away while your dog tries to figure out how to open the slots. This dog toy is fit for all age groups.
9. Plush Pheasant Dog Toy by House of Paws
This toy is shaped in a bird with wings and comes in a large size and that isn't even its most important selling quality.
This toy is super soft and will become your dog's favourite chew toy in no time. This large house of paws plush pheasant dog toys also has a squeaker which will keep your dog engaged with it for a good amount of time.
10. Sweenaly Pet Bite Toy Multifunction Pet Molar Bite Toy
This is a super innovative dog toy that your little friend will absolutely love. It comes with a suction cup that sticks to the floor and allows your dog to play with the rope and the ball, pull on it and chew on it to their heart's content with little to no assistance from you.
The ball on the other end of the rope is super bouncy so that will be another attraction for your dog, there is no way he will be able to refuse this toy.
Also See: Dog Trends You Can Expect In 2021