We love our dogs regardless of what size they are. But at the same time, we also know how harmful obesity can be for them and that it attracts various diseases such as heart problems and diabetes. And we do not want them to be at any kind of risk so diet is important for them (always with your vet's consultation). But just because your dog is obese and on a diet does not mean that he has lost his taste bud. So today we have brought you some easy homemade food recipes for your obese dog, to make our little contribution to your pooch's diet and ensure that he gets healthy as well as tasty homemade food.
Let's take a look at 2 easy homemade food recipes for obese dogs
1. Low-Calorie Pumpkin Spinach Dog Treat
This treat recipe is by Wiggle Worthy, particularly for obese dogs struggling with weight loss. Tailor-made for dogs who cannot afford to gain those extra pounds and have been put on a diet, this treat recipe is like a gift in itself. Just because your dog has been put on a diet does not mean that he should not have the option to have an intermittent 'cheat treat'. So here is the perfect recipe for these low-calorie dog treats for your sweet little darling! Whole wheat flour gives these canine treats crunch, pumpkin puree, spinach, and parsley bring the flavor, and raw grain in addition to pink Himalayan ocean salt adds a touch of punch. When did a Low Calorie Dog Treats formula last taste (or look) so great?
To make this recipe you will need:
1 cup whole-wheat flour
1/2 cup pumpkin puree
1/2 cup fresh baby spinach (finely chopped)
1 tbsp fresh parsley (finely chopped)
2 eggs
1 tsp wheat germ
1/4 tsp pink Himalayan salt
Directions:
Preheat the oven to 350F.
Line baking tray with silicone baking mat.
Put the flour into a little bowl and add salt, mix them properly.
Chop spinach and parsley.
Put spinach, parsley, pumpkin puree, and eggs into a bowl.
use a wooden spoon to mix all the ingredients well.
Add wheat gram and mix properly.
Add flour, a little at a time, and mix well.
When all flour has been consolidated, shape the batter with your hands.
Turn batter out onto floured wax paper.
Cover the mixture with the second sheet of wax paper.
Utilize dough roller to turn batter out to approximately 1/4″ thickness.
Cut into wanted shapes with the help of a cookie cutter or sharp blade.
Bake at 350F for 30 – 35 minutes.
Take out the treats from the oven and permit them to cool entirely.
Also See: How You Can Make Your Dog Live Longer With A Healthier Life
Store treats in an impermeable container in the pantry for 5 – 7 days, in the refrigerator for as long as 10 days.
Download Monkoodog PetCare App
2. Peanut Butter and Pumpkin Dog Treat
It is hard to see your lovely little pooch struggling with its weight and diet plans to lose those extra pounds. We understand that it breaks your heart to not give your little pooch those treats it has been indicating his fondness towards. But you do not need to worry anymore as we have brought this perfect peanut butter and pumpkin dog treat for your obese dogs which will taste great but would not contribute to weight gain in any manner. This recipe has peanut butter in it which dogs are very fond of and thus we can guarantee you that your dog will love this treat and will appreciate you for making them. The best part is that it does not harm your pooch in any manner whatsoever.
To make this recipe you will need:
7 oz can pumpkin
3 Tbsp peanut butter
4 egg whites – or 2 whole eggs
½ teaspoon salt
½ teaspoon cinnamon
¼ to ½ cup of water
3 cups whole wheat flour
Directions:
Preheat the oven to 350 convection.
Add ½ of a 14 oz jar of pumpkin to 4 egg white, ¼ cup of water, 3 Tbsp peanut spread, ½ tsp salt, and ½ tsp cinnamon. Turn on the mixer and mix until everything is incorporated properly.
Now gradually add 3 cups of whole wheat flour with the mixer. You have to add more water to get all the flour fused properly. And for that, you might need to add more water, probably around ¼ cup as this is a dry batter.
Now, put the dough on a chopping board, make long cuts to make four equivalent pieces. Then fold each into logs of 1-inch diameter. Chop into ½ inch pieces. You'll get around 60 biscuits.
Prep 2 treat sheets with parchment paper and distribute the biscuits evenly. Now, bake the biscuits for 30 minutes to make them semi-hard. And Viola! Your Pumpkin Peanut butter biscuits are ready.
To check the nutrition fact of this recipe or to note down some Recipe Tips, Click here.
3. Low-Calorie Carrot Dog Treats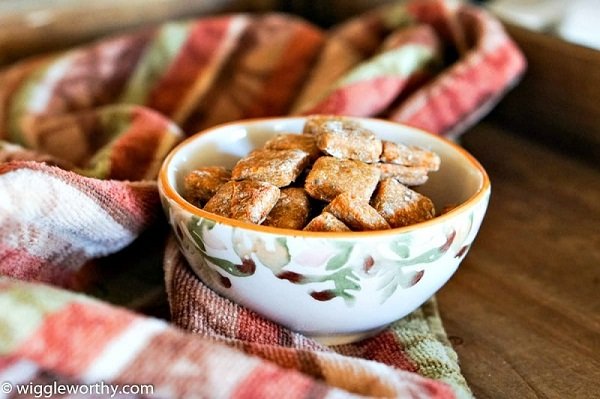 These low calorie dog treats carrot by Wiggle Worthy for dogs are brimming with healthy and delicious ingredients, so you can offer them to your canine without stressing over it gaining some extra pounds. Carrots are abundant in vitamin A and fiber while being low in calories and fat, which makes them a healthy and delectable ingredient that is ideal for low-calorie diet plans.
To make this recipe you will need:
2 cups whole wheat flour
1 cup finely shredded carrots
1 egg white
Approx. 1/2 cup bone broth
2 tbsp unsweetened applesauce
1 tbsp chia seeds
Directions to make:
Preheat your oven to 350F.
Line the baking tray with a baking mat.
Shred the carrots properly.
Add flour into a big bowl.
Mix the shredded carrots into the big bowl of flour.
Mix until carrots are blended properly with the flour.
Add chia seeds to the carrot-flour mixture and mix well.
Then add egg white and applesauce to the carrot-flour mixture.
Mix all the ingredients until they are blended properly.
Now add the bone stock, a little at a time, until the mixture sticks together.
Use hands to shape batter, add more stock or flour as per requirement.
Turn mixture out onto floured wax paper.
Utilize a floured rolling pin to turn out to approx. 1/4″ thickness.
Cut treats into little shapes utilizing a dough cutter or a knife.
Put the tray into the oven to bake at 350F for 15 – 20 mins.
Take it out from the oven and let it cool entirely.
Store in a hermetically sealed container in the cooler for as long as a week.
To check out the Nutrition Fact per treat, Click here.
Having a dog is a wonderful experience and at the same time a great responsibility. A check on your dog's eating habits will ensure a long and healthy life for your little buddy. It is not very hard for your obese dog to shed all that extra weight and lead an energetic and healthy life, all it takes is a balanced diet with sufficient exercise, and regular consultation with your vet. We are sure that your pooch will enjoy these recipes and will also shed those extra pounds and in no time be healthy and energetic as a puppy again.
Also See: Pro Tips For A Road Trip With Your Dog