With the depressing news of the collapse of the Building in Miami with around 150 people, we have all spent the past few days anxious, praying for all those who were in the building and have not been able to be traced yet. While everyone there is living their worst nightmare, something good happened.
Few families that have become a victim of the Miami building collapse have found comfort and solace in therapy dogs while they wait for any news that they could get about their loved ones.
After the devastating incident where around 150 people are still unaccounted for and are anticipated to be buried beneath the rubble, the Boricuas de Corazon disaster relief team brought a pair of four-legged furry friends named – Tal who is a 7 years old Akbashand weighs 130 pounds (56 kg) and Molley who is a 1-year old Walked Coonhound.
As per Linda Perez, the president of Boricuas de Corazon which is a non-profit group and is dedicated to helping disaster victims, these therapy dogs help victims process their feelings and emotions during such challenging and difficult times.
The dogs have so far provided comfort to at least four families who are from Argentina, families from Houston and Perez, and another from Paraguay.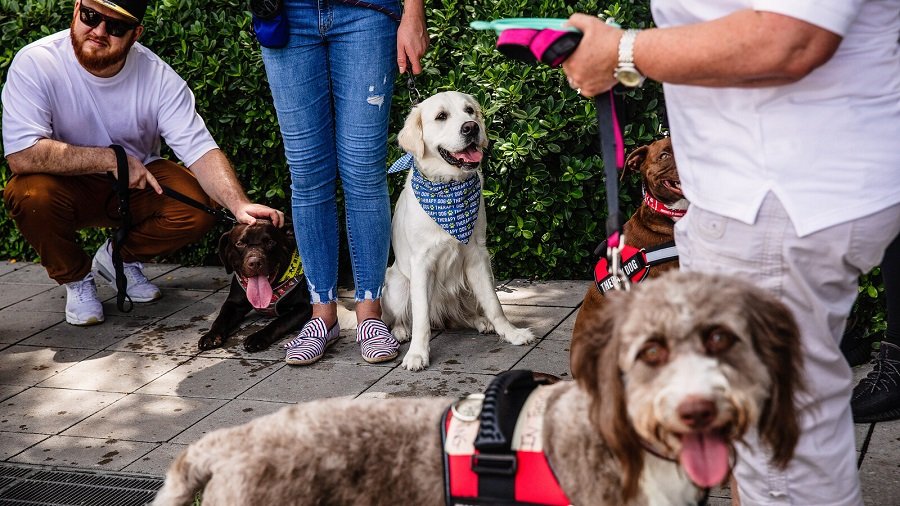 The family members who have loved ones missing are having recurring panic attacks or anxiety issues, have been able to work with the dogs, by touching them, getting their emotions out as has been told by Perez.
It is rather very difficult for relatives who have loved ones missing since Thursday morning. They are able to realize a bit of their emotional build-up by looking at the dogs. The dogs are contacting their relatives with their eyes, they are able to absorb all the emotions around them and are helping people relax.
Amongst these was a survivor who climbed out of the collapsing building with her dog. In an interview, she expressed how terrifying the entire experience was for her. She was fast asleep when it started, and as soon as she realized what was happening, she took her dog and jumped off the window, and succeeded in saving her life as well as her dog's life.
We are so very proud of her for not leaving her little best friend behind and hope that everyone else makes it through as well.
Note:
Do you have a story tip? E-mail: woof@monkoodog.com
The perfect app for pet lovers is right here – presenting the power-packed Monkoodog application. Brought to you by Stepett Technologies, this app flaunts a host of features that make grooming and maintaining your dog's health and appearance easy breezy. This application provides 360 degree dog-related services that include finding the nearest pets up for adoption in your location to providing informative news bits about dogs across the world. You can also look up essential pet-care services such as dog's health records, vaccinations, your dog's everyday. And you can also look for Pet Service providers, dog park, dog trainers, or beach, learning about your pet, and much more! Here is the best Dog Monitor app for Android!
Also See: Is It Okay To Dress Up Your Dog?