This little, charming, and social dog looks to be a good choice for first-time pet owners and apartment dwellers. Jack Russell Terrier small pup, on the other hand, may amaze you with his enthusiasm and aggression.
These dogs demand a lot of exercises, as well as strict, persistent training, or they will develop undesirable characteristics. However, if you can put up with a little rowdiness and keep up with an eager puppy, you will be rewarded with a lifetime buddy.
History
The breed's name comes from Jack Russell Terrier himself who bred them to hunt. The breed became popular in the 1900s in the US.
The American Kennel Club officially recognized the Jack Russell Terrier in 2000 but by then they had become a part of this independent registry called The Jack Russell Terrier Club of America.
The American Kennel, therefore, registered these dogs under the name of Parson Russell Terrier, to maintain a difference from the JRTCA.
2 Types of Russell Terriers
The only difference that differentiates the two Russell Terriers recognized by the American Kennel Club and The Jack Russell Terrier Club of America is their body.
Jack Russell has a longer body and shorter height. They are thus also given the name of Shorty Jacks. Parson Russell Terriers are taller rather than longer
Is a Jack Russell a small or medium dog?
Jack Russells vary in a variety of sizes since different types were used for different roles and terrain. But they are generally considered small dogs. They range in height from 10 to 15 inches at the shoulder and weigh 13 to 17 pounds.
Coat and Colour
The Parson Russell Terrier has both smooth and broken coats. Both feature a coarse-textured second layer.
The damaged coat is slightly longer and has brows and a beard. Some Jacks have a rough coat that is longer than a broken coat. The coat, no matter what sort, is never curly or wavy.
There are white, white with black or tan designs, and multicolored jacks available (white, black, and tan). The white on the dog's body aids the hunter in locating the dog in the field.
Download Monkoodog PetCare App
Personality
Jack is lively and passionate, and despite his little stature, he has a lot to contribute. He appreciates life and everything it has to offer. He is loyal, committed, and always entertaining.
If given half a chance, he'll chase his dreams over streets and through fences. He's quite brilliant, but his stubbornness can make training him tough.
Temperament
These little critters have strong motors and smart minds. As a result, they require a skillful hand, someone with the time to keep them interested and active, and someone ready to put in the time and effort to teach them, which will be time demanding and require a lifetime commitment.
Russell terriers are high-maintenance tiny dogs, no matter how fascinating and charming they are.
Also See:- An Insight Into The Lives Of Papillon Dogs
Grooming of Jack Russell Terrier
Trimming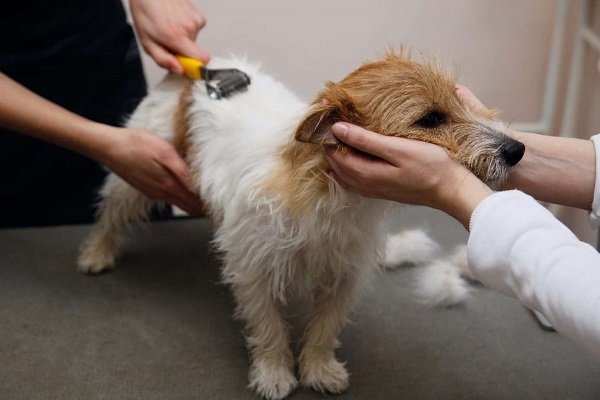 Trim your nails once or twice a month. You won't have to check to see whether their nails are long since you'll hear them tapping against the floor.
Short, well-trimmed nails keep your feet in good shape and protect your shins when your Jack rushes up to greet you.
Brushing
He should clean his teeth twice a week to minimize tartar buildup and periodontal disease, and twice a day for best results. Begin brushing and examining your Jack as a puppy to acquaint him with it.
Handle his paws on a frequent basis – dogs' feet are extremely sensitive – and check his lips and ears. Make grooming a delightful experience full of praise and rewards, and you'll lay the groundwork for easy veterinary exams when he's all grown up.
Socialization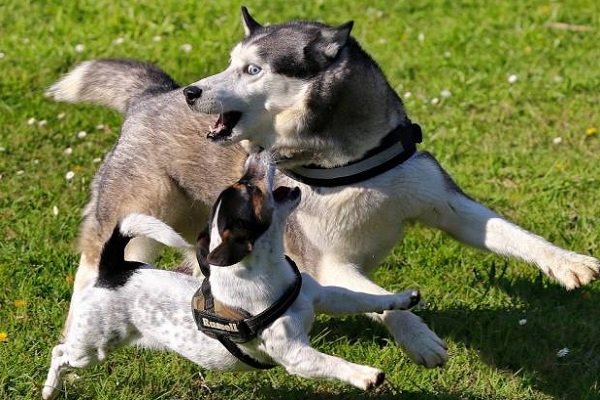 Jack Russells, like other dogs, require early socialization. From an early age, they should be exposed to a variety of circumstances involving animals, people, diverse noises, and experiences.
If you do not teach socializing to your dog, they will become hostile towards other animals and humans, making it difficult for you to take them for walks later on since they will perceive everything as a danger.
Around Animals
Although he is friendly with people, he may be violent against other dogs and any animal that resembles prey, even cats. When he decides to take on a larger dog, his lack of fear puts him in jeopardy.
Around Kids
Jack Russell Terriers are amiable, caring canines who thrive in households with older children who understand how to engage with pets. They are not appropriate for families with little children.
They are not only noisy, but they may snap if handled forcefully. Always educate youngsters on how to approach and touch dogs, and oversee any interactions between them. Dogs may bite children if they become agitated as a result of children yanking their tails or other similar acts.
Download Monkoodog PetCare App
Living Conditions
The Jack Russell Terrier is a people-pleaser who should live with the family indoors. It would be great if he had access to a fenced-in yard where he could burn off some of his endless energy.
He shouldn't be able to climb, dig behind, or jump over the barrier — think Fort Knox. You shouldn't expect an underground electrical fence to keep your Jack in the yard. The desire to pursue what looks to be prey outweighs the risk of a shock.
Training Methods
Those who share their homes with Jack Russells must be firm and consistent in their expectations. Jacks are strong-willed canines who respond well to positive reinforcement techniques of training.
Praise them, say kind things to them, give them sweets, and do other things that they will recognize as appreciation. However, if you offer your Jack Russell with rules and routines, as well as the necessary tolerance and encouragement, you will be rewarded. There are no limits to what a Jack Russell may learn when paired with the right person.
Exercise
These pups may be little, but they require a lot of exercises. While they make great family dogs who like human interaction, they were bred to hunt.
Runners looking for a running partner may be surprised to learn that the little Jack Russell terrier makes a wonderful companion.
Furthermore, a yard where your tiny terrier may run and stretch its legs is practically required.
Health
Jack Russell Terriers are typically healthy, however, they, like other breeds, are susceptible to some health issues.
Not all Jacks will develop any or all of these issues, but it's important to be aware of them if you're thinking about getting one.
If you want a puppy, look for a reputable breeder that can show you health certifications for both of your dog's parents.
Health certificates demonstrate that a dog has been checked for and cleared of a certain ailment.
Download Monkoodog PetCare App
1. Legg-Calves-Perthes-Disease
This disorder is similar to hip dysplasia in that it is characterized by a malformation of the ball of the hip joint. It degrades and leads to arthritis.
This can only be healed by surgery and additional therapy. It is preferable if you see their vet as soon as you discover the symptoms.
2. Deafness
Deafness is something that is considered common in this breed.
3. Patellar Luxation
Patellar Luxation is a disease that is found more commonly in smaller dogs. This disease is usually hereditary. This causes lameness and uneven walking which often leads to them skipping instead of walking normally.
It is a condition that exists from birth, although the physical misalignment or luxation does not necessarily manifest itself until much later. When not looked after in proper time, you might need to get them a surgery.
4. Glaucoma
Glaucoma is a painful disorder characterized by abnormally high intraocular pressure. The pressure inside the eye rises when the fluid that is constantly generated in the eyes does not drain adequately.
The optic nerve is destroyed as a result of excessive pressure, leading to vision loss and blindness. This might result in vision loss and, eventually, complete blindness.
5. Lens Luxation
When the ligament that keeps the lens of the eye in place deteriorates, this results in lens luxation.
In certain circumstances, it may be cured with medication or surgery, but in extreme cases, harsh measures such as eye removal may be required.
Food
The amount of food your adult dog consumes is determined by a number of factors, including physique, metabolism, and daily energy intake. Dogs, like humans, are individual beings who do not require the same quantity of food.
It almost goes without saying that an active dog will have higher expectations than a couch potato.
The quality of the dog food you purchase is also critical. If you spend on high-quality food, you will notice a change in less time. It would deliver greater nutrition in fewer doses.
All dogs demand love and affection and Jack Russell Terriers are no different. They are bred for hunting but still crave very highly for companionship and will develop separation anxiety if the owners do not give them enough time and leave them alone time and again.
Conclusion
Getting a dog is a huge responsibility that requires a lot of effort and care. If you are someone who is not ready or willing to put all that it takes then you should hold off the thought for a while until you get ready.
Dogs are cute little bundles of happiness who need to be cherished and adored so do not take up a dog only to get some quality time with them as they are full-time responsibility.
Also See:- Pug: The Perfect Little Four-Legged Family Companion