Lolling Tongue, excited eyes, wagging tail along with your favorite playlist.
Who wouldn't enjoy that? It's a dream car ride for any pet owner.
When you commit your life to a pet and shower it with all your love, it's normal for you to think about taking your dog anywhere you go.
The problem is whether your dog might or might be uncomfortable during the car ride, especially on a long journey. Don't worry there are tips and tricks for you to make you're The dog is comfortable and enjoys that lolling tongue ride. In this article, we provide some important tips for driving with dogs.
What Should I Pack Along?
If you are driving with the dog, you'll need to pack a few necessities. You should be prepared to clean up spills and offer your dog whatever they will require throughout your trip.
Here are a few things to remember to bring:
Paper towels, stain and scent remover, and whatever else you'll need to clean up after an accident are all available.
There are plenty of poop bags.
A dish, some goodies, and some water
A container, a safety harness, or a barrier
If you want to protect your car from stains and hair, use seat coverings (an old sheet with plastic bags underneath works in a pinch).
Is Traveling with Dogs Safe?
The answer to the question is contingent on the pup's upbringing and your efforts. Consider doing a substantial amount of research before you leave. A canine that has never been trained may be challenging to travel with since it will not stay still and may panic.
Download Monkoodog PetCare App
How Can I Travel Safely with My Dog in the Car?
Various items and safety practices might help you in driving safely with your dog in the vehicle. If your dog is bouncing around in the car while you're driving, it's not safe for you or your dog. You must concentrate on driving, and if your dog becomes excited or terrified, it may distract you.
Airbags are fantastic for you, but if you have an accident with your pet in the front seat, they can kill them. As a result, dogs should ride in the back seat. It is vital that you find a solution that is appropriate and comfortable for your dog, as well as that the gear is correctly placed and connected to the car.
1. Crating Your Dog While Traveling in the Car
Crating your dog will keep them secure while traveling in the car. If your pet is already habituated to this setting as a result of their training, using a crate to carry them provides the advantage.
2. Harness for Travel
Harnesses for pets are available in a number of sizes and can be found in most pet stores. Simply slip them on your pet and clip them in place, and your pet will be secure to ride in the front, back, or boot.
3. Carrier
If you're traveling away from home, a pet carrier is a convenient and light alternative to a metal box. It's also easy to pack.
4. Boot Gate
If your dog loves to sit in the boot, a boot gate should be installed to keep them from jumping to the front of the vehicle. A boot gate also protects your dog and passengers in the event of an accident, albeit your dog must still be restrained with a harness or cage.
Also See: The Top 10 Destinations Of India Worth Exploring With Your Pets
How Can I Make the Journey Comfortable for My Dog?
There is so much your dog can tell you from its body language. While you are driving with a dog, it's important to focus on the details of its body language and provide them comfort as much as you can.
Stop frequently to allow them to stretch their legs and relieve themselves.
Because it might get hot on your ride, offer them fresh water whenever you take a stop.
Air conditioning may be beneficial to dogs in order to keep them cool. However, avoid pointing it directly at their face since this may be highly distressing for your dog.
If you open your window, make sure your dog does not leap out or poke its head out in case you strike any vegetation while driving. It has the potential to do them great harm.
When it's bright or warm outside, never leave your dog in the car. Even in the winter or on cloudy days, the sun's heat can be deceiving. Heatstroke in dogs is a serious condition that can be deadly. If you're unsure, get your dog out of the car. Don't take a chance.
What Can I Do to Assist My Dog with Car Sickness?
Car sickness is fairly prevalent among pups. Some people will grow out of it, while others will continue to struggle into adulthood. You may assist them in a number of ways.
Feeding your dog or puppy 2-3 hours before traveling is not recommended.
If they do become ill, lay down waterproof sheets. If you need to clean up, bring paper towels and a cleaning spray with you.
Allow them to use the restroom before you leave home so that they are as relaxed as possible when the journey begins.
When Should I Begin Training My Dog to Travel in the Car?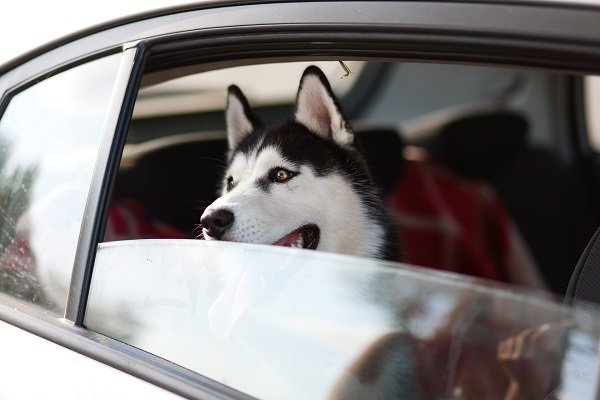 It's a good idea to familiarize your puppy or dog with the automobile as soon as possible. This will make driving with a dog easy. It will be more straightforward in the long term if they become accustomed to traveling sooner rather than later.
Consider using a crate in your car if you decide to crate train your puppy at home. This is a safe area for your dog, and it will reassure them while you travel. It also prevents them from leaping around in the car, which would be disturbing to the driver.
Ideally, show your dog the car before you go anywhere and let them have a good sniff around. Start the engine and let it run for a few minutes to get them used to the sounds.
Important Tips to Keep Your Travel Journey with Your Dog Enjoyable and Fun
Travel Kit
Include your pet's medical documents, as well as confirmation of current vaccines. Bring normal food, water, meds, and bowls for your dogs. You should also pack any cleaning equipment you'll need, such as trash bags and a scoop. Pack a few toys, perhaps some new ones for novelty and a few old favorites, to keep your pet happy and amused during the journey. Finally, remember to include a pet first-aid kit.
Identification
While your pet should be microchipped, make sure they are also wearing a collar with an ID tag that has your home address and phone number. Get a temporary tag with the phone number of the place where you'll be staying for more extended travels and vacations in case your pet gets lost while you're gone. All collars should be flat and choke collars should never be used on your dog.
Research and Plan
Consider everything that may go wrong and make sure you have everything you need. Plan your pee stops and lodging ahead of time, as not all lodgings are pet friendly, despite the fact that many are. As a result, it's vital to know where you're going and be familiar with the area in order to make traveling with dogs as simple as possible.
Bathroom Breaks
Before you leave the house, teach your dog to pee on a variety of surfaces, not just grass. The ability to pee on a variety of surfaces will make traveling more convenient and reduce the danger of accidents when driving or otherwise.
Be Leak Proof
You can bring thick leak-proof mats with you for your dog to sit on. In case of any bathroom accident in a car, it will be easy to clean. Driving with a dog is tricky without the right knowledge for its bathroom breaks.
Download Monkoodog PetCare App
Don'ts of Driving with Dogs
If They're Riding in the Front Seat, Turn Off the Passenger Airbag.
Before you leave, don't feed your pet. It's preferable to get on the road at least two hours ahead of time.
Allowing your dog to ride with its head out of an open window is not a good idea.
Never leave your dog in a hot car; it only takes a few minutes for a vehicle to warm up, causing your pet to overheat and die.