The first two words that describe a Husky best are "Graceful" and "Striking". However, what do you do when you do not have the normal traits of being a Husky? Jubilee, a weird-looking husky, perhaps never had an idea that one day she would have to face an identity crisis, just because she was not "husky" enough.





At 4yrs old, Jubilee with her weird crazy eyes looks more like a worried pup rather than a graceful adult. Huge pale blue eyes with the dark black cornea is not a common feature of a Husky, but a rare congenital defect changed Jubilee's facial profile to something slightly different than normal, makes her weird-looking husky.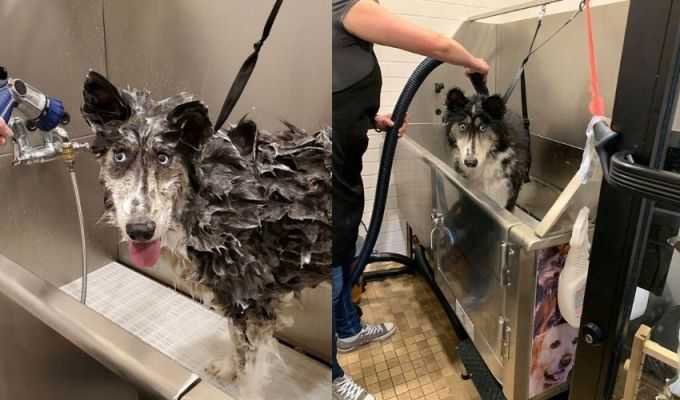 Jubilee spent over 2 yrs at the Breeder's but could not bring in any profit to them because of her weird looks, so it was only expected that they would let go of Jubilee sooner or later. After being abandoned by the breeder, Jubilee was rescued and brought to a shelter name Husky House in Matawan, New Jersey.
As a heartfelt announcement, a social media post was posted stating, "Nobody wants to adopt me because I'm a weird looking husky." The thread went viral and since then thousands of requests for adoption and fund began to pour in, supporting Jubilee.
Within days of the news, Jubilee has been adopted into a family, where she gets to have 2 more husky siblings. Dressed in a red bandana, Jubilee was not shy to pose for the camera to post her adoption.
Described as a shy but very human loving and friendly dog, Jubilee's birth defect seems to have no other problem except give her a slightly different and weird looks. Her adoptee's not only already love her beautiful nature but have promised to nurture her positive traits.
This was the second news in many months after the Narwhal Unicorn Puppy where social media helped in rescue and adoption of dogs with unique looks and traits.
The immense love humans have for dogs keeps being proven every time something like this happens.