China has been in the middle of one of the biggest global scandals since the Corona Pandemic Outbreak. With accusations and economy crippling lawsuits, the country has been suffering a great deal.
However, finally in pursuit of redemption, the People's Republic of China Government has decided to change one of their century-old laws. In China, dogs are no longer going to be classified under livestock. Rather they have been moved under the category of pets.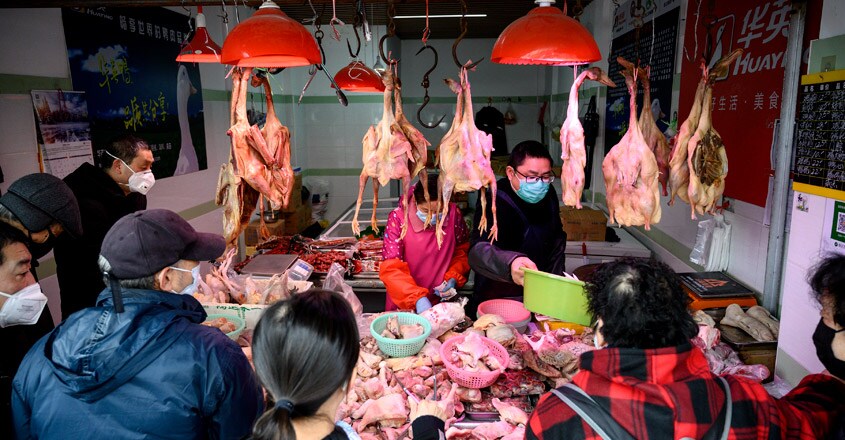 Caption: A chinese meat shop in Guilin, Southwest China. Credits: MBS News
Implementing this small change has completely changed the dog trade into an illegal business. Under any government law, pets cannot be killed to eat and doing so will result in punishable offense.
The draft policy was released by the Agricultural ministry of the government of China on the 9th of April, 2020 and stated for the progress of human civilization that consumption of canine meat will be forbidden by law.
The draft listed 18 particular and very strictly specific animals and birds under livestock that could be bred or used in trade and consumption. 13 special species including alpaca, reindeer, foxes, ostrich, and peasants were exempted from the list of banned wildlife breeding and trading.
Caption: A Medical worker is handling the Covid-19 positive patient in intensive care at Zhongnan Hospital of Wuhan University in Wuhan, Central China. Credits: AP
This step was initiated to stop the massive animal to human infection and contamination transfer. In a massive effort to prevent any further damage like the one occurring today, the Chinese government has previously passed on the law that banned the breeding, trading, and consumption of any wild animal, exotic or not.
Previous to this incidence Shenzhen province was the first state in China to ban trade, consumption, and breeding of feline meat or cat meat to be specific. With individual changes like these, there was bound to be a radical implementation of law within weeks.
Effective immediately, all the licenses had been revoked leading to one of the largest loss of business and jobs in China. Since meat trading was one of the biggest and most profitable sectors of the country, it is estimated that the new laws together could culminate in an annual loss of over 2.5 billion dollars.