Looking for some motivation to leave your couch and enjoy the thrills of life? Well, with this exciting escapade of a charming fur-ball, you will be definitely left craving to go out on a thrilling adventure. While it is also true that adventure sports are not everyone's cup of tea, this dog enjoying a stimulating paragliding experience with its Hoo-man is simply amazing.
Winning hearts on the internet, the viral video of a fluffy samoyed gliding through the air and soaking in every bit of the unusual experience with its owner, is definitely the revitalizing dose of the day.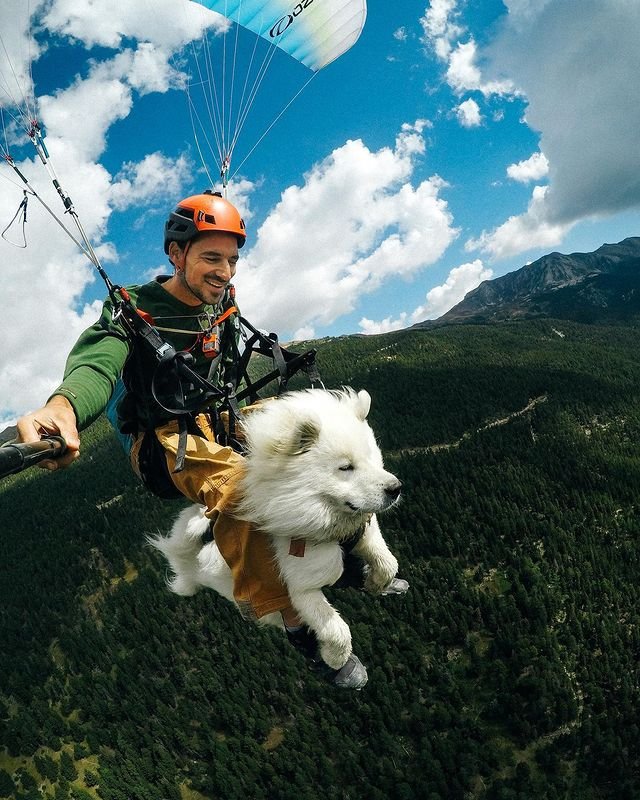 This endearing adventure was set forth when the adventure film director, Shams recently took to flying over the famous and picturesque mountain pass, Col du Granon in France, with his furry friend, Ouka. The clip of the adventurous duo adorned with the rhythms of Limahal's 'Never Ending Story' has left netizens gushing with joy.
The viral clip unfolds to show Ouka tightly secured in a harness and attached with its hooman, who shot the fascinating video while enjoying the skies with his best bud. Sham, in the video, can be seen patting his fur-buddy Ouka, from time to time, in order to check up on him.
Wanna see how Ouka learned to paraglide with his owner? Check the video posted by his owner, Shams on Instagram, here. https://www.instagram.com/reel/CTfJ-VsIRjv/?utm_source=ig_web_copy_link
The video was originally posted on Instagram. Furthermore, the post also explained how Shams and Ouka trained and prepared for about a month. The ride, without any doubts, was the beginning of many more paragliding adventures.
Shams talked about his life that changed completely after adopting this 3-years-old-fluffy-fella, named Ouka, in late June, in his Instagram posts. Shams in his post talked about how he is working on providing the best for his fur buddy, while Ouka in return is simply making each day a happy place with his mere existence.
"Let's go flying around the world now!" the paragliding enthusiast Sham added. Shams, for making many more adventures and memories in the future, is getting a customized harness made for his pet.
And what's more, Ouka will definitely welcome this arrangement, because as it can be seen from the dog's profile on the social platform, this fur boy is definitely high on adventure sports. From hiking to kayaking, the duo can be seen enjoying nature quite frequently.