Tales of animal cruelty has become a normal day to day occurrences today. While some humans are behaving like inhuman fools, there are also many who are trying their best to make the world a better and safer place for animals to live.
Maggie was among those millions of stray dogs living in the war-torn country of Lebanon. While roaming along the streets of Beirut, she had been repeatedly tortured and shot and then left to die. However, each time she survived the ordeal and got up again to try and stay alive.
Her life probably would have continued the same way, if Hussain, a dog rescue worker staying on the outskirts of the gloomy city of Beirut had not caught the sight of her and decided to rescue Maggie. Lebanon has had thousands of cases of stray animals being used for target practice and other inhuman skill tests, however, most of the time the dogs do not survive to show the world what they had to go through.
Maggie was terrified and abhorred human interaction to the extent of cowering away and shivering horribly any time humans tried to get near her. The situation was so bad that Hussain and his team had to keep Maggie chained to prevent her from running away.
On examining it was found that Maggie was heavily pregnant and most probably would not survive through the entire term. So a termination of pregnancy was immediately decided upon. In addition to a savagely torn ear and damaged and infected pair of eyes, Maggie also had a torn out jaw, fractured limbs, and multiple wounds strewn all over the body. 
The cost of treatment alone was humongous and beyond the financial ability of Hussain. That's when he decided to post help online on various international dog rescue portals. All trouble finally paid off when Wild at heart foundation contacted Hussain around September of 2019.
Maggie was finally able to relocate to the United Kingdom when a woman named Roxanna raised sufficient funds for her airfare and treatment via crowdfunding. Through Wild at Heart Foundation, Maggie was adopted by  Kasey Carlin and thus began Maggie's slow and steady journey towards recovery.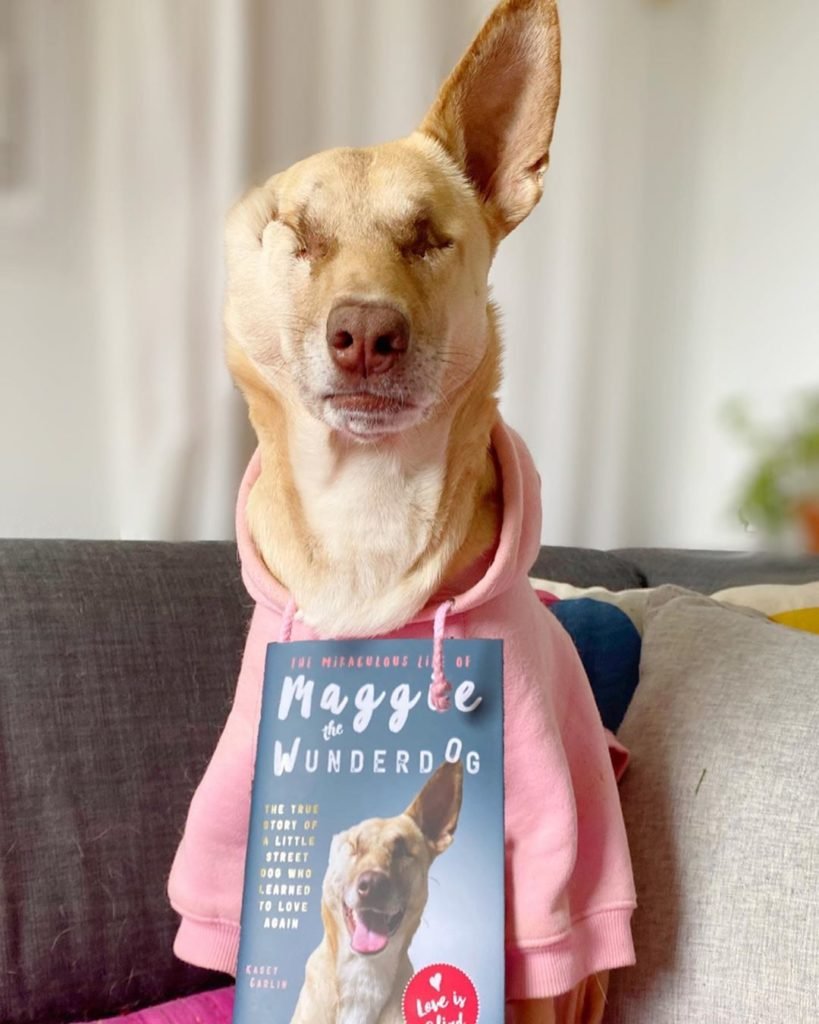 Today Maggie has her own social media page with over 700,000 followers. Even though she is completely blind, her love for life has garnered her the prestigious Therapy working-dog certification. Maggie and Kasey ade appearance on Phil's Show on the 10th of June 2020, to share Maggie's spectacular journey to recovery and being an almost happy dog. 
The interview has become an inspiring tale for many rescue and shelter operations worldwide to work a bit harder in helping these amazing creations of Mother Nature. Post the interview Maggie has already crossed 1 million followers on her social media handle and the invitation to visit more talk shows seems to be pouring in non-stop.